Texas Civil War Museum
Where did the Civil War end? I'll bet you said Appomattox, where Robert E. Lee surrendered to U.S. Grant. Nope. That ended the war with the largest Confederate army, but fighting continued elsewhere in the south and Jefferson Davis was still president of the Confederacy. Fighting continued on after Lee's surrender, even after Jefferson Davis was captured by Federal forces.
No, the last battle of the Civil War took place in . . . Texas. The Battle of Palmito Ranch was fought on May 12 – May 13, 1865 on the banks of the Rio Grande about twelve miles east of Brownsville, Texas.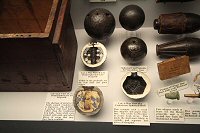 Everyone thinks of Virginia, Tennessee, Mississippi, even Maryland and Pennsylvania when they think of the Civil War. But Texas played a role in America's great battle between the states as well. The history of Texas and its involvement with the Civil War is remembered at the Texas Civil War Museum in Fort Worth.
The museum is located right here in Fort Worth. We have driven past it literally hundreds of times - it is within 10 miles of our house. Every time we see it, one of us will say to the other, "We need to check that place out - is it open?" Well, we finally broke down and went for a visit on February 27, 2010. Yes, it is open. We were pleasantly surprised at how nice it was inside too!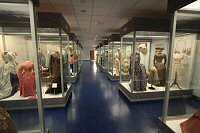 The entrance leads you to a large gift shop with a variety of Civil War and Texas souvenirs. From there you go into the exhibits. A series of four large rooms house the large assortment of display cases. For a relatively small, out-of-the-way museum they have an excellent assortment of artifacts. You'll see a variety of uniforms, sabres and other types of equipment laid out in the display cases.
I liked the display of military musical instruments, in particular. Other cool displays included cut-away examples of different types of cannon projectiles and original battle flags. Confederate general Jeb Stuart's spurs and other personal effects, a presentation sword of General U.S. Grant and an1860 Colt Revolvers given to Major General Nathaniel Banks by Samuel Colt. Also on display is a large collection of early American dresses, part of the Judy Richey Victorian Dress Collection. My wife really enjoyed looking at all the dresses they had. In addition, the movie Our Homes-Our Rights--Texas in the Civil War is shown in the museum's theater.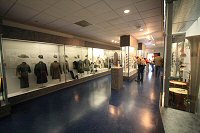 Overall, I was impressed with how nice the displays were, how well organized and well presented the artifacts were. The museum is very family friendly as well. If you are close to Fort Worth and are looking for something to do here, visit the Texas Civil War Museum. It isn't comparable to Gettysburg's Visitor Center, but it is far superior to the exhibits at Antietam - definitely worth checking out!
Location:
The Texas Civil War Museum is locatated at 760 Jim Wright Freeway North, Fort Worth Texas 76108. Locals will better recognize this address as being at exit 5B on the northbound access road of 820. For more information call them at 817/246-2323.
Visit the Texas Civil War Museum Website.
Admissions:
*Adults: $6.00
*Students 7-12: $3.00
*Children 6 and under: Free with adult
Be sure to look through the Texas Civil War Museum in Fort Worth Texas photographs

Dallas Texas / Fort Worth Texas Travel Photographs
NEW APRIL 19, 2014! Medieval Times in Dallas Texas - For years I've talked about shooting pictures of the bluebonnets and wildflowers and for years I never got around to it. This year I was able to carve out a little time, although not nearly enough. After visiting Scarborough Renaissance Festival, we cut over to Ennis and spent a little time on its renowned driving routes through the countryside around that town to see the bluebonnets. There were several spots that were packed with bluebonnets, paintbrushes and other wild flowers. The weather was pretty good for shooting and I came back with a few good pictures. Later this year or next season, I'm going to dedicate a full day to these trails.
PHOTOS ADDED APRIL 19, 2014! Scarborough Renaissance Festival - Waxahachie Texas - One of the biggest festivals in the Dallas / Fort Worth area is Scarborough, a renaissance festival in the town of Waxahachie, Texas. Ryan and I went to check out the knights, royal courts, jesters - even a troll and a lute-playing fairy. You'll enjoy the shots of the knights jousting and sword fighting in particular - those turned out well. In April 2014 I spent a lot of time at the birds of prey show and got some nice shots there. This is a compilation of several visits to Scarborough Renaissance Festival.
Medieval Times in Dallas Texas - In 2009 we went to Medieval Times Dinner Theater in Dallas, Texas. Our seats' view was obstructed by a safety net for part of the show, but I was able to get some neat shots anyway. Then, in 2013 several friends wanted to check out Medieval Times and so I returned there with them, Q and my brother. I used the lessons learned from the last time - that is, don't sit in a section behind a net - and a camera with a higher ISO and the results were vastly improved photos. This is a tricky photo setting; I literally used daylight, tungsten, florescent, shady and cloudy light settings when editing to get the colors right - and the photos were all taken from the same spot!
Alliance Airshow in Fort Worth Texas - In October, 2009 we took the boys to the Alliance Airshow in Fort Worth, Texas. Pretty much like any other airshow you've gone to, with the Blue Angels as the headliners. We saw demonstrations by the A-10 tank buster and the F16 fighter as well as various stunt pilots. The Blue Angels' C-130 did a demonstration before the jets wowed the crowd. The weather was mostly cloudy, unfortunately, but we still got some good shots.
Carswell Airshow in Fort Worth Texas - The Alliance Airshow in Fort Worth, Texas is pretty much like any other airshow you've gone to, with the Blue Angels as the headliners. We didn't have as good choice for seats, but we still managed to enjoy the aerial acrobatics and the static displays.
Louisiana Air Museum - OK, this isn't Texas but it was still a day trip. They had some cool aircraft on display including the Vulcan bomber and the B-52, well worth photographing.
Carrollton Indian Festival in Carrollton Texas - I don't know a great deal about this event but it did provide a fun opportunity to shoot pictures of some truly dazzling American Indian attire and dancing.
Chihuly Exhibit July 2012 in Texas - The Chihuly glass exhibit is spectacular. It was set up at the Dallas Arboretum and this was an awesome shooting opportunity. You gotta see these photos - what a beautiful display.
Spring Blooms at Dallas Arboretum in Texas - I love the Dallas Arboretum. These shots capture Spring Blooms at the arboretum.
Autumn Scenes at Dallas Arboretum in Texas - These shots capture the Fall pumpkin and flower display at the arboretum. I've never seen so many pumpkins in one place before!
Chinese Lantern Festival 2013 in Dallas, Texas - I missed the Chinese Lantern Festival in 2012 because traffic around Fair Park was so bad. In 2013 I got smart and took DART rail to get there. This display is incredible! You'll need a tripod and a remote shutter release to photograph this event, but if you have those with you, this is like shooting sitting ducks . . . or in this case, dragons.
Texas Civil War Museum - Fort Worth Texas - I have driven past this facility literally hundreds of times - it is within 10 miles of our house. Every time I see it, I would think, "I need to check that place out - is it open?" Well, I finally broke down and went for a visit on February 27, 2010. Yes, it is open. I was pleasantly surprised at how nice it was inside too! Check out the photos from the Texas Civil War Museum in Fort Worth, Texas.
Rattlesnake Roundup - Sweetwater Texas - This event has been going strong since 1958, so it deserves coverage in our Texas day trip section. I went to the 52nd annual Rattlesnake Roundup in Sweetwater, Texas in March, 2010 and shot plenty of pictures, which you can view here.
Josh Groban Concert at the American Airlines Center in Dallas Texas - We attended Josh Groban's concert at the American Airlines Center in Dallas. What a terrific show! I got terrific seats for us at floor level so I was able to get some really nice shots.
Palo Duro Canyon in Amarillo Texas, December 28, 2012 - We decided to slip away from DFW for a couple days and visit the Palo Duro Canyon near Amarillo. This is the second largest canyon in the US and it was terrific, even if it was pretty old. Check out these pictures.
Plano Balloon Festival September 2012 - The Plano Balloon Festival is a north Texas tradition. I went on the last day in 2012 and got these shots.
Mesquite Rodeo - Rodeos and Texas . . . they go together like government spending and Washington DC. The Mesquite Rodeo is one of the best in north Texas. Tough shooting situation because of the low lighting and fast action, but I was able to capture some of the action.
Fort Worth Stockyards Rodeo - I've been amazed at how people from Europe are so fascinated with rodeos. We had to friends from Poland come to visit and this is the one thing they asked to see. So, we took them to the grand daddy of them all, the Fort Worth Stockyards Rodeo. Cowtown put on a great show for them, and I was able to get some good shots for them to take home as souvenirs.
Billy Bobs in Fort Worth, Texas - You must have heard of Billy Bobs. Several TV shows have been done there as well as many live albums. Any country singer since 1981 you can think of has performed there at one time or another. It's the self-proclaimed world's largest honky-tonk, situated in the Fort Worth Stockyards. We went to see singer Chris Cagel in 2013 - my friend Leah is a Cagel-head going back to his first album and she wanted us to see him in concert. This was a fun place to two-step and enjoy a concert. Tough for photography though, as is the case with any concert. Leah shot the concert pictures you'll see here and she did a great job.
Star Wars Exhibit in Fort Worth, Texas - One of the museums in Fort Worth displayed a large Star Wars exhibit and we got a chance to go. They had costumes of all the characters and some awesome models of the various ships. I should have taken a tripod though - my pictures would have been better. I got some decent shots though, worth posting here.
Dinosaur Valley State Park in Glen Rose, Texas - Dinosaur Valley State Park contains some of the best preserved dinosaur tracks in the world. The dinosaur tracks are located in the Paluxy riverbed. There are two fiberglass models, a 70-foot Apatosaurus and a 45-foot Tyrannosaurus Rex. There isn't a lot to this park in terms of photography, but the kids love the big dinosaurs and you can swim in the river to cool off.
Dealey Plaza in Dallas, Texas - One of America's most historic places, Dealey Plaza is the place where President Kennedy was assassinated in 1963. The Sixth Floor Museum is a place every American should visit at least once; it's an outstanding museum. Unfortunately you can't take pictures in there. I did shoot some pictures of Dealey Plaza, the grassy knoll, the school book depository and the road where JFK was shot (there are X marks on the road where the shots hit Kennedy) and those are posted here.
San Antonio, Texas - I have been to San Antonio several times. For some reason I have been unable to find most of my photos from there, but I did shoot some in October 2013 while my wife and I were there. I have posted those shots here. You'll enjoy the pix of Dinosaur Quest - imagine life-size dinosaur skeletons and dinosaur models, illuminated with black lights . . . and connected with the fairways of a miniature golf course.
Tuba Christmas - Fort Worth, Texas - Nothing says Christmas like a pedal C. Every year, tuba and euphonium players gather in cities around the country to play Christmas music for delighted - and frankly, astonished - listeners. I once heard someone say they expected a bunch of tubas to sound like buffalos burping at a salt lick; in fact, a tuba-euphonium ensemble sounds great on Christmas carols, and the whole spectacle is fun and free to the public. My son and I are both former euphonium players, so we sat in with the Tuba Christmas 2010 performance in Fort Worth. These are fun pictures to check out..