Civil War Battlefields Trip Report Index
Civil War Battlefields Trip Reports
The Power of Silence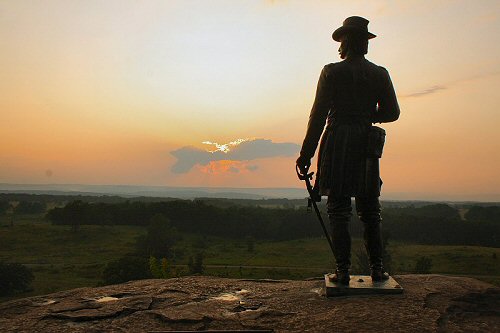 The echos of musket fire, cannonades and horses' gallops have long since faded from the rolling fields of Gettysburg, Antietam, Stone River and the 500 other locations where battles took place in the Civil War. Those desperate sounds have been replaced with a powerful silence, challenging you to understand and appreciate what took place there and commanding your gratitude and respect.
Over the years I have visited several Civil War battlefields and provide you with trip reports below.
---
Civil War Trip Reports
Civil War trip report (general notes) - Many of our observations applied to more than one battlefield or to the trip in general. This was particularly true with regards to planning and booking the trip and the items we brought with us on our vacation. Rather than duplicate those comments in the Antietam, Harpers Ferry and Gettysburg trip reports, I've included a separate page for these general comments here.
Antietam National Military Park trip report - We spent one and a half days touring Antietam National Military Park. Read this trip report to learn about our cabin, a great restaurant . . . to avoid, suggestions for improving your visit, and much more.
Harpers Ferry National Historical Park trip report - We visited Harpers Ferry National Historical Park for a half day. While we weren't there for too long, we still had a good time and identified several tips and observations that might help you as you plan for your vacation.
Gettysburg National Military Park trip report - We made two trips to Gettysburg. The first was an overnight stay as part of our June 2009 vacation to Washington DC with our two 16 year-old boys. We all loved it there and when we got home, my wife and I planned a second trip for the two of us in July 2009. We devoted a great deal of time to the Gettysburg battlefield and came up with several tips and suggestions that should help you save time, money and mix-ups on your vacation.
Vicksburg National Military Park trip report - We spent a fast two days in Vicksburg to travel the battlefield in March, 2010. We spent a great deal of time traveling around the battlefield, and stayed overnight in Vicksburg. Good tip for a hotel, not so good experiences with restaurants unfortunately. But you can learn from our mistakes.
Living Civil War History - Civil War Reenactment in Jefferson, Texas - In May, 2010 we traveled to Living Civil War History a civil war reenactment in Jefferson, Texas. This trip report describes the event and provides reviews of two restaurants you don't want to miss.
Texas Civil War Museum - Fort Worth Texas - We have driven past this facility literally hundreds of times - it is within 10 miles of our house. Every time we see it, one of us will say to the other, "We need to check that place out - is it open?" Well, we finally broke down and went for a visit on February 27, 2010. Yes, it is open. We were pleasantly surprised at how nice it was inside too! Check out the trip report from the Texas Civil War Museum in Fort Worth, Texas.
Enjoy this website?
If you appreciate all the information and pictures found at Family Travel Photos.com, you can help me. It's easy -
send me an email with your opinions of this site
(I'm building a testimonials page). Then,
watch and "like" my Youtube videos
. Every time you watch one of my videos, click the "Like" button and subscribe to my channel, you improve my ranking at Youtube. You can also spread the word about Family Travel Photos on Facebook, Twitter, LinkedIn, Ello or any of the social media sites out there.
Please help me get more visitors to Family Travel Photos.com!