Vicksburg National Battlefield
Visiting Vicksburg National Battlefield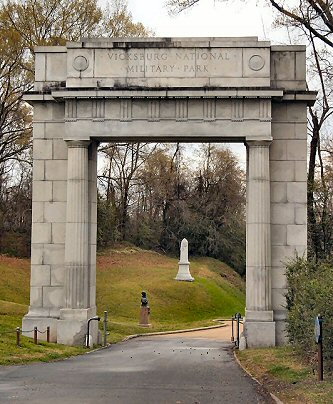 General Grant's army surrounded Vicksburg in June, 1863, trapping Lt. Gen. John Pemberton's Confederate army and hundreds of local citizens. For a month Grant laid seige to Vicksburg, blasting the city with thousands of cannon shots and starving the trapped soldiers and citizens. It was a strange seige, where moments of terrible fighting punctuated long periods of a quiet stalemate the South could not win. At times the soldiers on both sides realized the absurdity of the situation, warning each other to keep their heads down when they were ordered to open fire so no one would get shot.
On July 4, Pemberton met Grant between the lines of forces at a place known as the surrender site and gave up his hopeless defense of Vicksburg. The loss of Vicksburg was devastating to the South as it turned control of the Mississippi River over to the North, cutting the Confederacy in half. As important as Vicksburg was to the ultimate conclusion of hte Civil War, Pemberton's surrender didn't receive nearly the attention it deserved, because another battle to the east ended at the exact same time and captured the attention of the North's media and people. That battle took place in a small Pennsylvania town named Gettysburg. The seige of Vicksburg, while not having the notoriety of Gettysburg, was every bit as important to the Union's ability to win in the Western Theater as Gettysburg was in the Eastern Theater.
I spent two days at Vicksburg National Battlefield. I have provided a trip report on this visit to help you plan for your own trip to this important place in American history.
---
General Notes About Vicksburg Battlefield and the Town of Vicksburg:

Photography in Vicksburg - The weather in Vicksburg was not very cooperative, for the most part. Lots of clouds off and on for Saturday, and rain, drizzle and even sleet on Sunday. We were able to get a lot of photos taken in spite of this. I may try to go back on a day that is sunny because the colors will be much nicer.
There are over 1,100 monuments, memorials and statues in Vicksburg National Military Park. Some are even outside of the park and in town - which, if you know the history of the seige, makes a lot of sense. Many of the memorials feature busts of people in the various regiments who took part in the battle. Just for fun we tried to get shots of all the busts on the second day. I'm sure we missed some but we got a lot of them! There are some very cool statues on this park - I'll mention some of them below.
For lenses we used the 10-22mm super wide angle, the 18-55mm kit lens and the 100-300mm zoom lens for doing closeups of the bust monuments with the blurred background. I don't think I used my 28-135mm at all.
View photos of the Vicksburg Battlefield here

.
Specific Terms for Vicksburg National Military Park - There are some special terms used frequently when discussing Vicksburg that you should understand. A Redan is a three sided fortification. A Redoubt is a four-sided fortification. A Lunette is a crescent moon-shaped fortification. A fort isn't what you think of as a fort - it's simply a fortification built on top of a hill. A siege is a kind of battle where one side traps the other in a small area, pounds them mercilessly with cannon fire and frequent attacks, and forces them through the constant pressure and starvation to surrender. The siege at Vicksburg lasted 47 days and ended on July 4, 1863 . . . the day after Gettysburg's last battle.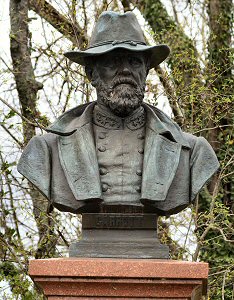 Drive Carefully - Speed Traps in Vicksburg - As we entered Vicksburg, I noticed a local police car pull out and follow me for awhile. I reached a stretch where the speed limit drops (inexplicably) from 30 or 35mph to 20 mph, then goes back up a short distance later. After I went through this spot, the police car turned off. It seemed pretty clear to me that this was a speed trap, designed to pull a little extra cash from tourists entering the city. From what we read online, we aren't the only ones to observe this issue. It's a pretty stupid and short-sighted thing to gouge tourists this way; had I received a ticket I damn sure would never go back there again and I would have spent a lot less in town. Be very careful driving in Vicksburg to avoid getting tickets.
Lodging in Vicksburg - There are several hotels in the Vicksburg area. From what we read on various discussion groups, there are parts of town where you do and do NOT want to stay based on crime problems. That's unfortunate for what is not a very large community, but it is what it is. You'll hotel rooms starting in the $65/night range at hotels.com and Yahoo travel.
Quality Inn -

- 3332 Clay Street, Vicksburg Mississippi, (801) 636-0804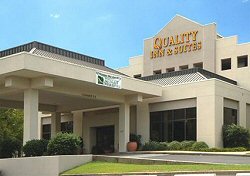 I had no hand in scheduling anything on this trip as it was a surprise weekend my wife organized. For that reason I don't really know much about the competition on hotels in Vicksburg. She did tell me that she chose this place because it was inexpensive ($66/night) and it was located very close to the park entrance.
The hotel turned out to be a good deal. It is convenient - it's located right across the street from the park. It is next door to another hotel that costs $100 more per night, so compared to that it's a bargain. Getting into downtown Vicksburg from the hotel is a snap, straight down Clay Street. The staff was friendly and helpful, and there is an outdoor pool at the hotel, even though the weather wasn't right for swimming when we were there. The room was fine, with a refrigerator in it. The free breakfast was . . . priced about right. LOL
On the downside, the hotel is located on the edge of an area considered a higher crime district. We heard lots of sirens during the night, so it was kind of noisy. You can park your car up on a hill and walk to the hotel via a covered breezeway, which is fine, but I wasn't comfortable leaving my car in that relatively dark, poorly controlled lot at night. I'd encourage you to park the car down by the hotel if you can. I also wouldn't suggest walking around the immediate surrounding area after dark, but in truth there's nothing around the hotel to walk to. You will be driving anywhere you go, and you won't have to drive very far to get any place.
I'll give the Quality Inn a thumbs up because it is inexpensive, conveniently located and the room was fine. If all you want is a place to sleep and get to the various sites conveniently, this is a good choice.
Specific Locations on Vicksburg Battlefield: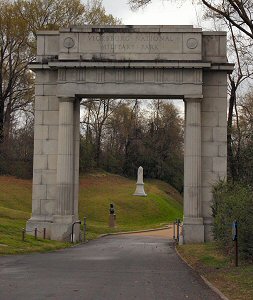 Memorial Arch - The Memorial Arch was paid for with funds collected for the 1917 reunion of Federal and Confederate soldiers who fought in the battle. The arch stands over the entry into the park. This arch is the iconic symbol for Vicksburg National Military Park. When you go in the giftshop you'll even find little arches that you can buy. Personally, I don't get it. It didn't have anything to do with the battle itself, and it really has nothing to do with anything else in the park. That said, other than the USS Cairo there really isn't anything else in the park that is immediately identifiable with Vicksburg. (And even though the USS Cairo is located at Vicksburg, it doesn't have anything to do with the battle either.) Anyway, you'll see the arch - you can't miss it - and you can draw your own opinion as to how significant it is.
3rd Louisiana Redan - Check out the view of the Illinois Memorial and Shirley House from the top of this redan.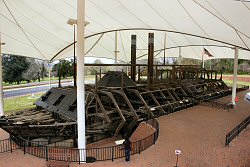 Ironclad USS Cairo Museum - This is very cool. The structure of the ironclad ship Cairo (pronounced Kay-Roh) that you can walk through. The museum is pretty small, but still has a lot of artifacts pulled from the ship when it was lifted from the bottom of the river. View photos of the Ironclad USS Cairo Museum here

.
Fort Hill - This offers a scenic view of what was the Mississippi River during the battle. After the war a flood changed the course of the river so it no longer flowed past Vicksburg as it did in 1863. The Army Corps of Engineers created the waterway you see here now, but it is not the Mississippi. Still looks good though. View photos of Fort Hill at Vicksburg here

.
Graveyard Road - Scene of terrific fighting in May 1863. Climb up on top of this hill and look out over the landscape. You can see a row of Union cannon pointing at you from across the valley. Imagine trying to fight your way through that steep valley in front of you. Amazing terrain to have to battle through . . . it's no wonder they finally went with a siege. View photos of Graveyard Road at Vicksburg here

.
Illinois Memorial - Half of the Union soldiers - including General U.S. Grant - came from Illinois so it's no wonder this state has the largest memorial on the battlefield. The large dome with an oculus was designed after the Pantheon in Rome. I can tell you it doesn't stand up to the Pantheon, but it still is a very cool memorial. View photos of the Illinois Memorial here

.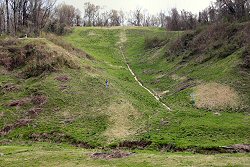 Thayer's Advance - When you get to this spot on the driving tour, be sure to park in one of the spaces along the road, cross the road, go down the stairs and walk through the tunnel back under the road. When you come out, just imagine having to charge up the hill in front of you as a hail of gunfire rained down on you from above. This spot gives you a better idea of the difficulty Union soldiers faced trying to take ground at Vicksburg than any other place on the battlefield. About halfway up the hill to the left you will see two markers, showing where two Union regiments reached during the fight. Way up near the top you will see one more marker. One brave Union regiment made all the way up before they were turned back. Later in the driving tour you view this scene from the top of the hill and you get a close look at the marker near the top. View photos of Thayer's Advance here

.
National Cemetery - The National Cemetery at Vicksburg is, laid out on tiers of flat-top hills, giving it a unique appearance. There are at least three Confederates buried in this cemetery. Two of those graves are marked with a different shaped headstone. Sherri found those and got pictures of them. View photos of the National Cemetery at Vicksburg here

.
Railroad Redoubt / Texas Memorial - As you make the driving tour, it's easy to miss the turn to this portion of the battlefield and head out to the exit and the welcome center. Follow the map closely to make sure you see the Railroad Redoubt and the Texas Memorial. You'll also be sure to see the Kentucky and Iowa Memorials. View photos of the Railroad Redoubt here

. View photos of the Texas Memorial here

.
Fort Garrott - Named for a Colonel Garrott who was killed at this spot during the siege. Col. Garrott had been approved for his general's star and the paperwork was in transit to him when he was killed; he never knew he had been promoted. Something to see at this location - the field surrounding the hill has been restored to how it looked during the battle. Much of the park is far more heavily wooded than it was in 1863. Check out the terrain here to see what it looked like back then. View photos of Fort Garrott here

.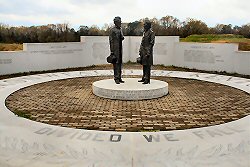 Kentucky Memorial - Based on what I saw, most people miss the Kentucky Memorial, one of the coolest on the battlefield. The reason they miss it is because you can't drive by it. You have to get out and walk about 100 yards. Just after you pass Garrott Hill, you'll see a sign on the left for the Kentucky Monument. Park by the sign and follow the arrow. You'll pass a row of large bust sculptures, and then see the Kentucky monument. It features lifesize sculptures of Abraham Lincoln and Jefferson Davis. Very cool monument to see. You also get a good view of the field surrounding Fort Garrott from this monument. View photos of Kentucky Memorial here

.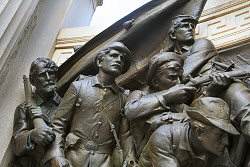 Iowa Memorial - Don't miss this memorial, which you will get to after the Texas and Alabama memorials. Get out of the car and check this one out up close - the sculptures in the bas relief are tremendous. View photos of the Iowa Memorial here

.
Surrender Site - On July 4, 1863 General Pemberton and General Grant met to negotiate the terms of surrender to end the siege of Vicksburg. The spot where the two generals met is marked with an inverted black cannon barrel and a plaque. A very simple marker for such a momentous place. View photos of the place where the surrender of Vicksburg was negotiated here

.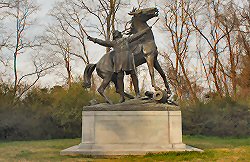 General Tilghman Memorial - This is probably one of the coolest sculptures I've seen at any park. The monument was paid for with funds raised by Tilghman's family, which makes it even more remarkable. The strangest thing about this monument is that General Tilghman didn't fight at Vicksburg. He was killed at Champion Hill. Unfortunately, Champion Hill is still privately owned so the monument couldn't be placed there (and it wouldn't make much sense to do it even if it was allowed). I'm glad it's here so we could see it. View photos of General Tilghman's Memorial here

.
Other Vicksburg National Military Park and Town of Vicksburg Comments:
Get There Early - You will have a lot more time and access to the monuments if you get there early. We drove around the park when it first opened at 8 a.m. and had it almost completely to ourselves.
Watch the Clock - Unlike Antietam, Vicksburg National Military Park shuts down at closing time. The drive through the park is essentially a single pathway so it's easy for the rangers to shoo you out of there when it closes. Make sure you know when the park opens and closes and leave plenty of time to make the drive.
Vicksburg Battlefield is a Bargain - Entrance to get into Vicksburg National Military Park is only $4-6 per car, but be sure to save your receipt. Pay once and you can go in and out as much as you'd like for seven days. What a bargain.
Don't Miss the Back Roads - There are a couple side roads on the driving tour that would be easy to miss. Do the driving tour the first time through, then pick up the other roads the second time.
Budget More Time Than You Think You'll Need - It takes awhile to cover the whole driving route. The roads are winding and slow and the park just takes longer to go through than you would expect. I would leave at least three hours to do it - ideally, allow a lot more time than that.
Photography on the Battlefield - Vicksburg wasn't as photogenic as Gettysburg, at least to me. That said, you can get out of your car, wander around anywhere and take pictures to your heart's content. In the USS Cairo Museum you can't use your flash and it is very poorly lit, so plan to use your high ISO settings in there.
Auto Tour Around the Battlefield - You can purchase an audio tour of the battlefield from the welcome center gift shop and follow the narrator as he leads you around the park. We didn't do that on this trip because we wanted to use a licensed battlefield guide. If I go back to Vicksburg, I will probably pick up the audio tour and do it then. This battlefield isn't as easy to follow or understand as others are, so I think the stop-by-stop tour would be very helpful to almost anyone.
Licensed Battlefield Guide at Vicksburg - For our first trip to Vicksburg we hired a licensed battlefield guide. Our guide drove around the battlefield for over otwo hours, providing us with a wealth of information about what took place. He knew a tremendous amount about the battle.
The guide will customize your tour to whatever you want, making sure to hit the places most important to you. We turned our car keys over tot he guide and let him drive, and that was a good idea. He knew where he was going and we could then focus on what we were seeing and hearing. The guide costs $40 for two hours, with a tip of $20 - $30 being appropriate. I encourage you to hire a guide if you can afford it - I also encouarge you to reserve the guide in advance so someone will be waiting for you to do your tour when you arrive.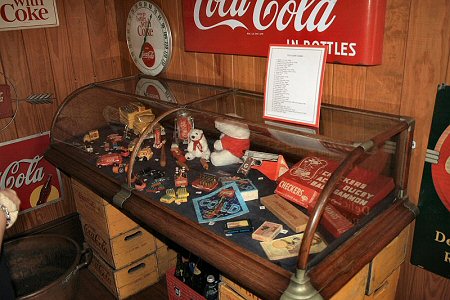 Biedenharn Candy Company - Coca Cola Museum - The Biedenharn Candy Company is the place where Coke was first bottled, and the building has now been turned in to a showcase of Coke ads, signs, memorabilia and collectibles from over the years. A room in the back shows what an old soda fountain looks like. The front lobby sells all kinds of Coca Cola stuff - surprise, surprise LOL. The gal working at the museum was very knowlegeable about the building and the history of Vicksburg as well; it was neat to see someone that enthusiastic about their own community. Across the street is Yesterday's Children, an antique doll and boy's toy museum as well. I didn't go to the doll museum, but if you're interested, it's easy to hit both places at the same time.
The Biedenharn Candy Company / Coca Cola Museum isn't a major attraction, but if you've got a half-hour to kill it's worth stopping by - especially if you have a Coke collector in your house. View the Vicksburg Biedenharn Candy Company / Coca Cola Museum photos

.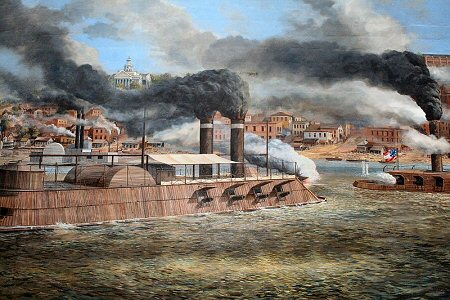 Vicksburg Murals - The city of Vicksburg has commissioned 30+ large murals that cover the flood wall along the river. The murals show the history of the city, from the founding all the way to modern times. Some of the murals are a bit of a reach - does the opening of a new high school really merit a mural? - But there are several cool paintings of major events in the area. The murals aren't that conveniently located. You have to park across the street and dodge trains to get to them. But they're certainly worth checking out. View the Vicksburg Murals photos

.
Restaurants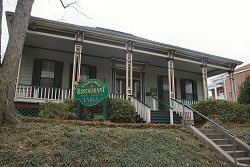 Walnut Hills Restaurant -

- 1214 Adams Street, Vicksburg, Mississippi
The woman at the Vicksburg Tourism office pointed us to this restaurant, saying that it was featured in the book 1,000 Places to See Before You Die. After having gone to Walnut Hills Restaurant for lunch, I can only say that I hope to hell the other 999 places are better.
Walnut Hills features southern cuisine. They have some tables with rotisseries in the middle called round table dining, where the servers put bowls of food and you spin it around to get what you want.
We arrived at the restaurant at around 1:20, 40 minutes before close. We were not offered a seat at one of these family style tables; either we got there too late or they don't put groups of two with other people. We don't really know because no one told us anything. We stood around for awhile, got blank stares, and finally someone seated us at a table for two.
Where we waited, and waited. And waited. Someone came up and got our drink order. Then we waited some more. There really wasn't any reason to give us that much time. Our only choice was the blue plate special, which is 1 meat, 3 vegetables a salad and dessert for $11.50. Our options this day were fried chicken, seafood casserole, chicken rotel casserole or roast beef for the meat, and potato casserole, glazed carrots, purple hull peas, green beans, mustard greens, buttered turnips, cole slaw, buttered turnips or marinated beets for the vegetable. Desserts were peach cobbler or strawberry shortcake. That's it - not a big assortment of items to choose from so we really didn't need to sit for 20 minutes waiting for service.
We finally snagged one guy who went to get another guy who came to get our order. And of course, half the things on the menu were sold out by this point. We were about to give up and leave, but the server said he'd get the stuff we asked for. (In retrospect, I'm almost afraid of where he got it.) So we placed our order and waited for awhile longer. Finally, dinner - or what there was of it - was served.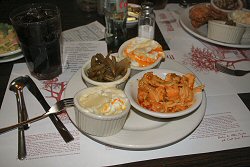 My wife ordered the fried chicken, for which this place is supposed to be famous. I ordered chicken rotel casserole. I couldn't believe how small the servings of the main courses were. The portions wouldn't have been enough to feed my cat. I guess the side dishes were appropriately sized since you got three veggies, but my main course came out in a dish most restaurants use for a side order. You can see it in the little tiny bowl on the right side of the plate - but you'll have to look closely because it's just too damn small. My wife got one piece of chicken. Now I don't care who you are - one piece of chicken isn't a meal . . . it's a start. But that, the salad and the veggies were all we had. The cornbread at this place is supposed to be great. We don't know - they were (you guessed it) sold out by the time we got what little food we were to receive. What food we did get was very good. I didn't like their potato casserole but my appetizer-called-dinner was great. My wife liked her one piece of chicken a lot as well. After we finished those, we got a fractional piece of cake that was also very good and very small.
We talked with a couple at the next table over who assured us that the service we received was very unusual for this place, so I'm willing to overlook the lousy, slow and somewhat surly service as an aberration. The fact that they ran out of food and served us snack-pack size meals is just not something I can ignore. This restaurant bills itself as "plantation styled dining" - we just didn't realize that was a reference to slave rations.
I'm hoping that the round table dining experience is better and not so restricted. Otherwise, I guess I'd say this restaurant is an adequate choice ONLY if you're not the least bit hungry and you've got a lot of time to kill. In that case, I'm not sure why you'd go to a restaurant in the first place.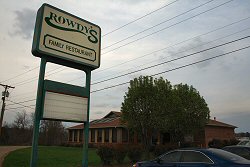 Rowdy's Family Restaurant -

- 60 Highway 27, Vicksburg, Mississippi
We asked the guy at the Quality Inn front desk for a recommendation on a good local place for dinner. He referred us to Rowdys Restaurant, saying it had the best catfish in town. I'm not a big fan of fish, but my wife really likes catfish so we decided to check it out.
We got seated quickly and laced our orders. My wife got the catfish - 1/2 pound of catfish with french fries, hush puppies, cornbread and cole slaw was only $10.95. I ordered all you can eat shrimp, which wasn't on the menu but was a special they were running. I think it was around $15. They had breaded, grilled and one other kind of shrimp and I was able to get an assortment of all three with the all-you-can-eat deal. Other items on the menu include chicken, burgers, sandwiches and country fried steak. The sign out front calls the place a family restaurant, but the take-out menu uses the name Rowdy's Catfish Shack so you can see where their emphasis is. Entree prices ranged from $6 to $16 so this is a very economic place to dine for a sit-down dinner.
The first round came out and the food was very good! My wife liked the fish. You can see the plate to the right, after my wife and worked through a lot of it. Very generous portions and well prepared. and I thought the shrimp had a great flavor. The shrimps were pretty small, but with an all you can eat deal that doesn't matter, right? Well . . .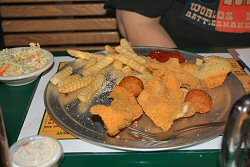 By this time the restaurant was starting to get pretty full, and everything slowed down from a service standpoint. It took forever to get drink refills. Getting more shrimp took as long as 25 minutes each time. I think the deal should have been "All the shrimp you're willing to wait to eat" rather than "all you can eat." We watched a family of four wait for over a half hour to get their food, and when it finally came out the waitress dropped one plate so that meal had to be redone.
I don't know if they were training new employees or what, but I don't think I've ever seen a more disorganized staff of waitresses than I witnessed here. The food was good, the prices were reasonable - the service was friendly, but absolutely chaotic. I think you would like Rowdy's food and prices, but don't go there if you're on any sort of time constraint.
Vicksburg Battlefield Travel Photographs
We have linked to several photos from Vicksburg National Military Battlefield on this trip report page . . . but not ALL of the pictures we shot. After you've read the trip report, be sure to check out the Vicksburg National Military Battlefield Photos to see all the great tourist sites and get excited about your trip! View Vicksburg National Military Battlefield travel pictures

.
---
Civil War Trip Reports
Civil War trip report (general notes) - Many of our observations applied to more than one battlefield or to the trip in general. This was particularly true with regards to planning and booking the trip and the items we brought with us on our vacation. Rather than duplicate those comments in the Antietam, Harpers Ferry and Gettysburg trip reports, I've included a separate page for these general comments here.
Antietam National Military Park trip report - We spent one and a half days touring Antietam National Military Park. Read this trip report to learn about our cabin, a great restaurant . . . to avoid, suggestions for improving your visit, and much more.
Harpers Ferry National Historical Park trip report - We visited Harpers Ferry National Historical Park for a half day. While we weren't there for too long, we still had a good time and identified several tips and observations that might help you as you plan for your vacation.
Gettysburg National Military Park trip report - We made two trips to Gettysburg. The first was an overnight stay as part of our June 2009 vacation to Washington DC with our two 16 year-old boys. We all loved it there and when we got home, my wife and I planned a second trip for the two of us in July 2009. We devoted a great deal of time to the Gettysburg battlefield and came up with several tips and suggestions that should help you save time, money and mix-ups on your vacation.
Vicksburg National Military Park trip report - We spent a fast two days in Vicksburg to travel the battlefield in March, 2010. We spent a great deal of time traveling around the battlefield, and stayed overnight in Vicksburg. Good tip for a hotel, not so good experiences with restaurants unfortunately. But you can learn from our mistakes.
Living Civil War History - Civil War Reenactment in Jefferson, Texas - In May, 2010 we traveled to Living Civil War History a civil war reenactment in Jefferson, Texas. This trip report describes the event and provides reviews of two restaurants you don't want to miss.
Texas Civil War Museum - Fort Worth Texas - We have driven past this facility literally hundreds of times - it is within 10 miles of our house. Every time we see it, one of us will say to the other, "We need to check that place out - is it open?" Well, we finally broke down and went for a visit on February 27, 2010. Yes, it is open. We were pleasantly surprised at how nice it was inside too! Check out the trip report from the Texas Civil War Museum in Fort Worth, Texas.
Enjoy this website?
If you appreciate all the information and pictures found at Family Travel Photos.com, you can help me. It's easy -
send me an email with your opinions of this site
(I'm building a testimonials page). Then,
watch and "like" my Youtube videos
. Every time you watch one of my videos, click the "Like" button and subscribe to my channel, you improve my ranking at Youtube. You can also spread the word about Family Travel Photos on Facebook, Twitter, LinkedIn, Ello or any of the social media sites out there.
Please help me get more visitors to Family Travel Photos.com!