Gettysburg National Military Park
The World Can Never Forget What They Did Here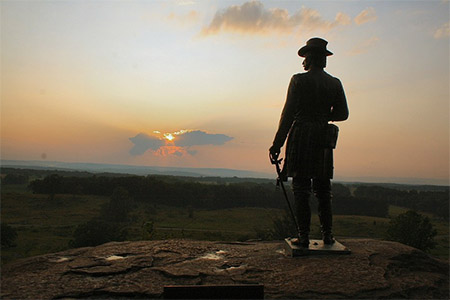 Few can truly grasp the scope of the Battle of Gettysburg, July 1-3, 1863. For three days, 170,000 soldiers clashed in the hills and fields around this small Pennsylvania farming community; by the end of the battle, 51,000 soldiers were dead, wounded or missing. This was the largest battle of the Civil War and produced more casualties than any other battle in American history. In fact, more Americans were killed or wounded at Gettysburg than in the entire eight years of our Revolutionary war.
Gettysburg's historic impact was just as monumental as its human impact. General Lee's infantry reached its furthest point north at any time during the war, which is why the copse of trees which was the focal point of General Pickett's charge is often called the High Water Mark of the Confederacy. The South's troops held this spot only for moments and were quickly turned back. It was a devastating loss for General Lee, from which his army would never recover. The war would last for two more years but Gettysburg was the decisive battle that put the Confederacy in a defensive posture they would never be able to overcome. A few months after the battle, Gettysburg would again be imortalized when Abraham Lincoln delivered the Gettysburg Address, believed by many to be the greatest oration ever delivered.
I have visited Gettysburg National Military Park three times. It's an incredible place. I have provided a trip report on my visits to help you plan for your own trip to Gettysburg. Not planning to go? You should. Gettysburg is one of the defining places in America's history and everyone should travel there as a pilgrimage to patriotism at least once in their life.
---
About Gettysburg National Military Park and the Town of Gettysburg: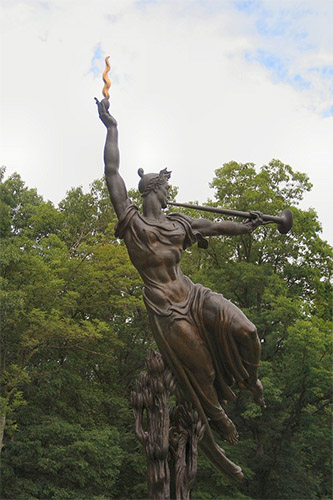 Photography in Gettysburg - For our first trip, our goal was to get pictures of all the famous spots on the battlefield. The weather cooperated and we did that to a large extent. As we toured the battlefield that first trip, I was struck by the artistry of the memorials. Sculptures are fun to photograph anyway, and many of these were remarkably detailed, realistic and dramatic. When we returned to Gettysburg for our second visit, I did a lot of location pictures but I also put a lot of effort into shooting the memorials, not simply as memorials but as pieces of art. I think you'll see that reflected in the photos I came back with. View photos of the Gettysburg Battlefield Memorials here

.
Lodging in Gettysburg - There are several hotels and B&Bs in the Gettysburg area. You'll find a good selection of hotel rooms starting in the $100/night range at hotels.com and Yahoo travel. That's pretty steep for a hotel room out in the middle of rural Pennsylvania, but they charge what they can get. Gettysburg gets over a million visitors each year and there aren't THAT many hotels, so you can expect to pay a premium for a room while you're there. B&Bs seem to start in the $140/night range (during high season) and go up from there. We found that many of the places in Gettysburg, including all of the B&Bs, have a two-night minimum for weekends during the summer.
We visited Gettysburg twice and stayed at the Quality Inn at General Lee's Headquarters and the Cashtown Inn.
Quality Inn at General Lee's Headquarters -

- 401 Buford Avenue, Gettysburg, PA 17325, (717) 334-3141 www.thegettysburgaddress.com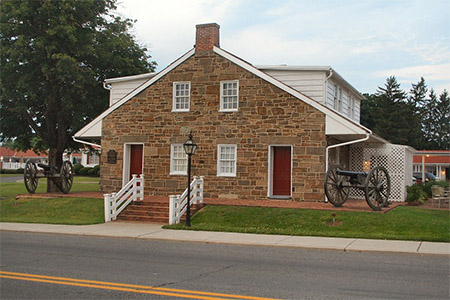 For our first visit to Gettysburg, we stayed the one night at the Quality Inn at General Lee's Headquarters. We found the Quality Inn through their website. Make note of this - all the online travel websites said this hotel was booked. I called and they had several rooms available.
During the battle of Gettysburg, General Lee appropriated the house of Mary "Widow" Thompson to use as his headquarters. Now, it must be said that as you travel through Civil War sites, you'll discover that half the buildings on the east coast were somebody's headquarters or sleeping place at one time or another. In this case, however, the claim is authentic and completely legitimate. Virtually any picture book on Gettysburg features 1863 photos of the Thompson House and it is widely recognized as one of Lee's best-known headquarters locations.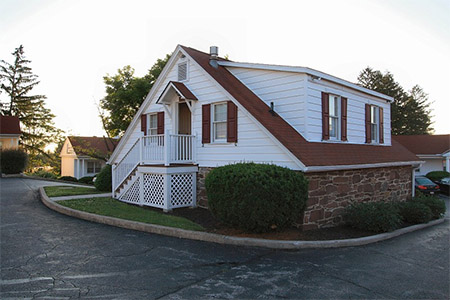 Today, you will find a Quality Inn hotel built around the original house. Behind the Thompson house was a barn that was used as a field hospital in 1863. I'm actually a bit suspicious of this because you can't see the barn in the photos from that time period, but the sign on the building says it was there so I'll run with it. This barn has been converted into a couple suites for the hotel.
We stayed in the upstairs suite in this former barn. This is one of the nicer suites I've stayed in. We enjoyed the king-size bed and the boys made do with the fold-out sofa bed. LOL The suite is very spacious and nicely decorated, and includes a microwave and refrigerator.
The hotel offers wireless Internet access but I couldn't get it to work that night and the desk clerk was completely clueless about it. They had an 800 number to call for tech support, but by that time I was frustrated with fighting the system and gave up. If you stay there, you can hope that wireless Internet access works but don't rely on it.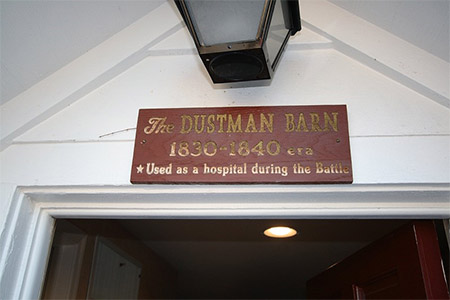 Regular rooms for the Quality Inn were about $105 with AAA discount. The suite was somewhere around $149. We could have used a regular room with two queen beds, but went with the suite because it was in an original building (coolness factor) and it was a nicer room. I think the suite is worth the extra money if you can afford it.
You will find that $100 or more per night is the going rate for hotels around Gettysburg, and many (if not most) places require a two-night stay on weekends. This is particularly true of B&Bs, we found. The Quality Inn does not require a two-night stay, which is a big plus.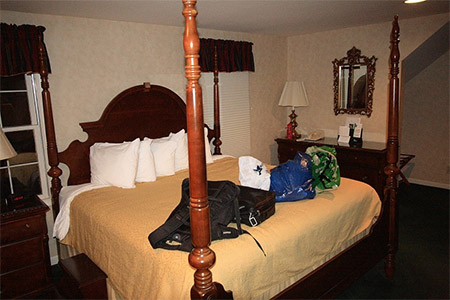 It also should be mentioned that the Quality Inn's rate is extremely competitive with other hotels in the area, even though its location is just about as good as you can get. You are literally right across the street from the battlefield (McPherson Ridge area) and kitty-corner from the Lutheran Theological Seminary area.
The Quality Inn has several reports of ghost sightings; that's another reason we went with the suite in the original building. The boys figured they would appease any ghosts that happened by . . . they had two hats, one confederate and one union, and they hanged their hats on our bed posts. This must have worked - we had no ghostly experiences. (Not here anyway.)
A big thumbs up for the Quality Inn at General Lee's Headquarters. Competitive price, nice facilities, terrific location all make this a great choice.
View All photos from the Quality Inn at General Lee's Headquarters

.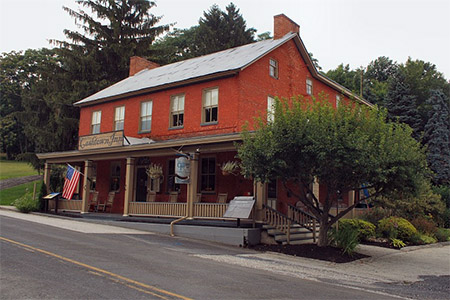 Cashtown Inn -

- 1325 Old Route 30, P.O. Box 103, Cashtown, PA 17310, 1-800-367-1797, 1-717-334-9722 - www.cashtowninn.com
When we decided to return to Gettysburg after our first trip, we knew exactly where we wanted to stay. We had seen this inn on various websites and watched a full episode of Ghost Hunters about it. We wanted to stay at the Cashtown Inn, one of the best known haunted B&Bs in the country. We planned to keep a tighter budget on this trip, so our plan was to stay one night at the Cashtown Inn, then go to the Quality Inn at General Lee's Headquarters for the second night.
First problem. Cashtown Inn, like all the other B&Bs in Gettysburg, has a two-night minimum on weekends. Okay, fine. We'll go to Gettysburg first and be in town Tuesday, Wednesday and Thursday so we can stay there one night. Second problem. Cashtown Inn was booked those three nights. Sigh. In looking at the occupancy information, I noticed that Room 6 - Pender Suite was open on Friday night, but not on Thursday or Saturday. That got me excited - surely they'd let us get that room for one night since it couldn't be booked for two nights anyway. And surely they did. We got the reservation.
By the time we got to Gettysburg we were already kicking ourselves for getting only one night. Actually, I don't think we could have reserved two nights anyway; I think Saturday night was fully booked as well. The Cashtown Inn is a very popular place. We arrived on Friday afternoon and were greeted by Maria and Jack, and Maria had exciting news. Someone had canceled and our suite was available for two nights. Wahoo! We had two nights at the Cashtown Inn!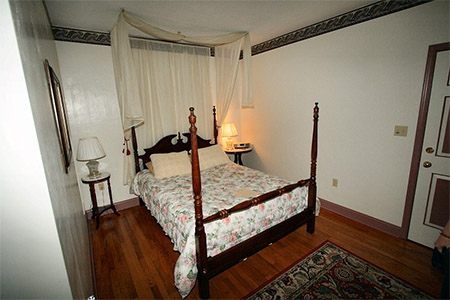 As I said before, we stayed in the Pender Suite. This is essentially two rooms and a bathroom, located in an addition on the back of the inn. The living room offers a TV with DVD/VCR, a sofa and a couple chairs. The bedroom has a bed, dresser, nightstands and a Bose Wave radio that serves as the alarm clock (damn, that thing has a great sound). The suite was beautiful - it was nicely decorated and very comfortable. The suite has two doors - the interior door leads to a hallway that goes to the dining room. The exterior door goes to a wonderful covered porch with rocking chairs and convenient parking.
The building itself is great, with a wonderful wraparound porch that no one builds any more (sadly). The front lobby and bar/breakfast areas are small but beautifully decorated. They have a large sign "Cashtown Hotel" on the wall in the bar; you'll see this sign behind a column of Confederate soldiers marching along in one scene of the movie Gettysburg. The larger dining room area is also very nice - we didn't eat there but we did walk through it a couple times.
It's pretty clear that Jack and Maria run a tight ship. Maria seems like a really sharp lady and Jack runs his tail off. We were sorry that we didn't get more chance to talk with them, but they were recovering from a car accident earlier that week. They were troopers for just continuing to keep the place running after getting badly banged up, and we definitely understood if they weren't around to chat. We hope they're both feeling better very soon!
The room comes with breakfast each morning, and both days breakfast was delicious. The first morning we had a four-cheese omelet. The second morning we had banana French toast with chocolate. The lady who served breakfast took great care of us, remembering little details about us on the second day (like the fact that we don't drink coffee and some of the things we planned to do that day).
I've heard great things about the restaurant, but we were touring Gettysburg late into the evening each day and didn't get the chance to try it out.
When talking to someone who stayed at the Cashtown Inn, the discussion naturally turns to ghosts - did they have any unusual experiences. The answer to that question for us was, yes. We didn't have Robert E. Lee come floating through our wall or anything like that, but we did have some neat things happen. Visit our Gettysburg Ghosts page for more information.
The Pender Suite costs $175 plus tax per night. The other rooms go for $140 - $185 per night plus tax. We priced several B&Bs in the area and these prices are commensurate with what you'll find elsewhere. Their website has a lot of information about the inn and provides occupancy information. Unlike other places, I'm betting that Maria keeps her occupancy information pretty well up to date - like I say, I think Jack and Maria are really on top of things. I'd love to redesign the look of their website though - that would be a fun project.
All in all it was a great experience to stay at Cashtown Inn. We loved it and want to go back. I don't know if we can justify a third trip to Gettysburg so we can stay there again . . . but we're trying.
View all photos of the Cashtown Inn here

.
Specific Locations on Gettysburg Battlefield:
McPherson Ridge - Some neat statues along this part of the tour. To get to Auto Stop 1, you have to drive on the road where the Lutheran Theological Seminary is located, turn right on Middle Road and then turn right on Reynolds Avenue (because Reynolds is a one-way road). At Stop 3, be sure to get out of your car and enjoy the panoramic view of the town.
Seminary Ridge (Confederate Avenue) - Lots of great monuments along this road. Watch for the General Longstreet memorial to your right after Stop 6. It's tucked away in the woods and easy to miss.
Lutheran Theological Seminary - Watch for pedestrians around here, particularly ghost tours in the evening.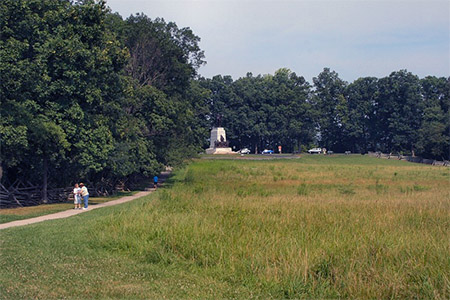 Opening in the Woods - Virginia Memorial - Start of Pickett's Charge - This is a good spot to get out of your car and walk out the sidewalk along the trees to the point where Pickett's divisions started the charge. You can do your own Pickett's Charge, starting from this point and following the mowed path to the Angle. View photos of the start of Pickett's Charge here

.
Devil's Den - Typically very crowded, you may want to hit this spot early in the morning. View photos of Devil's Den here

.
Slaughter Pen / Valley of Death - Be careful walking through the Valley of Death. (Sounds like something from the book of Psalms . . .) The whole area between Devil's Den / Wheatfield and Little Round Top is overgrown with weeds and has Plum Creek running through it, and you can't always see the gaps between the rocks and boulders where you're stepping. I don't know that there's a lot to gain by walking through the Slaughter Pen or Valley of Death - you can see all you need to see from the road's edge. (The one exception being the very cool 40th NY Infantry monument hidden in the weeds - that is worth trekking out to.) You will find a bathroom in the small building in the Slaughter Pen, on the opposite side of the parking lot from Devil's Den. A small, wooden foot bridge takes you over Plum Creek so you can get to the building.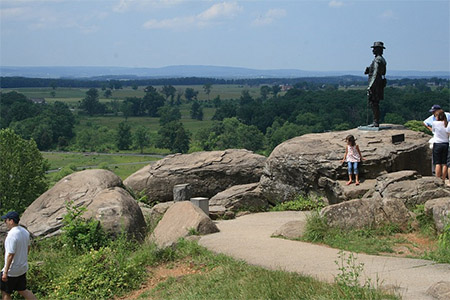 Little Round Top - A must see spot at Gettysburg - what a beautiful view of the battlefield you have here, as you can see in the picture to the right. Watching the sunset from Little Round Top is particularly memorable. This is a busy spot on the auto tour. Get there early in the morning for the best chance of having it to yourself. View Little Round Top photos

.
Triangular Field - Not as well known as other places on the battlefield, the Triangular Field lies behind Devil's Den on the other side of the winding road that runs up towards the Wheatfield. The Triangular Field is a popular spot for ghost hunters based on the number of incidents that have taken place there. If you listen to the Devil's Den podcast from civilwartraveler.com you'll understand why so many ghosts might be here! We walked through this area. It's quite overgrown but there is a path through the center of the field that you can follow.
Peach Orchard - The same slight elevation at the Peach Orchard that made General Sickles put his artillery here now gives you a panoramic view of the battlefield.
Trostle Farm - Check out the cannonball hole in the top part of the barn wall. If you stand in the right spot along the road, you will see that the ball went all the way through the barn and came out the other side - you can literally see all the way through the building.
The Wheatfield - A part of the battlefield to stop and spend some time. See my comments below on the podcast walking tour.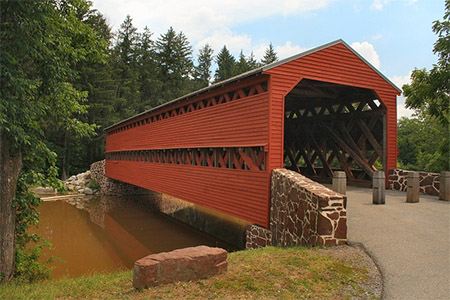 Sachs Bridge - Did you overlook this one? This is a pretty little covered bridge just outside the park. The Confederates used it during their return to Virginia after the battle. If you head south on Confederate Avenue, just south of Pitzer Woods, turn right on Millerstown Road, which quickly becomes Pumping Station Road, and follow that for a mile or two, you'll see the bridge on your left as you cross over Marsh Creek. You can turn left on the gravel road immediately after Marsh Creek and drive up to the bridge. Sachs Bridge is purported to be haunted, so ghost chasers will want to check it out as well.
Culps Hill - My wife enjoyed the observation tour at the top of Culps Hill. This is another part of the battlefield that is easy to miss, so make sure you keep it on your itinerary. View Culps Hill photos

.
Cemetery Hill - I missed this one, but my wife walked to here from Culps Hill. It's easy to drive right by and overlook this spot because it blends into the various things along the road.
Pennsylvania Monument - You will find a small building behind this monument with bathroom facilities.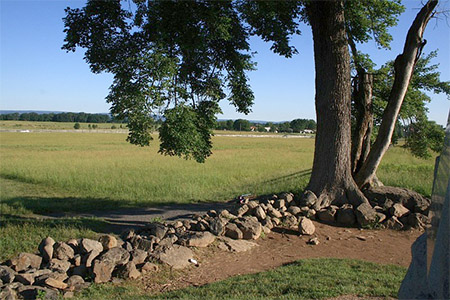 High Water Mark / The Angle - Spend some time here. Be sure to stand at the The Angle itself and look out over the fields; the view is breathtaking. Climb over the small wall and view the angle from the other side too. There is a small sign down there that most people miss. General Armistead's marker rests in the center of this area, unfortunately placed in the wrong spot to mark the position of his mortal wounding. If you walk across the street and down the walk way past the statue of the rider on the horse, this takes you to a lane that leads down to General Meade's headquarters. The best time to shoot pictures from the Angle or High Water towards the Virginia Monument is the morning.
View High Water Mark photos

.
View The Angle photos

.
Pickett's Charge / Virginia Monument / Opening in the Woods - A definite must to visit. The Virginia Monument is impressive, and the sidewalk along the woods takes you out to the place where Pickett's Charge began. If you're going to walk Pickett's Charge, this is where you start - there are a couple mowed paths that take you all the way to The Angle. The best time to shoot pictures toward the Angle or High Water from the Virginia Monument is the afternoon. View Pickett's Charge / Virginia Monument / Opening in the Woods photos

.
East Gettysburg Battlefield (Cavalry) - We ran out of time before we could visit this spot. Well, I guess we have to go back . . .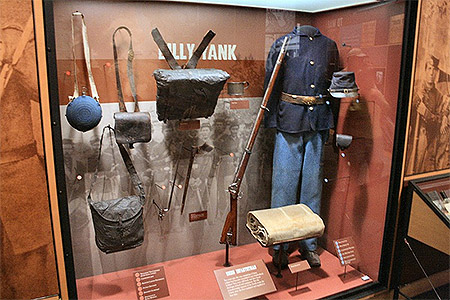 Visitor Center - What a tremendous visitor center this is. The museum is superb, with Smithsonian-quality displays and artifacts. You can also take photographs in the museum. One employee told me that flashes weren't allowed but I saw no signs to this effect. The visitor center museum is a must see. One of our teen boys described the museum as "awesome." The food places at the visitor center are pricey and underwhelming but everything else is great.
I just got a note (8/17/09) from the folks with the Gettysburg Convention & Visitors Bureau that access to the visitor center museum is now included with the movie and cyclorama. Now you get access to all three for $10.50. The museum alone is worth that price.
Movie / Cyclorama - We didn't go to this on the first trip because money was running a bit tight and tickets for all four of us would have been over $40. I planned to go here on the second trip, and I'm really kicking myself that we ran out of time before we could. From what I understand, the movie is very good and the cyclorama is amazing. We didn't get to see these, however.

Other Gettysburg Battlefield and Town of Gettysburg Comments:
General Observations about Gettysburg Battlefield:
Get There Early . . . and Late - The first day of our first trip we visited Little Round Top in the afternoon and the area was covered with tourists. We got up early the next morning and returned to Little Round Top at about 7:00 a.m. and there was no one else there, even in the middle of tourist season. We virtually had the park to ourselves. During the second trip we went to Little Round Top in the early evening and enjoyed watching the sunset over the distant mountains from that vantage point. The point is, visit the park at different times of day and not just during the middle of the day.
Watch the Clock - Unlike Antietam, Gettysburg National Military Park shuts down at closing time. They have barricades over many roads and we were told that the park rangers will assume you're there to vandalize things if they catch you on the park after hours. Make sure you know when the park opens and closes and stay within those times. During the summer I think it's open from 6:00 a.m. to 10:00 p.m. so this shouldn't present a problem.
Don't Miss the Back Roads - Good grief, I sound like Rick Steves. Backdoor Gettysburg. I think there is a natural tendency to stay on the main roads used in the auto tour. Make sure you drive the little back roads as well. You'll enjoy some special markers, plaques and views by doing so. For example, from Wheatfield Road, take the small one way Crawford Road and follow it around. You'll see a beautiful view of Little Round Top as well as a spot where some famous battlefield photos were taken in 1863.
Photography on the Battlefield - You will love the freedom you have to shoot pictures at Gettysburg. Other than sticking your lenses into the windows of private property on the battlefield or in the visitor center's movie theater or cyclorama you can take pictures anywhere. You are not restricted to the foot paths. You can get up into the fields and woods to get different perspectives. My wife climbed to the top of Little Round Top from Devil's Den, for example, and learned first hand what a difficult challenge the Confederates faced when they tried to take that hill.
Auto Tour Around the Battlefield - We spent bought the more expensive auto tour kit through Ebay before we went on the trip. (Regularly priced at $39, the more expensive kit includes a DVD with pictures, maps, etc. The regular version doesn't have the DVD and costs $20, but is otherwise the same thing.) The copy we bought from Ebay was great, but was a cassette tape rather than a CD. I had to digitize the tape and then create a CD before we left. Saved a few bucks but wasted a lot of time. You can save yourself the trouble and purchase either version at the visitor center.
This was a great purchase. The auto tour works very well for Gettysburg, taking you geographically through the three days of battle. This is a good way to start your visit to Gettysburg, giving yourself a solid overview of the park. Allow a couple hours for the auto tour.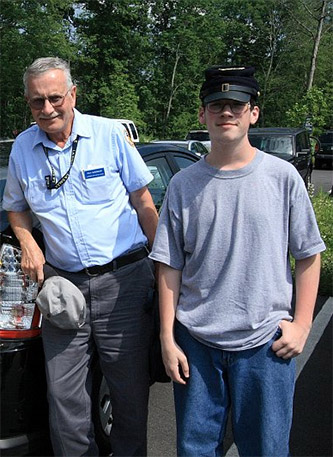 Licensed Battlefield Guide at Gettysburg - For our first trip to Gettysburg we hired a licensed battlefield guide. What a treat this was! Our guide, Rich Goedkoop (pictured with my son to the right), drove around the battlefield for two hours, providing us with a wealth of information about what took place. He was excellent and knew a tremendous amount about the battle. The boys really locked on to what he was saying and asked a lot of questions, so a guide appeals to teens as well as adults. I imagine kids of all ages would like the guide.
The guide will customize your tour to whatever you want, making sure to hit the places most important to you. Rich suggested that he drive and that was a good idea. He knew where he was going and we could then focus on what we were seeing and hearing. The guide costs $50 for two hours, with a tip of $20 - $30 being appropriate, and it was worth every penny. I encourage you to hire a guide if you can afford it - you can make a reservation at www.gettysburgtourguides.org.
Podcast Walking Tours - You can download walking tours and accompanying maps for free from civilwartraveler.com. Each podcast takes one piece of the battlefield and gives you a very detailed and specific guided tour as you walk from point to point. There are five walking tours for Gettysburg: The Peach Orchard, Wheatfield, Devil's Den, Little Round Top and Pickett's Charge.
I thought the information on the podcasts was so well done that before we left, I listened to each one while following along on the map. I had a much clearer picture of what happened at each location by doing so.
While in Gettysburg we did the Wheatfield walking tour, using my Ipod and the plug-in mini speakers. Walking from station to station was fairly simple, although not quite as clear as at Antietam (where the points of the walking tour are marked with numbered posts). The park service keeps the path mowed close to the ground through the Wheatfield, which definitely helps.
The walking tour was great. Standing there, listening to the guide describe what happened from the spot where you're standing made it come to life. You have so much better understanding of exactly what took place at the location.
If we go back, we will walk at least one more of the tours because they're so informative.
What's With All the Tours? Guided tours, auto tours, podcast walking tours . . . why should we take so many tours?
There are a lot of tours, and I haven't even listed all of them. The National Park Service also does presentations, walking tours and auto tours on top of what I've described. We saw people doing tours on foot, on buses and in vans, in cars, on bikes - even on Segways. When it comes to battlefields, you are up to your cannonballs in tour options.
We went with the tours I listed because they accomplished different things. The auto tour gives you an excellent overview of the battlefield. After that, the licensed guide expands the information at key locations, answers your questions and covers areas not covered by the auto tour. The podcasts get you out of your car and onto the battlefield, and provide the greatest detail about particular areas.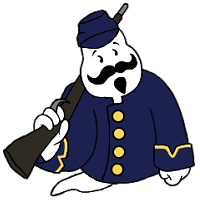 Ghosts - Gettysburg is considered one of the most haunted places in America. There have been hundreds of paranormal experiences reported. Former Park Ranger Mark Nesbitt has made a career of documenting these stories in his books.
I don't know where you stand on the question of whether or not ghosts exist. I try to approach this subject from a totally objective perspective. I don't immediately leap to accepting ghosts as real, nor do I dismiss the possibility. I simply accept the evidence as it comes to me, dismiss those events that can be explained by normal reasons, and wonder about what is left. You can make your own decisions. If you dismiss the possibility of ghosts, you can enjoy your Civil War experience without them. (If they'll let you MWHAHAHAHAHHAAAAA!!!) If you are open to the possibility, this adds a whole dimension to your visit there.
Visit our Gettysburg Ghosts page for more information about our experiences with ghosts in Gettysburg.
Ghosts of Gettysburg Walking Tour - Several companies offer ghost tours in Gettysburg. We read around the web and settled on the Ghosts of Gettysburg tour. The company is owned by Mark Nesbitt, who wrote all the books on hauntings in Gettysburg. We had several tours to choose from, and we picked the Seminary Ridge Tour, which takes place around the Lutheran Theological Seminary.
The tour was fun. Our guide showed up in period costume with a candlelit lantern in hand. We walked around the grassy area behind the seminary, moving up around the front of the building and over towards Baltimore Road. All the while we'd stop periodically to hear spooky stories from our guide.
The guide did a great job, very theatrical in his presentation. I had spoiled the tour for myself because I read a couple books before the trip and had seen some of the stories he told, but it was still fun. We were all pretty tired by this point in the trip so we didn't like standing around to hear the stories that much. That's just bad timing on our part.
Walking tours run $9.50 to $10 each (kids under 7 are free). A bus tour costs $18 for adults, $16 for kids 5-10. (Kids under 5 not permitted on this tour.) This adds up to a good chunk of change for a family of four. If you really enjoy ghost stories, you'll have fun on the trip and it's worth the price. Don't forget to tip your guide as well!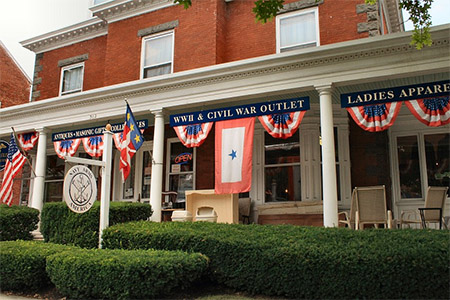 Home Front General Store - 312 Baltimore St. Gettysburg, Pennsylvania - This is a cool store to visit. They have all kinds of uniforms, firearms and swords and assorted militaria to look through. They also have a good selection of fun gift items and souvenirs. I took the boys here on our first trip and they picked out their kepis (hats). The young man working the store was extremely helpful, and explained the various hat brass and other items available to put on the kepis. He also let the boys check out some of the weapons and answered a lot of questions for them - extremely friendly and helpful. He was so good I ended up returning later and picking up a hat on my own! Check out their website.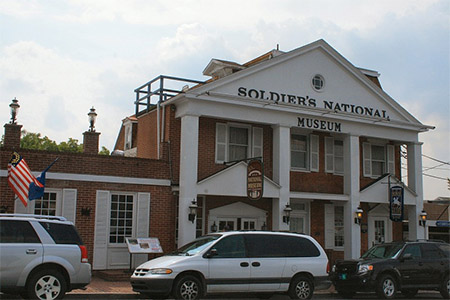 Soldier's National Orphanage - The old Soldiers National Orphanage on Baltimore Turnpike has a sordid history, with awful stories of child abuse back in the late 1800s. The facility was shut down long ago and has been the location of many ghostly encounters since then. Most recently it has been made into a Civil War Museum. We looked at some of their promotional pictures, saw the $7.25 entrance fee ($3.50 for kids), and decided that it wasn't worth it. We may have been too hasty . . . if we ever go back to Gettysburg we'll probably visit the museum. You can see the building from the outside for free, if you want. It's just next door to The Horse Soldier, a store which I'll describe next.
The Horse Soldier - 777 Baltimore Street, Gettysburg Pennsylvania - I discovered this store through the Internet before the second trip and placed an online order for three bullets that had been found at the High Water Mark many years ago. You can't search for or take artifacts from the High Water Mark any more so legal items from this area are worth a premium. I bought the bullets from The Horse Soldier because they came with a letter of authenticity (LOA), but having never been to the store, I was worried about how credible that LOA (and this store) really was.
I had nothing to worry about. The Horse Soldier is a remarkable, well-established store with a fortune in inventory. Part of the value of an artifact is having confidence in its history, and much of that comes from confidence in where you buy the artifact. You can be very confident of items from a place like this.
The Horse Soldier sells militaria and artifacts. The variety of artifacts for sale is amazing; you can buy a single item for $2 or for $20,000 at this store. Bullets, cannonballs, uniforms, rifles, swords, hats, and on and on. The store looks like a museum with all the artifacts on display. It's a great place to wander around and just look.
Something else unique about this store - they offer layaway. So few stores offer layaway anymore, and I think it's very cool that The Horse Soldier does this, even for online orders. That's how I ordered my bullets. I put down a partial payment and then paid them off when I went into the store to pick them up. While we were there we bought some more bullets for the boys.
The only thing I didn't like was the LOAs, or lack thereof. I couldn't pick up the LOAs for my bullets when I paid them off. I can understand that, because they didn't know when I'd come walking in to buy the bullets. But we couldn't get LOAs for the other bullets we purchased either. I don't think there is any excuse for that. The website advertises LOAs, and they should be able to provide one when you walk in off the street and buy an artifact. It wouldn't take but a minute to fill in the blanks on preprinted LOAs, sign it and hand it over with the purchase.
The employees promised to send the LOAs to us in a week or two. It actually took three weeks, but I did receive the LOAs for the bullets I had put on layaway. Nothing on the othe bullets. I'm going to send them a note to follow up on that. The LOAs I received were really good, giving the history of the bullets from the time they were discovered on the battlefield.
If you want to get Civil War artifacts, the Horse Soldier is a great place to buy. You can get bullets for a couple bucks from any gift shop, and Horse Soldier sells those items as well. But you can also get higher quality artifacts from Horse Soldier, and have confidence in what you're getting. Just stick to your guns and insist on getting that LOA.
Miniature Battlefield Diorama at Artillery Ridge Campground - "So, let me get this straight. You want to take time from our trip to see a display of little toy soldiers? You're telling me that this diorama is set up at a campground???"
This was something like the conversation we had when my wife said she wanted to see the Miniature Battlefield Diorama at Artillery Ridge Campground. I had this mental image of something like the world's largest statue of Elvis to be made out of chewing gum or a toothpick rendering of the Taj Mahal or something like that. Unfortunately, my wife was very insistent that she wanted to see it so off we went, me grumbling all the way.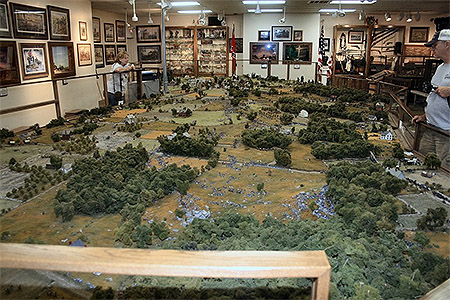 Boy oh boy, was I wrong. This diorama is nothing short of amazing. Some 20,000 hand-painted soldiers, horses, cannon and wagons, trees, fences, roads, bridges and streams, models of the buildings including the entire town of Gettysburg, and an incredible contoured landscape of the battlefield - when I first walked in and saw the diorama, I was literally stopped in my tracks. I can't even begin to imagine how much work went into this. Even though the soldiers are less than an inch tall, the diorama still spans 800 square feet - it's huge. The quality of work is so good you can easily pick out the various places on the landscape. There is nothing tacky or goofy about this diorama at all; it's a very serious and remarkable recreation of the battlefield.
Several times a day they run a 35-minute show that uses lights and sound effects to trace the battle around the diorama . . . what a great way to see how the battle unfolded! Remember those old war movies where the guys huddle around a small model of their objective and plan out their attack? That's what you're doing with this show. It costs only $4.50 for adults, less for kids, so you can take the family to watch it without spending a fortune. If you don't want to stay for the show, there is no charge to go in and ogle the diorama. Pictures are allowed too.
On top of that, the folks working at the campgrounds were really nice too.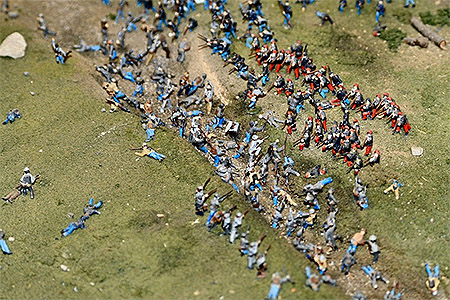 My understanding is that this diorama is moving to another location in the town very soon. I will follow up with the folks at the campground and post that information as it becomes available to me. (See below)
The Miniature Battlefield Diorama at Artillery Ridge Campground is a must-see. It doesn't take long. It's cheap. The kids will LOVE it. You can actually learn about the battle if you stay for the show. What more can you ask for? I was so impressed by the civil war diorama that if we stumble across that chewing gum Elvis statue, I may just check it out - I may be surprised again!
UPDATE MAY 2010 - The diorama is no longer located at the Artillery Ridge Campground. You can now see this remarkable display at the Gettysburg History Center, 241 Steinwehr Avenue in Gettysburg. It's free for kids 5 and under, $3 for kids 5-17, $5.50 for adults and $2 for seniors. You can get more information at the Gettysburg History Center website. Thanks to Randy with battleofgettysburgbuff.net for the heads up!
View Civil War Diorama photos

.
Gettysburg College - Ghost hunters will want to visit the bell tower and Pennsylvania Hall - read Mark Nesbitt's books to understand why. We drove by and got a few pictures of each.
Daniel Lady Farm - Don't bother driving around, looking for this. There are some great ghost stories for the Lady Farm . . . My wife wanted to see it, so we tracked it down. It's way out of the way and not open to the public.

Restaurants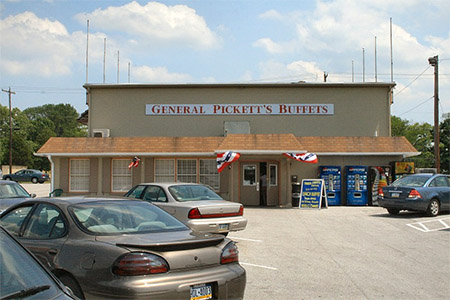 General Pickett's Buffet -

- 571 Steinwehr Ave, Gettysburg PA
As we exited the battlefield via Hancock Avenue, we saw General Pickett's Buffet directly across the street (right next door to KFC). We wanted to find a quick bite to eat and figured a buffet is usually pretty fast, so we pulled in.
As you enter the buffet, you're met with an entire wall of photos from the movie Gettysburg. The sound system played the soundtrack from Gettysburg. Do you think they liked the movie Gettysburg? LOL The pictures were actually pretty cool to look at. I can imagine the employees get tired of hearing that soundtrack over and over, however.
The buffet includes your usual salad fare, a selection of main course and veggie choices and some desserts. The main courses included things like meat loaf, Salisbury steak, meatloaf, Veal parmigiana, Baked or BBQ chicken, deep-fried chicken nuggets, potatoes, pastas and casseroles with mashed potatoes, corn and green beans to go along with them. The Salisbury steak was pretty darn good, as was the corn and potatoes. My wife had the meat loaf - she said it was good, but tasted like Salisbury steak. LOL
The prices were pretty good for a tourist town restaurant - $7.95 for lunch buffet or $10.95 for dinner. (We had lunch.) As we were getting set to leave, I told my wife that we should use the credit card to pay for lunch. She (foolishly) asked why. I said, "Because that would be a Pickett's Charge." Yeah, she wasn't amused either.
It's not gourmet fare but it's a buffet, what do you expect? The food was good for a buffet and the prices were very reasonable. I'd put this one on your short list, particularly if you want a fast meal without having to settle for fast food.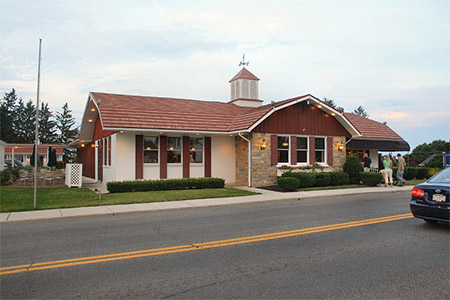 Appalachian Brewery & Restaurant -

- 401 Buford Avenue, Gettysburg, PA - review coming soon.
If you're staying at the Quality Inn at General Lee's Headquarters, you won't find a more convenient restaurant than the Appalachian Brewery & Restaurant - it's literally right in the hotel's parking lot.
The Appalachian Brewery & Restaurant has a nice hunting lodge feel to the interior, with low and high tables, booths and a bar. The dining area isn't all that large, but we were able to be seated immediately both times we stopped by. The first time, on our first trip, we had our boys with us. The second time it was just my wife and me on Trip #2.
The Appalachian Brewery & Restaurant serves a menu selection that includes appetizers, soups, salads, sandwiches, burgers, gourmet pizzas, steaks, and seafood. We noticed that many of their entrees were made with beer. Even the chicken pot pie was made with Mountain Lager. They offer a variety of their own locally brewed beers - according to their website, the brewery is downstairs beneath the dining area. They have several other types of their own brews as well as your standard "brand name" beers.
For our first visit the boys went for chicken wings ($9) and pepperoni pizza ($8). Chicken wing boy also wanted chili $4 (he likes the spicier foods). We had a mile high meatloaf ($11), chili and Asiago Hiking sticks ($7). What are Asiago Hiking Sticks? Essentially they're bread sticks and marinara sauce.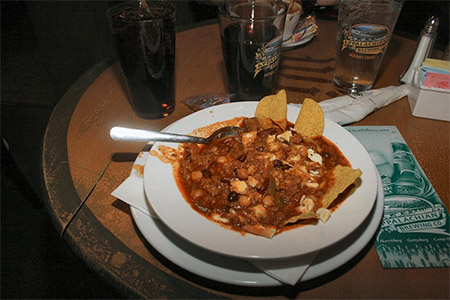 Everyone liked the chili (pictured right), which had an excellent flavor was super-thick. You could easily make a meal just out of their chili. The wings were typical appetizer wings you get at restaurants like this. (No one does wings better than Hooters!) The other boy reported that the pizza was good. The meatloaf . . . that was just strange. A slice of meatloaf, topped with mashed potatoes, served over a slice of Texas toast . . . and slathered with BBQ sauce. This one just didn't work for me. When I dug down to the meat loaf it was pretty good, but overall I didn't like the combination. I think it was the BBQ sauce that put me off. The service was a bit slow this time but all in all it was a good meal.
The second visit we went for the chili, stromboli ($9) and fish and chips ($10). The chili wasn't quite as spicey this time, and we found it a little bland. Still worth having, though! The stromboli was very good and my wife thought the fish was okay. I sampled their Jolly Scot Scottish Ale and thought it was very good. I normally drink Shiner Boch but if they had Jolly Scot here in Texas, I'd definitely drink it as well. The service was much quicker this time, very good service over all.
Appalachian Brewery & Restaurant reminds me of a slightly upscale version of Chili's. The prices are a little higher than Chili's as well. But that's a good comparison. I think you'll find that Appalachian is a very good dining option in Gettysburg, a good place to sit down and relax after hiking the battlefield all day long.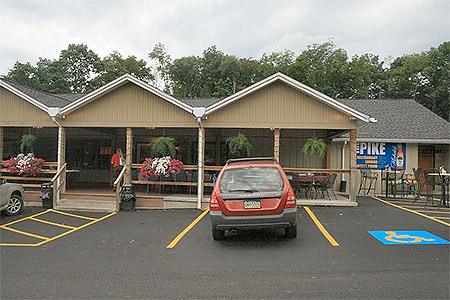 The Pike -

- 985 Baltimore Pike, Gettysburg PA
The Pike is an odd blend of image and substance. As you pull in to the parking lot, it's apparent that this restaurant actively seeks biker clientele. The parking lot is full of bikes. They have a big "motorcycles only" sign with a beer bottle on it in the parking lot. If you look on their website you'll even find a link from their home page to "Motorcycle Weekend." Okay, that's fine. Most bikers are straight-forward, patriotic types so they're my type of people.
So that's the image. The menu is the substance, and that's quite the contrast. The Pike's menu and interior decor just doesn't match with the impression you get from the outside. I'm just having a tough time visualizing a leather-clad biker walking in to this slightly upscale appearing restaurant and ordering menu items like California Club Wrap, Stuffed Tilapia or Shrimp Fettuccini Alfredo.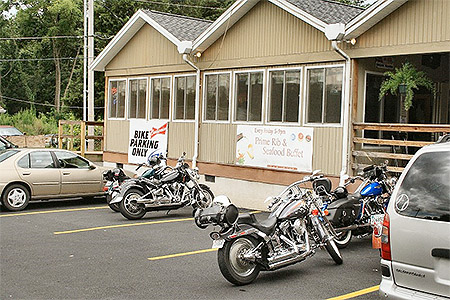 We stopped by The Pike on our way out of Gettysburg towards the airport. The odd incongruity of the biker vs. trendy struck me as we walked in the door and sat at our table but we stuck it out and placed our order. I got the Chicken Fettuccini Alfredo ($14.49) and my wife got the Pike Club Sandwich and French fries ($8.49). We also ordered the chips and salsa appetizer ($3.99). My salad came out quickly, which I gave to my wife because I don't eat rabbit food, and she seemed to think it was very good. The chips and salsa was another matter; the salsa was basically just chopped tomatos and the chips tasted like the cheap generic store-bought chips you can buy, but normally choose not to.
The entrees were very good. My wife really liked her sandwich and couldn't finish the big plate of fries she received. My chicken alfredo was good, like what you'd get at Olive Garden. The garlic bread left something to be desired, but otherwise I enjoyed the dinner very much. A young lady named Megan served us and she did a great job. I thought the prices were on the high edge of being reasonable, or the low edge of being too much, however you choose to view it. But it was very good.
I get the motorcycle thing. There are a LOT of motorcycle riders passing through Gettysburg all the time, and it's smart to market and cater to them as well as car drivers, tour buses, etc. There is just a fundamental difference between the impression you get from the outside of The Pike and what you find on the inside. Once you get past that, The Pike is a good choice for a place to dine while in Gettysburg. The food is good, if a little on the high side, and we were very pleased with the service we received.
Gettysburg Battlefield Travel Photographs
We have linked to several photos from Gettysburg National Military Battlefield on this trip report page . . . but not ALL of the pictures we shot. After you've read the trip report, be sure to check out the Gettysburg National Military Battlefield Photos to see all the great tourist sites and get excited about your trip! View Gettysburg National Military Battlefield travel pictures

.
---
Civil War Trip Reports
Civil War trip report (general notes) - Many of our observations applied to more than one battlefield or to the trip in general. This was particularly true with regards to planning and booking the trip and the items we brought with us on our vacation. Rather than duplicate those comments in the Antietam, Harpers Ferry and Gettysburg trip reports, I've included a separate page for these general comments here.
Antietam National Military Park trip report - We spent one and a half days touring Antietam National Military Park. Read this trip report to learn about our cabin, a great restaurant . . . to avoid, suggestions for improving your visit, and much more.
Harpers Ferry National Historical Park trip report - We visited Harpers Ferry National Historical Park for a half day. While we weren't there for too long, we still had a good time and identified several tips and observations that might help you as you plan for your vacation.
Gettysburg National Military Park trip report - We made two trips to Gettysburg. The first was an overnight stay as part of our June 2009 vacation to Washington DC with our two 16 year-old boys. We all loved it there and when we got home, my wife and I planned a second trip for the two of us in July 2009. We devoted a great deal of time to the Gettysburg battlefield and came up with several tips and suggestions that should help you save time, money and mix-ups on your vacation.
Vicksburg National Military Park trip report - We spent a fast two days in Vicksburg to travel the battlefield in March, 2010. We spent a great deal of time traveling around the battlefield, and stayed overnight in Vicksburg. Good tip for a hotel, not so good experiences with restaurants unfortunately. But you can learn from our mistakes.
Living Civil War History - Civil War Reenactment in Jefferson, Texas - In May, 2010 we traveled to Living Civil War History a civil war reenactment in Jefferson, Texas. This trip report describes the event and provides reviews of two restaurants you don't want to miss.
Texas Civil War Museum - Fort Worth Texas - We have driven past this facility literally hundreds of times - it is within 10 miles of our house. Every time we see it, one of us will say to the other, "We need to check that place out - is it open?" Well, we finally broke down and went for a visit on February 27, 2010. Yes, it is open. We were pleasantly surprised at how nice it was inside too! Check out the trip report from the Texas Civil War Museum in Fort Worth, Texas.
Enjoy this website?
If you appreciate all the information and pictures found at Family Travel Photos.com, you can help me. It's easy -
send me an email with your opinions of this site
(I'm building a testimonials page). Then,
watch and "like" my Youtube videos
. Every time you watch one of my videos, click the "Like" button and subscribe to my channel, you improve my ranking at Youtube. You can also spread the word about Family Travel Photos on Facebook, Twitter, LinkedIn, Ello or any of the social media sites out there.
Please help me get more visitors to Family Travel Photos.com!