Civil War in Texas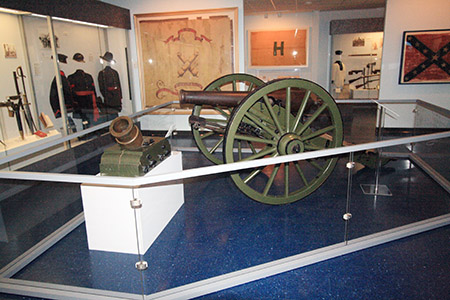 Where did the Civil War end? I'll bet you said Appomattox, where Robert E. Lee surrendered to U.S. Grant. Nope. That ended the war with the largest Confederate army, but fighting continued elsewhere in the south and Jefferson Davis was still president of the Confederacy. Fighting continued on after Lee's surrender, even after Jefferson Davis was captured by Federal forces.
No, the last battle of the Civil War took place in . . . Texas. The Battle of Palmito Ranch was fought on May 12 – May 13, 1865 on the banks of the Rio Grande about twelve miles east of Brownsville, Texas. Ironically, the Confederates won this battle and then, learning of the surrenders to the east and the capture of Jefferson Davis by Union forces, they surrendered the next day.
---
Texas Civil War Museum
Everyone thinks of Virginia, Tennessee, Mississippi, even Maryland and Pennsylvania when they think of the Civil War. But Texas played a role in America's great battle between the states as well. Texans fought at major battles in the East, including Gettysburg and Antietam. Most Texans fought for the Confederacy, but at least two Texas Cavalry regiments formed up and fought on the side of the Union. The Civil War took place on both sides of the Mississippi River, and the Western Theater, while not as well known as the Eastern Theater, was home to a great deal of significant fighting, including battles in and around Texas.
The history of Texas and its involvement with the Civil War is remembered at the Texas Civil War Museum in Fort Worth.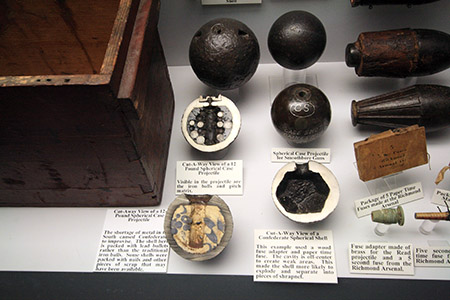 The museum is located in Fort Worth. I have driven past it literally hundreds of times - it is within 10 miles of my home at one time. Every time I saw it, I would think, "I need to check that place out - is it open?" Well, I finally broke down and went for a visit on February 27, 2010. Yes, it is open. I was pleasantly surprised at how nice it was too!
The entrance leads you to a large gift shop with a variety of Civil War and Texas souvenirs. From there you go into the exhibits. A series of four large rooms house the large assortment of display cases. For a relatively small, out-of-the-way museum they have an excellent assortment of artifacts. You'll see a variety of uniforms, sabres and other types of equipment laid out in the display cases.
In addition, the movie Our Homes-Our Rights--Texas in the Civil War is shown in the museum's theater. The movie is well done and short enough that it won't tax your kids' patience.
I liked the display of military musical instruments, in particular. Other cool displays included cut-away examples of different types of cannon projectiles and original battle flags. Confederate general Jeb Stuart's spurs and other personal effects, a presentation sword of General U.S. Grant and an 1860 Colt Revolvers given to Major General Nathaniel Banks by Samuel Colt. Also on display is a large collection of early American dresses, part of the Judy Richey Victorian Dress Collection. I took a fellow Civil War reenactor and his wife to the museum, and she really enjoyed looking at all the dresses they had. She's an accomplished dress maker and learned a lot about how dresses from that period were actually made.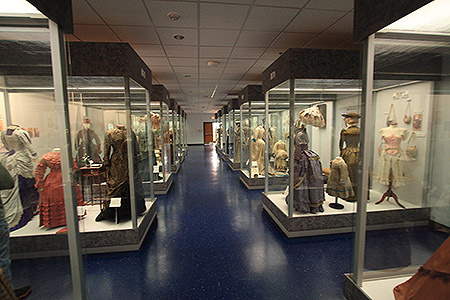 Overall, I was impressed with how nice the displays were, how well organized and well presented the artifacts were. The museum is very family friendly as well. If you are close to Fort Worth and are looking for something to do here, visit the Texas Civil War Museum. It isn't comparable to Gettysburg's Visitor Center, but it is far superior to the exhibits at Antietam - definitely worth checking out!
Location:
The Texas Civil War Museum is locatated at 760 Jim Wright Freeway North, Fort Worth Texas 76108. Locals will better recognize this address as being at exit 5B on the northbound access road of 820. For more information call them at 817/246-2323.
Visit the Texas Civil War Museum Website.
Admissions:
*Adults: $6.00
*Students 7-12: $3.00
*Children 6 and under: Free with adult
Be sure to look through the Texas Civil War Museum in Fort Worth Texas photographs
Texas Day Trip Travel Reports
ADDED APRIL 2016! Tyler Azalea and Spring Flowers Trails, Tyler, Texas - We spent the day in Tyler, Texas, driving the two azalea trails through this community. It was such a nice photo opportunity that I returned the following weekend so my brother could shoot pictures there as well. This trip report will give you the scoop on two restaurants and tell you how to get the most from your time in Tyler..
A Weekend in Fredericksburg, Texas - I confess. I've lived in Texas for more than 25 years and I'd never visited Fredericksburg - and I'm German too! We remedied that in March 2015 when we spent a weekend in Fredericksburg. We stayed at a B&B, visited the Pioneer Museum, sampled wine at Grape Creek Vineyards, had some beers at Pedernales Brewing Company and more. Read this review and trip report for restaurant reviews, shopping information and other helpful information.
Jurassic Quest Life-Sized Dinosaur Model Exhibition in Dallas, Texas - I've had a passion for dinosaurs going back a half-century. When I heard that Jurassic Quest, a nationally touring exhibition of life-sized dinosaur models, would be passing through Fair Park in Dallas, Texas, I knew I wanted to go. Is Jurassic Quest coming to your city? Read my trip report to see if it's worth seeing.
Christmas Light Displays in Dallas, Texas - I will add to this page every year with new places to visit during the holiday season. This year I went to five public exhibits in Dallas / Fort Worth: 12 Days of Christmas and 12 Nights of Christmas at the Dallas Arboretum; Deerfield Community in Plano, Texas; Vitruvian Lights at Vitruvian Park in Addison, Texas; Main Street in Grapevine, Texas; and Ice! at the Gaylord Texan in Grapevine, Texas. I also stopped by a home in Carrollton, Texas that has provided a wonderful Christmas display for many years that has become a tradition for many in north Texas.
Ripley's Believe It Or Not and Louis Tussaud's Palace of Wax in Grand Prairie, Texas - One of the more unique tourist attractions I've ever visited is Ripley's Believe It Or Not and Louis Tussaud's Palace of Wax in Grand Prairie, Texas. While a lot of this is badly outdated, it's still a fun day trip with more opportunities for photography than any other place I can remember.
Frisco RoughRiders minor league baseball in Frisco, Texas - Watching a minor league baseball is a terrific family ativity. The Frisco RoughRiders is a Double-A farm team for the Texas Rangers and I had the chance to take in a day game in May, 2014.
Ennis Bluebonnet Trails in Ennis, Texas - The bluebonnet is the state flower of Texas and one of its best known symbols. The town of Ennis, south of Dallas, has the honor of providing the state's only formally recognized bluebonnet trails every year and they do it right. Read this report to learn more about going to the Ennis Bluebonnet Trails.
Scarborough Renaissance Festival in Waxahachie, Texas - On May 23, 2010 my son Ryan and I went to Scarborough Renaissance Festival in Waxahachie, about 30 minutes south of Dallas, Texas. Scarborough Renaissance Festival is one of the largest events to happen around the Dallas / Fort Worth Metroplex every year. Started in 1981, it is now attended by 200,000 visitors annually.
Living Civil War History - Civil War Reenactment in Jefferson, Texas - In May, 2010 we traveled to Living Civil War History a civil war reenactment in Jefferson, Texas. This trip report describes the event and provides reviews of two restaurants you don't want to miss.
Texas Civil War Museum - Fort Worth Texas - I have driven past this facility literally hundreds of times. Every time I saw it, I thought, "I need to check that place out - is it open?" Well, I finally broke down and went for a visit on February 27, 2010. Yes, it is open. I was pleasantly surprised at how nice it was inside too!
Enjoy this website?
If you appreciate all the information and pictures found at Family Travel Photos.com, you can help me. It's easy -
send me an email with your opinions of this site
(I'm building a testimonials page). Then,
watch and "like" my Youtube videos
. Every time you watch one of my videos, click the "Like" button and subscribe to my channel, you improve my ranking at Youtube. You can also spread the word about Family Travel Photos on Facebook, Twitter, LinkedIn, Ello or any of the social media sites out there.
Please help me get more visitors to Family Travel Photos.com!