Ripley's Believe It or Not / Palace of Wax
Ripley's Odditorium and a Palace of Wax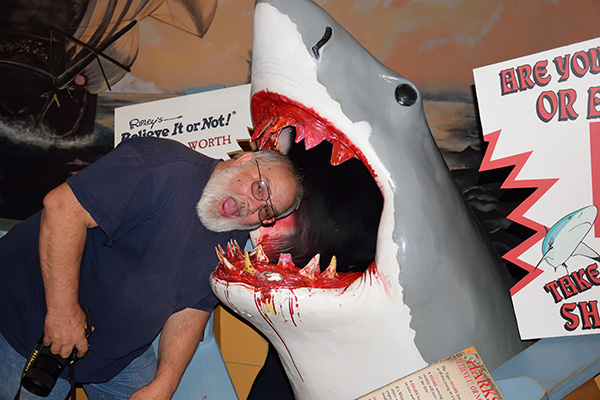 Everyone has heard of Ripley's Believe It or Not, a collection of strange and bizarre artifacts and information that has been featured on television shows, movies, museums and other venues.
One of the 32 Ripley's Believe It Or Not museums currently operating - also known as Odditoriums - is located in Grand Prairie, Texas. It shares a home with a Louis Tussaud's Palace of Wax museum, a Ripley's Enchanted Mirror Maze and Ripley's Impossible Laser Maze.
In October 2014 my brother and I visited this unusual tourist destination. Neither my brother nor I am spry enough to tackle the laser maze and a house of mirrors doesn't offer much in the way of photo opportunities, so we contented ourselves to tour the Odditorium and the Palace of Wax.
---
VIDEO TRIP REPORT
THE MUSEUM
You really have to treat the Odditorium and the Palace of Wax as two separate attractions because they are so different in terms of content and quality.
Odditorium. I'll start with Ripley's Believe It Or Not Odditorium.
The Odditorium provides a maze through a series of rooms that showcase everything from the world's tallest man (shown right) to an amazing scrimshaw carving to a cowboy shooting range. Each room is designed separately, so you can walk from a modern room that houses nautical items like a big shark, a canon, a puffer fish a monster lobster, and move directly into King Solomon's mine, complete with a black light-painted mask and a shrunken head.
I can see why this display would have thrilled people in the 1930s. I can understand people in the 1950s enjoying it. That said, this display is so badly out of date, in terms of content as well as technology, that I don't see how it could impress anyone viewing it for the last 40 years. In 1933 someone might be amazed by the poisonous puffer fish. In 2014 . . . not so much. 500 channels on our TVs now give us far more to be impressed with than what you'll find here.
The world's tallest man display was very cool - in the picture above you see me next to this guy, and I'm over 6' tall! The lizard man and fat man were neat statues. Nothing else in the museum was any more bizarre or unusual than what you'll find strolling through Times Square on a Saturday evening. The technology is antiquated beyond hope; for example, the tornado room gets a big hype from the signage, but it's nothing more than a dark room with a ceiling fan or two. The shooting gallery is not amazing or bizarre in any way - it's just an old fashioned shooting arcade circa 1970. I was not "astounded" by a dress made out of soda cans, a wedding gown made of toilet paper, a doll house constructed of popsicle sticks or most of the rest of the displays. This was about the quality I'd expect from a fun house at a traveling carnival.
Time has left Ripley's Believe It Or Not far behind. The Odditorium needs a massive facelift, in terms of content, decor and technology, for it to have any real appeal.
Here is a brief video of Ripley's Believe It Or Not Odditorium:
Palace of Wax. The Palace of Wax offered a much more entertaining experience. This museum was full of life-sized (or close to) wax sculptures of entertainers, politicians and historical figures going back 2000 years.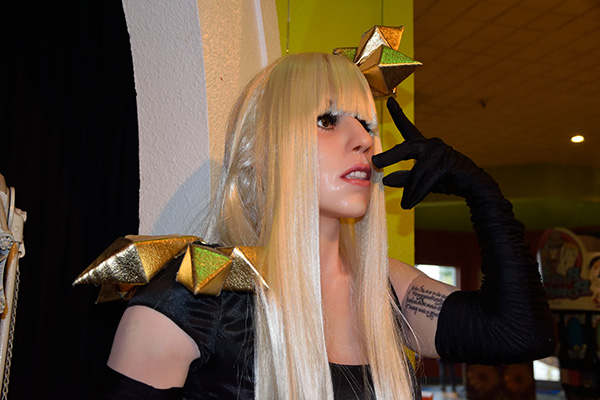 The quality of the figures ranged from remarkable all the way down to unrecognizeable. The tour started with a room full of entertainment stars. Britney Spears and Jason Statham were great. Lady Gaga was very well done, if you can recognize her with her clothes on. The cast of Star Trek and the Three Stooges were really bad. A few dozen celebrities filled this room, going back to the Marilyn Monroe and the Rat Pack and moving forward to more recent stars like Sylvester Stallone, Demi Moore, Denzel Washington and Morgan Freeman.
The US presidents display was cool but most of the figures were not that well rendered. Washington was well over 6 feet all but the sculpture was probably 5'10". The modern presidents were not well recreated at all. Obama was probably the closest, but Reagan, Clinton, the Bushes . . . not good.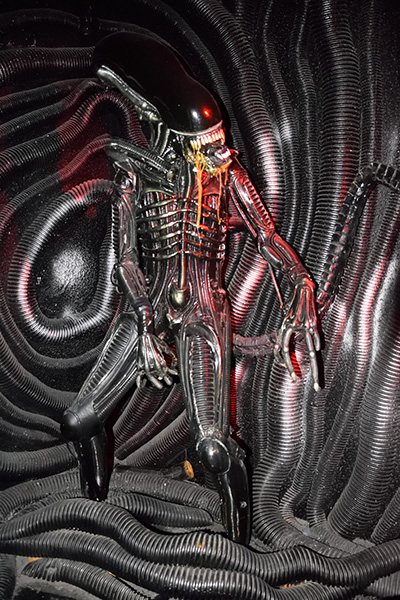 From there the museum wound its way through a series of rooms showing everything from the Wizard of Oz to Western historical figures to super heros like Batman, Spiderman and their foes Riddler, Cat Woman and Joker. These were very well done (except for Superman - they seem to have trouble with the hair on these sculptures) and I would have liked to see more of them. Historical figures including U.S. Grant and Robert E. Lee, Martin Luther King, the signers of the Declaration of Independence, Adolph Hitler, Saddam Hussein, Ghandi and many more were also featured.
The museum included a walk through the life of Jesus Christ, which was extremely well done. It passed through the nativity scene, growing up, his missionary work, and of course the last supper, crucifiction and resurrection. These were dramatic displays, large and well crafted.
Are you getting the sense that this was an incredibly diverse collection of famous people who were on display?
From here I entered the House of Fear. THIS was worth the cost of admission. The monsters we all know - Frankenstein, wolfman, Dracula, Phantom of the Opera - were all in attendance. Freddie Kruger and the guy from Texas Chainsaw Massacre were there, along with the monster from Alien and Predator, with an (un)healthy dose of ghouls, skeletons and other scary scenes along the way.
The exhibit included some more modern technology, including great sound effects, music and flat screens embedded in doors that showed very scary images.
Here are the monsters from the Palace of Wax:
Here is a walk-through of the Palace of Wax:
The Palace of Wax is very cool and lots of fun to go through. It is remarkably large, with more than 250 figures to see. I'd drive to Grand Prairie again just to go through this exhibit. The monsters section alone were cool enough for that.
What else to say about the Odditorium / Palace of Wax? The employees who I spoke with were super friendly and super helpful - they represented their business well. There is a bizarre car parked out front that you need to check out, especially if you're a Sgt. Peppers Lonely Hearts Club Band fan. The kids will love the big metal dinosaurs in front of the building.
Cost - Going to any one exhibit is expensive. $19 for the Odditorium, Palace of Wax and Mirror Maze (kids - $9). The laserace is $5. Getting two or more exhibits doesn't cost much more - a combo ticket of all four exhibits is $30 per person ($20 for kids). You can buy tickets online at their website. A ticket to the Odditorium and Palace of Wax was $23. I think you'll find that you come out of the Odditorium feeling short-changed, but after you go through the Palace of Wax you'll be happy with what you spent. Especially if you're a photographer . . .
Photographic Comments
You can have a BLAST with your camera and video camera in the Odditorium or the Palace of Wax. In fact, I think this is the best location I've ever been to for practicing various photographic techniques. Go through the tutorials I have on this website, for example, and then go to the Palace of Wax to try out what you've learned. Rule of thirds, framing, leading lines, depth of field, follow the eyes, fill the frame . . . you have 250 subjects to choose from, who will stand still as long as you'd like while you take their pictures and try out different techniques.
I have two friends who want to do a photo shoot with me so I can teach them about photography, and I think this is the place I will take them.
On my first visit I went through the exhibits with the Nikon D5300 DSLR and a GoPro HERO 4 Black and shot to my heart's content. We were there for almost three hours because I kept going back and forth, doing still images and videos, so I had a ball. I also used my PilotFly FUNNYGO gimbal on the first visit for wonderfully smooth video.
On my second visit I used the GoPro HERO 4 Black, a GoPro HERO 4 Silver and the Feiyu Tech G4 gimbal. I had the extension pole for the G4 gimbal but didn't use it - I should have.
In most cases you can get right up to the displays - most are not behind glass - and get some wonderfully creative shots. I got within a couple inches of a few wax figures, for example - the Predator monster must be 9 feet tall but I was using a foot-long gimbal, so I could get my GoPro up to the beast's eye level and got some great video close-ups.
I believe that tripods are not allowed but I'm not sure - I doubt you'd have any issue using a monopod though. Call them to see about tripods if that's what you want to use. You could also use a POV pole so you can pose with the figures.
Please be careful around the displays with your POV pole or monopod. You don't want to be the person who damaged a figure and caused the museum to change its photo policies.
In many cases this is not the easiest shooting environment. You have lots of strange lighting situations with accent lights, strobes, colored lights, etc. That's good news because it's a great way for you to develop your skills shooting in different situations.
You can bump up your ISO and shoot with existing light (and deal with the grainy aftermath) or use the flash (which will wash out the lighting effects. Or do both - the figures aren't going anywhere so you can try lots of different things. Try using walls, door jambs or other fixed building features as stabilizers while shooting in low light.
You won't have any use for a long lens - anything over 140mm would probably be overkill. I used my 18-140 for all my shooting. A super-wide angle lens might be nice for a few shots, but I didn't bother with mine.
Texas Day Trip Travel Reports
ADDED APRIL 2016! Tyler Azalea and Spring Flowers Trails, Tyler, Texas - We spent the day in Tyler, Texas, driving the two azalea trails through this community. It was such a nice photo opportunity that I returned the following weekend so my brother could shoot pictures there as well. This trip report will give you the scoop on two restaurants and tell you how to get the most from your time in Tyler..
A Weekend in Fredericksburg, Texas - I confess. I've lived in Texas for more than 25 years and I'd never visited Fredericksburg - and I'm German too! We remedied that in March 2015 when we spent a weekend in Fredericksburg. We stayed at a B&B, visited the Pioneer Museum, sampled wine at Grape Creek Vineyards, had some beers at Pedernales Brewing Company and more. Read this review and trip report for restaurant reviews, shopping information and other helpful information.
Jurassic Quest Life-Sized Dinosaur Model Exhibition in Dallas, Texas - I've had a passion for dinosaurs going back a half-century. When I heard that Jurassic Quest, a nationally touring exhibition of life-sized dinosaur models, would be passing through Fair Park in Dallas, Texas, I knew I wanted to go. Is Jurassic Quest coming to your city? Read my trip report to see if it's worth seeing.
Christmas Light Displays in Dallas, Texas - I will add to this page every year with new places to visit during the holiday season. This year I went to five public exhibits in Dallas / Fort Worth: 12 Days of Christmas and 12 Nights of Christmas at the Dallas Arboretum; Deerfield Community in Plano, Texas; Vitruvian Lights at Vitruvian Park in Addison, Texas; Main Street in Grapevine, Texas; and Ice! at the Gaylord Texan in Grapevine, Texas. I also stopped by a home in Carrollton, Texas that has provided a wonderful Christmas display for many years that has become a tradition for many in north Texas.
Ripley's Believe It Or Not and Louis Tussaud's Palace of Wax in Grand Prairie, Texas - One of the more unique tourist attractions I've ever visited is Ripley's Believe It Or Not and Louis Tussaud's Palace of Wax in Grand Prairie, Texas. While a lot of this is badly outdated, it's still a fun day trip with more opportunities for photography than any other place I can remember.
Frisco RoughRiders minor league baseball in Frisco, Texas - Watching a minor league baseball is a terrific family ativity. The Frisco RoughRiders is a Double-A farm team for the Texas Rangers and I had the chance to take in a day game in May, 2014.
Ennis Bluebonnet Trails in Ennis, Texas - The bluebonnet is the state flower of Texas and one of its best known symbols. The town of Ennis, south of Dallas, has the honor of providing the state's only formally recognized bluebonnet trails every year and they do it right. Read this report to learn more about going to the Ennis Bluebonnet Trails.
Scarborough Renaissance Festival in Waxahachie, Texas - On May 23, 2010 my son Ryan and I went to Scarborough Renaissance Festival in Waxahachie, about 30 minutes south of Dallas, Texas. Scarborough Renaissance Festival is one of the largest events to happen around the Dallas / Fort Worth Metroplex every year. Started in 1981, it is now attended by 200,000 visitors annually.
Living Civil War History - Civil War Reenactment in Jefferson, Texas - In May, 2010 we traveled to Living Civil War History a civil war reenactment in Jefferson, Texas. This trip report describes the event and provides reviews of two restaurants you don't want to miss.
Texas Civil War Museum - Fort Worth Texas - I have driven past this facility literally hundreds of times. Every time I saw it, I thought, "I need to check that place out - is it open?" Well, I finally broke down and went for a visit on February 27, 2010. Yes, it is open. I was pleasantly surprised at how nice it was inside too!
Enjoy this website?
If you appreciate all the information and pictures found at Family Travel Photos.com, you can help me. It's easy -
send me an email with your opinions of this site
(I'm building a testimonials page). Then,
watch and "like" my Youtube videos
. Every time you watch one of my videos, click the "Like" button and subscribe to my channel, you improve my ranking at Youtube. You can also spread the word about Family Travel Photos on Facebook, Twitter, LinkedIn, Ello or any of the social media sites out there.
Please help me get more visitors to Family Travel Photos.com!