Dallas / Fort Worth Texas Day Trip Reports
Traveling the Lone Star State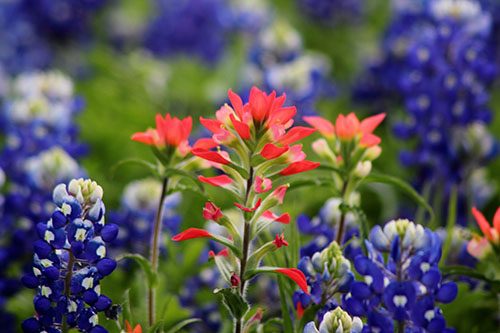 I love Texas. There are millions of things to do, indoors and out, for all age groups, all around the state. Every weekend there are local cultural events, festivals, sports, seasonal activities. I like to take frequent day trips an weekend trips all around the state to enjoy all the great things Texas has to offer.
As I develop Texas day trip reports I will provide those below.
---
Texas Day Trip Travel Reports
ADDED APRIL 2016! Tyler Azalea and Spring Flowers Trails, Tyler, Texas - We spent the day in Tyler, Texas, driving the two azalea trails through this community. It was such a nice photo opportunity that I returned the following weekend so my brother could shoot pictures there as well. This trip report will give you the scoop on two restaurants and tell you how to get the most from your time in Tyler..
A Weekend in Fredericksburg, Texas - I confess. I've lived in Texas for more than 25 years and I'd never visited Fredericksburg - and I'm German too! We remedied that in March 2015 when we spent a weekend in Fredericksburg. We stayed at a B&B, visited the Pioneer Museum, sampled wine at Grape Creek Vineyards, had some beers at Pedernales Brewing Company and more. Read this review and trip report for restaurant reviews, shopping information and other helpful information.
Jurassic Quest Life-Sized Dinosaur Model Exhibition in Dallas, Texas - I've had a passion for dinosaurs going back a half-century. When I heard that Jurassic Quest, a nationally touring exhibition of life-sized dinosaur models, would be passing through Fair Park in Dallas, Texas, I knew I wanted to go. Is Jurassic Quest coming to your city? Read my trip report to see if it's worth seeing.
Christmas Light Displays in Dallas, Texas - I will add to this page every year with new places to visit during the holiday season. This year I went to five public exhibits in Dallas / Fort Worth: 12 Days of Christmas and 12 Nights of Christmas at the Dallas Arboretum; Deerfield Community in Plano, Texas; Vitruvian Lights at Vitruvian Park in Addison, Texas; Main Street in Grapevine, Texas; and Ice! at the Gaylord Texan in Grapevine, Texas. I also stopped by a home in Carrollton, Texas that has provided a wonderful Christmas display for many years that has become a tradition for many in north Texas.
Ripley's Believe It Or Not and Louis Tussaud's Palace of Wax in Grand Prairie, Texas - One of the more unique tourist attractions I've ever visited is Ripley's Believe It Or Not and Louis Tussaud's Palace of Wax in Grand Prairie, Texas. While a lot of this is badly outdated, it's still a fun day trip with more opportunities for photography than any other place I can remember.
Frisco RoughRiders minor league baseball in Frisco, Texas - Watching a minor league baseball is a terrific family ativity. The Frisco RoughRiders is a Double-A farm team for the Texas Rangers and I had the chance to take in a day game in May, 2014.
Ennis Bluebonnet Trails in Ennis, Texas - The bluebonnet is the state flower of Texas and one of its best known symbols. The town of Ennis, south of Dallas, has the honor of providing the state's only formally recognized bluebonnet trails every year and they do it right. Read this report to learn more about going to the Ennis Bluebonnet Trails.
Scarborough Renaissance Festival in Waxahachie, Texas - On May 23, 2010 my son Ryan and I went to Scarborough Renaissance Festival in Waxahachie, about 30 minutes south of Dallas, Texas. Scarborough Renaissance Festival is one of the largest events to happen around the Dallas / Fort Worth Metroplex every year. Started in 1981, it is now attended by 200,000 visitors annually.
Living Civil War History - Civil War Reenactment in Jefferson, Texas - In May, 2010 we traveled to Living Civil War History a civil war reenactment in Jefferson, Texas. This trip report describes the event and provides reviews of two restaurants you don't want to miss.
Texas Civil War Museum - Fort Worth Texas - I have driven past this facility literally hundreds of times. Every time I saw it, I thought, "I need to check that place out - is it open?" Well, I finally broke down and went for a visit on February 27, 2010. Yes, it is open. I was pleasantly surprised at how nice it was inside too!
Enjoy this website?
If you appreciate all the information and pictures found at Family Travel Photos.com, you can help me. It's easy -
send me an email with your opinions of this site
(I'm building a testimonials page). Then,
watch and "like" my Youtube videos
. Every time you watch one of my videos, click the "Like" button and subscribe to my channel, you improve my ranking at Youtube. You can also spread the word about Family Travel Photos on Facebook, Twitter, LinkedIn, Ello or any of the social media sites out there.
Please help me get more visitors to Family Travel Photos.com!