Minor League Baseball in Frisco, Texas
I love watching baseball. I love Texas. And I love free. When family members contacted us to offer free tickets to a minor league baseball game featuring the Frisco RoughRiders versus the Miland RockHounds, it just couldn't be much better. Especially with a nice blue sky overhead. And so on May 4, 2014 we headed off to Frisco, Texas for an afternoon ballgame with the RoughRiders.
---
FRISCO ROUGHRIDERS BASEBALL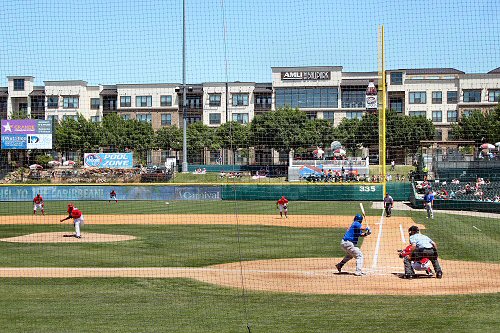 Minor league baseball is a totally different experience than a major league game.
A big league game is a polished, hi-tech presentation of our national pastime. Great players make great plays in a huge stadium with tens of thousands of cheering spectators.
A minor league game is a much more low-key, relaxed situation. A good crowd may only be 5,000 people. The stadium is smaller so everyone sits close to the field . . . and close to the foul balls as well. You probably won't have the megawatt sound system, the massive video board or the pyrotechnics. Instead you have an organist, a sound guy with a few sound effects that he never times quite right, and a static video screen to display the batter's picture.
Don't expect the amazing plays you see on ESPN . . . on one play at this game I witnessed a passed ball and two errors - on a strikeout. That's right, the batter struck out and ended up on third base, as confused and surprised as the rest of us. Most of these guys will not make the major leagues - but that's ok because you never know what might happen.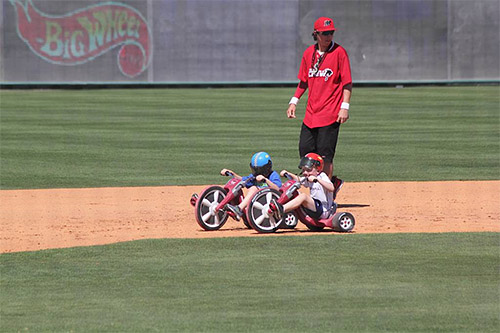 In spite of all that, minor league ball is great. It's like the major leagues were before everything got all high-tech and high-dollar.
Families enjoy the game - they can afford to because the tickets don't cost more than the GDP of most European countries. The mascots interact with the crowds and get the kids out on the field every half inning.
Minor league baseball takes us back to when baseball teams were local affairs, one town playing against its neighbor, for civic pride and bragging rights instead of a boost in souvenir sales and million dollar endorsements. It's Casey at the Bat in modern uniforms. The minor leagues is Main Street, and the Major Leagues are Madison Avenue. The minor leagues is what our national pastime used to be before our national pastime got all uppity.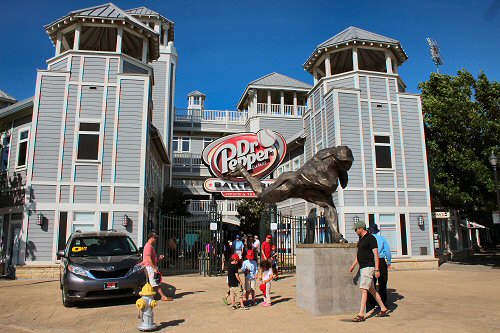 The Frisco RoughRiders play at Dr. Pepper Ballpark in Frisco, Texas. It's a newer stadium, built in 2003, and seats 10,000. As far as minor league parks go, this one is pretty nice. The building is designed almost like a bunch of townhouses from the outside, giving it a very different, almost residential community look. The team averages a half-million attendees every year so it is a popular place to visit. A large sculpture of a pitcher stands at the front entrance - this makes a nice place to pose your family for the obligatory family photo when you go. The place has plenty of parking. You can even park over in Ikea's parking lot and walk to the stadium, which makes getting out of the area after the game very easy.
The downsides to the ballpark were few - the seats are made out of dark plastic and retain enough solar heat to fry bacon. If you don't want your bacon fried, bring a blanket or something to throw over your chair. I'd also encourage you to eat before you go to the game; hot dogs run $6.75 - $7.50 and taste like something you get with a school lunch. Sodas are small and pricey as well. I was disappointed to see the price of concessions - minor league baseball should be cheap, including the food. I thought the souvenirs were a bit expensive too - the caps cost almost as much as major league ballcaps cost.
Fortunately you save money when you go to a game. RoughRiders' ticket prices are much better than at Texas Rangers games - They range from $9.75 to $24.63 per seat. You can purchase tickets online at ridersbaseball.com. Radio stations give away a lot of free tickets to RoughRider gamesand I'm betting other discounts are available as well. If you learn of any ways to get into the games on the cheap, let me know. I'll post whatever I learn here.
Photography at the ballgame: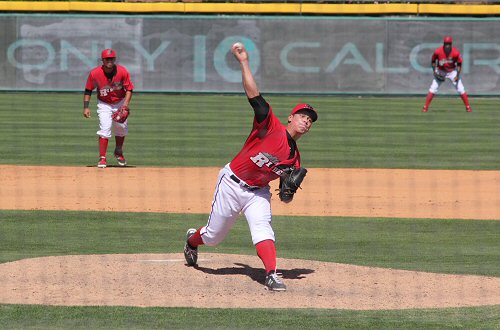 A minor league ballgame is a great place to practice your photography. The stadium is smaller so you are closer to the action. Take your camera and practice shooting at different shutter speeds - see the effect of shooting at super high speeds and freezing the motion versus a slower speed and getting a cool blur on the bat and ball.
Take a long lens and a regular (around 50mm) lens. If you really want a panoramic shot, you can stitch one together with multiple pictures from your regular lens. I did a couple panoramas when I was there and they worked well. You have to time your shots properly so that a person who appears in two consecutive shots will be in roughly the same position. Don't know how to do a multi-shot panorama? No problem - read this tutorial on how to shoot and create panoramas.
The long lens is the fun one to use though; you can sit close enough to really zoom in on the batter, the pitcher, etc. Be sure to set your camera to shoot multiple shots when you push the shutter release. Then let it fire away to capture a whole series as the pitcher delivers the ball or the batter swings.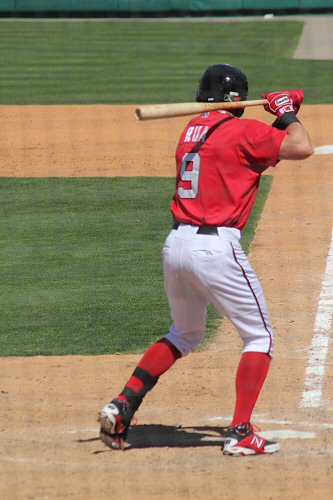 Beware - you are sitting closer to the action so you are closer to foul balls. We saw some guy walking up the aisle get hit in the back by a foul ball - that HAD to hurt. Pay attention!
The seats around home plate are protected by a net. You have a choice; sit behind the net (sections 109 - 117) for the protection and shoot through the net, or get a seat a little further down the baseline (sections 101 - 108, 118 - 126) and shoot without the obstruction (or protection) of the net.
If you use a long zoom and focus through the net to the players, the net will largely disappear - as you see in my shot to the left. The net is still visible but it's tolerable. You may have to shut off the auto focus and do it manually to get this to work . . . otherwise, you may come home with lots of pictures of a net with blurry action in the background.
One other thing - I went to a day game, which meant I had lots of light. I haven't done night photography in this stadium so I don't know how well the field is illuminated. If you plan to shoot a night game, bring a monopod or small tripod just in case and expect to get motion blur unless you shoot during pauses in the action.
Be sure to look through the Frisco RoughRiders pictures in Dallas Fort Worth Texas photographs
Texas Day Trip Travel Reports
ADDED APRIL 2016! Tyler Azalea and Spring Flowers Trails, Tyler, Texas - We spent the day in Tyler, Texas, driving the two azalea trails through this community. It was such a nice photo opportunity that I returned the following weekend so my brother could shoot pictures there as well. This trip report will give you the scoop on two restaurants and tell you how to get the most from your time in Tyler..
A Weekend in Fredericksburg, Texas - I confess. I've lived in Texas for more than 25 years and I'd never visited Fredericksburg - and I'm German too! We remedied that in March 2015 when we spent a weekend in Fredericksburg. We stayed at a B&B, visited the Pioneer Museum, sampled wine at Grape Creek Vineyards, had some beers at Pedernales Brewing Company and more. Read this review and trip report for restaurant reviews, shopping information and other helpful information.
Jurassic Quest Life-Sized Dinosaur Model Exhibition in Dallas, Texas - I've had a passion for dinosaurs going back a half-century. When I heard that Jurassic Quest, a nationally touring exhibition of life-sized dinosaur models, would be passing through Fair Park in Dallas, Texas, I knew I wanted to go. Is Jurassic Quest coming to your city? Read my trip report to see if it's worth seeing.
Christmas Light Displays in Dallas, Texas - I will add to this page every year with new places to visit during the holiday season. This year I went to five public exhibits in Dallas / Fort Worth: 12 Days of Christmas and 12 Nights of Christmas at the Dallas Arboretum; Deerfield Community in Plano, Texas; Vitruvian Lights at Vitruvian Park in Addison, Texas; Main Street in Grapevine, Texas; and Ice! at the Gaylord Texan in Grapevine, Texas. I also stopped by a home in Carrollton, Texas that has provided a wonderful Christmas display for many years that has become a tradition for many in north Texas.
Ripley's Believe It Or Not and Louis Tussaud's Palace of Wax in Grand Prairie, Texas - One of the more unique tourist attractions I've ever visited is Ripley's Believe It Or Not and Louis Tussaud's Palace of Wax in Grand Prairie, Texas. While a lot of this is badly outdated, it's still a fun day trip with more opportunities for photography than any other place I can remember.
Frisco RoughRiders minor league baseball in Frisco, Texas - Watching a minor league baseball is a terrific family ativity. The Frisco RoughRiders is a Double-A farm team for the Texas Rangers and I had the chance to take in a day game in May, 2014.
Ennis Bluebonnet Trails in Ennis, Texas - The bluebonnet is the state flower of Texas and one of its best known symbols. The town of Ennis, south of Dallas, has the honor of providing the state's only formally recognized bluebonnet trails every year and they do it right. Read this report to learn more about going to the Ennis Bluebonnet Trails.
Scarborough Renaissance Festival in Waxahachie, Texas - On May 23, 2010 my son Ryan and I went to Scarborough Renaissance Festival in Waxahachie, about 30 minutes south of Dallas, Texas. Scarborough Renaissance Festival is one of the largest events to happen around the Dallas / Fort Worth Metroplex every year. Started in 1981, it is now attended by 200,000 visitors annually.
Living Civil War History - Civil War Reenactment in Jefferson, Texas - In May, 2010 we traveled to Living Civil War History a civil war reenactment in Jefferson, Texas. This trip report describes the event and provides reviews of two restaurants you don't want to miss.
Texas Civil War Museum - Fort Worth Texas - I have driven past this facility literally hundreds of times. Every time I saw it, I thought, "I need to check that place out - is it open?" Well, I finally broke down and went for a visit on February 27, 2010. Yes, it is open. I was pleasantly surprised at how nice it was inside too!
Enjoy this website?
If you appreciate all the information and pictures found at Family Travel Photos.com, you can help me. It's easy -
send me an email with your opinions of this site
(I'm building a testimonials page). Then,
watch and "like" my Youtube videos
. Every time you watch one of my videos, click the "Like" button and subscribe to my channel, you improve my ranking at Youtube. You can also spread the word about Family Travel Photos on Facebook, Twitter, LinkedIn, Ello or any of the social media sites out there.
Please help me get more visitors to Family Travel Photos.com!