A Weekend in Fredericksburg, Texas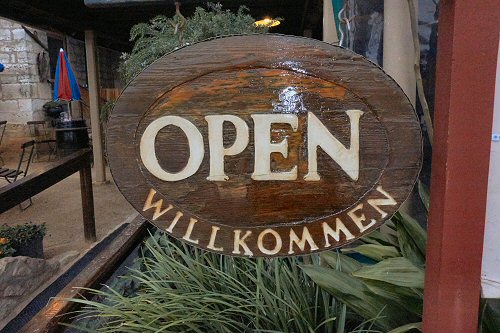 I'm ashamed to admit it, but I have lived in Texas for 25 years and I'd never been to Fredericksburg. My wife Q had never been there either. To make it even more embarrassing – we're both German and we've never been to this German tourist town . . . Gott in Himmel!
Fredericksburg is one of those tourist places that everyone goes to, like the beach at Galveston or the Alamo in San Antonio and we were long overdue. So, in March 2015 we fixed that.
This trip report details our weekend visit to Fredericksburg, Texas.
---
VIDEO VERSION OF THIS TRIP REPORT
GERMAN HERITAGE IN TEXAS
We decided to spend a weekend in Fredericksburg to celebrate a birthday and headed out on a five hour drive from Dallas / Fort Worth. Well, it was supposed to be five hours but because of terrible traffic, constant road construction and lousy weather it took longer than eight hours to make the drive.
First Tip – consider traveling on US 281 instead of Interstate 35. Driving on I-35 is hell, even on weekends.
We arrived at our cabin after midnight, tired and stressed. Fortunately, we booked our cabin through 1st Class Lodging Reservation Service in Fredericksburg, and they had taken great care of us. We picked up the key from a drop box at the rental office, which came with good directions to our cabin.
Our B&B . . . I mean B&V Cabin
1st Class Lodging Reservation Service in Fredericksburg
(855) 422-8181
www.fredericksburg-lodging.com
There are more than 400 B&Bs, cabins, guest houses, inns and guest ranches around Fredericksburg. They range widely in styles and amenities and at first I was a bit bewildered by all the choices. Fortunately I found the website for 1st Class Lodging Reservation Services and they made it very easy. I called their reservation number, told them when we'd be there and basically what we wanted, and in minutes I had a list of available cabins waiting in my mailbox. We picked the cabin we wanted and paid over the phone, then got our paperwork by email. It was all simple and convenient and everyone was extremely friendly and helpful. I also ordered a special occasion add-on and the folks with 1st Class took great care to get the order right and have it delivered at our convenience. All in all, I think 1st Class gave us 1st Class service. If I do a bed and breakfast in Fredericksburg again, I won't call anyone else.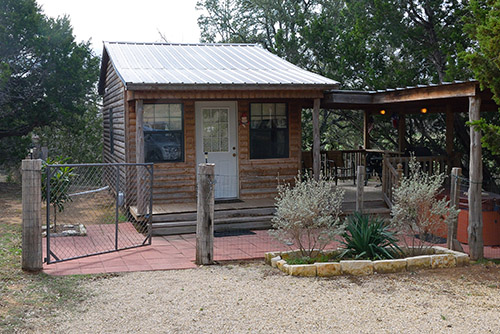 Our cabin, named the Barons Bach Kleiner Hafen, was wonderful, quiet and secluded, but less than five minutes downtown. It had the feel of an old time cabin but it was very new. (As opposed to other rental places in the area that actually were well over 100 years old. As I said, the variety of B&B accommodations is remarkable.)
The interior was done in a wood log finish, with a queen sized bed, a small dinette table for two, a bench chair and night stands. The cabin was very small so there was no space for additional furniture - and additional furniture wasn't needed. The kitchen space was very nice, with a double sink, microwave and mini-refrigerator that actually worked very well. The bathroom was tiny, with a shower and toilet but no sink.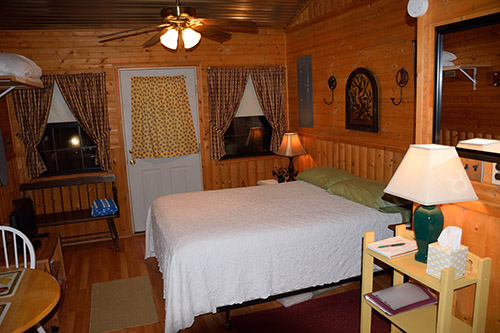 The owners stocked the cabin with lots of helpful items - dishes, games, plenty of towels and pillows, etc. (The cabin is cooled with a window heating and A/C unit - as small as that was, I think the window unit would be more than sufficient; we had it set for 70 degrees and we were very comfortable.) We thought the owners did a terrific job of decorating the cabin and setting up for their guests' convenience.
Outside the cabin was a large covered patio area with a small grill and a two-person hot tub. The patio was a bit of a wind tunnel but it was still very nice. Again, the weather kept us from using it much but it was a great part of the cabin.
The cabin is located along a tree line that stands over a small creek. In the evening the setting is very nice. During the day, a bunch of junky trucks and other items across the creek detract from the setting. The value of the setting is not the scenery, however - it is the quiet privacy you'll enjoy.
The Barons Bach Kleiner Hafen didn't come with a breakfast; instead we received a voucher for $5 per person per day to use at one of several restaurants in town. $5 would cover a continental breakfast, and the food at the restaurants we visited was inexpensive enough that the vouchers cut a big chunk from our final check. We were perfectly happy with this arrangement. To be clear though, it's not a Bed & Breakfast arrangement. If you're someone who really likes the community breakfast at a B&B you'll have to keep that in mind when considering this property. Think of this as Bed & Voucher rather than a Bed & Breakfast accommodations.
Only two minor negatives regarding the cabin. The television is tiny, almost too small to watch. This was a non-issue for us as we spent very little leisure time in the cabin. We did get a good laugh at the TV, however. Second, the water heater is too small. This was an issue. Q took a fast shower and when I went in for my shower, the water went cold. Very, very, very cold. Had I waited the water probably would have warmed up again in short order but people tend to get ready at the same time in the morning, so a larger water heater would be a good investment.
All in all the cabin was very nice and I'd be happy to stay there again. It was pricey - two nights cost just over $440 - so I'd only use it for a special occasion, but we definitely enjoyed it. The cabin was comparably priced to other rental places in the area.
After a good night's sleep at the Barons Bach Kleiner Hafen, we were ready to start our Saturday in Fredericksburg.
When you look at things to do in Fredericksburg, you come up with a pretty simple list of potential activities. You can visit wineries and do wine tasting, go to museums, shop the 100+ stores in the downtown area, eat German food and visit one of the state parks in the area. The weather was cold and damp on Saturday, and rained all day Sunday, so we chose not to visit the state parks. We did manage to put a good dent in the rest of the list, however, considering our short stay and the inclement weather.
Saturday
Andy's Steak and Seafood Grille
413 S. Washington Street, Fredericksburg
http://www.andysgrille.com/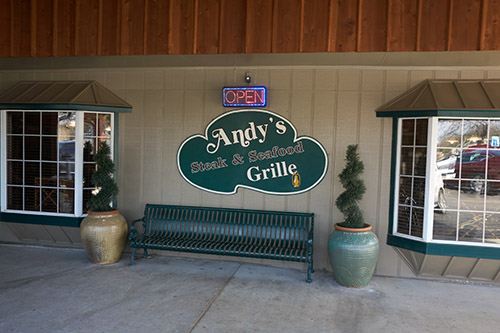 Andy's Steak and Seafood Grille was the first of several places we visited where I found the atmosphere to be jarringly unexpected. Given that Fredericksburg is a tourist town with all the art galleries, wineries, eclectic gift shops, etc. I expected the restaurants to present matching upscale designs and menus, or at least designs and menus that targeted tourists. Andy's defied that expectation.
Andy's atmosphere is old country diner. A toy train runs on a track mounted near the ceiling. Country music played from the sound system and the walls were covered in paneling, paint and tile. The buffet area looked like something out of an old industrial kitchen. Animal cadavers adorn the walls, and three stuffed critters (one of them was an albino raccoon, an employee proudly told me) stood on top of a display of desserts by the entrance.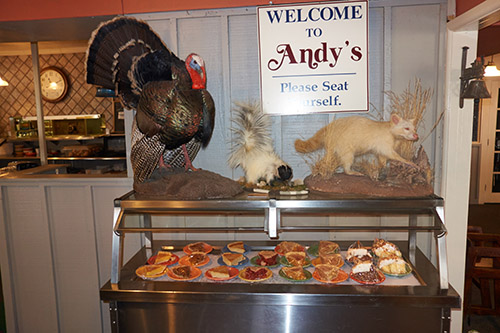 I gotta tell you, nothing makes me want to hunker down over a piece of cherry pie like a dead skunk's ass parked directly over top of it.
One very positive thing to say about the décor – it was very clean. The staff apparently works hard at keeping things dusted and cleaned in the dining area and their hard work showed.
The menu offered a variety of breakfast combos, but we chose the buffet. Q tried the scrambled eggs, biscuit and gravy, sausage and bacon. She also tasted the pancakes, French toast and waffles for review purposes. I sampled the scrambled eggs but went with an omelet from the omelet station, along with pancakes, sausage and bacon.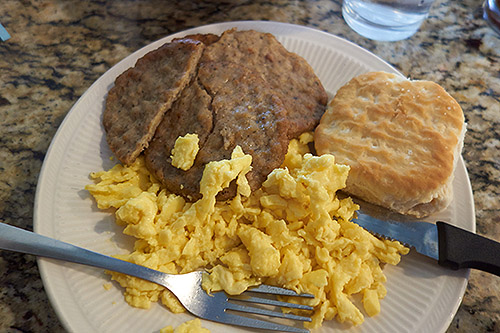 For me the test of any breakfast buffet is the scrambled eggs. It is a rare restaurant indeed that can deliver real eggs on a buffet that are not cold and dried out . . . but instead taste hot and fresh like they were just made to order for you. Andy's rose to this challenge and delivered scrambled eggs that (with salt added) were excellent. The omelet was also good and the sausage was amazing. Fredericksburg is renowned for its German sausage and after breakfast at Andy's, I understood why.
The biscuit and gravy, pancakes, French toast and waffles were also very good although the butter and syrup was served in little disposable containers like you'd get at a truck stop. The only negative on the menu was the bacon – it was very thin and brittle. I like crispy bacon but not when it is tasteless and crumbles apart when you bite it.
Two other downsides worth mentioning – Q said the coffee was very weak. I'm not a coffee drinker but I know that for many, a good cup of Joe is essential for starting your day right and this coffee seriously missed the mark. Second, sodas are sold by the can rather than as a fountain drink. That means you get charged for each soda you get, with no free refills. $2 per can isn't criminally expensive, but it's still a lot when you have to pay for each soda.
On the positive side, the food was very good and the prices were excellent – all breakfasts (except steaks) were priced below $10, including the buffet. For the quality of food you're served at Andy's, the prices are terrific.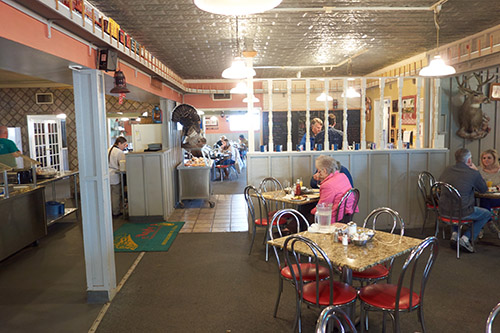 To sum it all up . . . If Andy's were in my home town I'd eat there all the time. Inexpensive, good home-styled food is perfect for a diner down the street. With food that good and cheap it would be one of my favorite places.
When I go to a tourist town, however, I expect something different. The décor was in complete conflict with the other retail establishments in the area (hell, even McDonald's was designed with an old stone building look), and in some respects in conflict with the restaurant's menu itself. I don't expect an old diner atmosphere with a stuffed skunk and a Tom turkey at the entrance when I go to a restaurant to eat steaks. And I saw nothing in the restaurant décor that addressed the community's heritage – the menu itself offered only three German dishes, listed just below beef enchiladas and tacos.
Verdict on Andy's Seafood and Grille: Good food, excellent prices, sub-standard dining experience. It's a great place for locals to eat. For tourists I'd look for something else unless you want to escape the whole tourist scene and get excellent home-styled food you'd expect from a local Mom-and-Pop diner. You'll walk out saying, "that was good" and, "that was a great price" but you won't think of saying, "wow that was very cool" or, "I'll remember this place." Good food, forgettable restaurant.
Pioneer Museum
325 West Main Street
www.pioneermuseum.net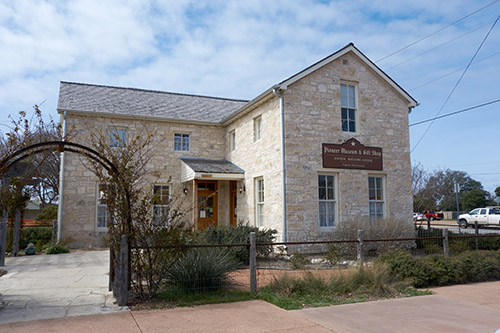 With breakfast completed, our first destination was the Pioneer Museum on Main Street. This was a fun start to our weekend, walking from building to building to see recreations of life in 1880s Texas. There was a barn, schoolhouse, home, even a chuck wagon where you could sample campfire-brewed coffee and fire baked biscuits.
The Pioneer Museum is a lot of fun and it's fascinating to see all the artifacts and recreated items from the late 1800s. It's convenient and inexpensive, and one of the few activities in Fredericksburg with a strong, direct appeal to younger tourists.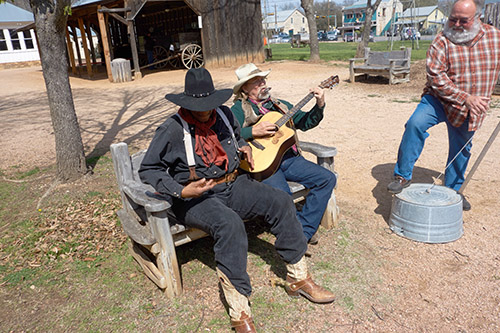 Several volunteer living historians were on hand to demonstrate various aspects of pioneer life. The volunteers sang period songs and everyone got a chance to play the washtub bass as you can see to the right.
Youngsters enjoyed watching the blacksmith make a nail and the demonstration of how rope was braided in the 19th century as well.
I really appreciated the folks who worked as volunteers at the museum as well. These people are passionate devotees of their local heritage and give their time as living historians to support the museum, and the community owes them a lot of thanks . . . they were lots of fun and represented Fredericksburg very well.
Grape Creek Vineyards
We left the museum and traveled outside of town to the Grape Creek Vineyards. Grape Creek is the fifth largest wine producer in Texas and they offer a short tour of their facilities. You get a branded wine glass and tastes of six wines with your $30 tour. My wife really enjoys wine so the tour was worth the money.
Grape Creek does most of their sales to people who sign up for their club. The club is a free membership service where you commit to purchasing a few bottles of wine (that you don't get to select) several times a year. It's an interesting marketing system and we saw several people sign up for the club.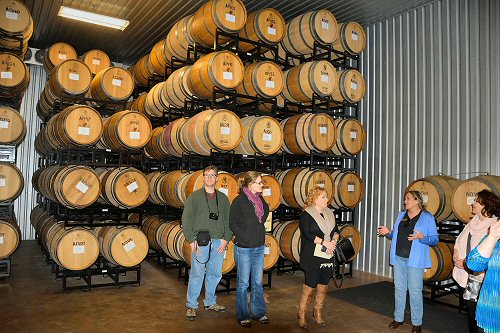 The wines ranged from $16 to over $55 per bottle on the menu we looked at. (Those are discounted club member prices.)
We enjoyed the wine but didn't find anything that appealed to us more than the wines we can purchase around home for lower prices, so we didn't sign up.
Grape Creek Vineyards is a wonderful place to sit and relax. You can purchase wine by the glass and Grape Creek has beautiful facilities for enjoying your wine and snacks while listening to live music. The affect is almost resort-like.
We saw several wineries as we drove back into town and were struck by how large and fancy their facilities were. There are several services that drive you from winery to winery in everything from shuttle buses to limousines. We couldn't devote that much time to wine tasting on our tight schedule, but it would be fun to go back and spend an afternoon on one of those tours.
Opa's Smoked Meats
410 S. Washington Street, Fredericksburg
www.opassmokedmeats.com
Our return to downtown Fredericksburg led us to Opa's Smoked Meats, a store where you can buy the German meats that this community is known for. The store is nicely designed, much like a gift shop, and it offers a wide selection of packaged meats as well as food you can carry out and eat as you go. While there we found out that Opa's supplies the sausages for Andy's and several other restaurants, including places that are known for their German cuisine.
Ultimately we grabbed a bunch of sausages to take home with us and munched on a sausage on a stick as we left– which was wonderful. Opa's is located just across the street from Andy's – if you go to Andy's, be sure to swing by Opa's and stock up on some delicious meats. If you don't go to Andy's, you should STILL be sure to swing by Opa's and stock up on some delicious meats.
Pedernales Brewing Company
97 Hitchin Post Trail, Fredericksburg, TX
www.pedernalesbrewing.com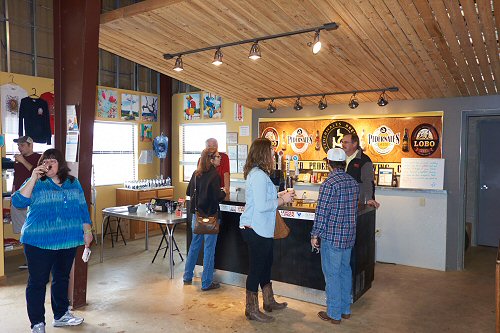 It's probably good that we had something in our stomachs for our next stop was the Pedernales Brewing Company, to sample the beers produced at this brewery. $10 gets you an 8 ounce glass and four samples from their selection of beers, along with a brief tour of their brewing area.
Pedernales' tasting room was a t-shirt and ball cap kind of place, in stark contrast to Grape Creek's upscale atmosphere, which is what you'd expect as the difference between a winery and brewery I guess. We had fun chatting with the employees as well as the other visitors, but could not purchase any beer to take with us – some very silly and antiquated Texas laws forbid a brewery from selling to anyone but a distributer, while wineries are free to sell to consumers. Go figure. Anyway, there were a LOT of people visiting Pedernales, and everyone seemed to have a good time.
If you enjoy tasting different types of beer, this is a fun and inexpensive diversion. Their tasting room is open Friday and Saturday afternoons and the first Saturday of each month they offer the inexplicable combination of beers and gospel songs from 5-6 pm.
Altdorf Restaurant and Biergarten

301 West Main Street
http://www.altdorfbiergarten-fbg.com/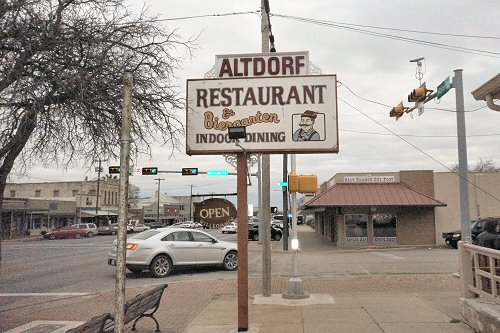 At this point it was time for dinner and we went to Altdorf Restaurant and Biergarten for some good German cuisine.
Altdorf Restaurant's limestone building dates to back 1847, and contains four dining areas. It also features an outdoor biergarten. As with Andy's I was surprised by the Altdorf's décor. The rooms were fairly austere with dark wood frames around the doors and chair rails lining the walls. Old drawings and prints decorated the walls. The floors had the dips and swells you'd expect from an old building or a mini golf course and I stumbled a couple times while navigating the maze of dining areas. Altdorf did have character, however, and it was a neat place to eat.
I ordered the Opa's Sausage Plate and Q went for the Jager Schnitzel, which is a breaded pork cutlet covered in brown gravy with pieces of mushroom. We were able to order a couple of Pedernales beers to go along with our meal – we were at a biergarten in Fredericksburg, so getting the local beer was a no-brainer.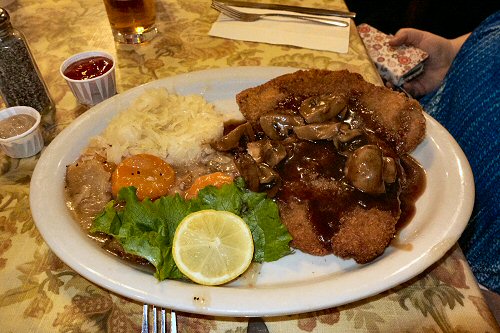 The Opa's sausage was delicious, but I'd eaten one of these before so I should have chosen something else. That was my mistake, however – the sausage was wonderful; the spiced noodles had very little flavor. The Jager Schnitzel was also delicious and very, very large. It came with sauerkraut (which was very tart) and sweet and sour potatoes (which were excellent).
Naturally, we wanted a German dessert with our meal so we each ordered apple strudel a la mode. The strudels were very good but the ice cream stole the show. It was terrific.
Our entrées cost around $14-15 each, which is very reasonable for a specialized restaurant on the main drag of a tourist town.
The Altdorf Restaurant and Biergarten is an excellent choice if you want to try German food (they have Tex-Mex and other types of food as well), particularly if you want to enjoy the biergarten atmosphere. Eating inside does not deliver the fine dining experience I expected but the old building does have character.

Fredericksburg Winery and Main Street Shopping

247 West Main Street
http://www.fbgwinery.com/
By the time we finished dinner, we were stuffed. We needed to work off all that strudel. And so, naturally, we walked out of the restaurant and directly into Fredericksburg Winery for another wine tasting.
Fredericksburg Winery is entirely different than Grape Creek. Forget the foo foo atmosphere, the live music and patio tables. Imagine a Dollar General, gutted to the bare structure and loaded with wine-making equipment along the walls. Throw in a long counter and some product shelves, and there you have Fredericksburg Winery. It was so underwhelming that I forgot to take a picture of it LOL.
Wine tasting was free at Fredericksburg Winery. You get to pick four different wines to sample as long as you agree to try a fifth wine of their choice. We tried our selected four wines which were good, and were less expensive than Grape Creek. Then they went to a crock pot on the counter and served us each a taste of their warm Christmas wine.
Guess which wine we bought to take with us? Not the upscale Grape Creek fare. It was the Christmas wine, which was wonderful. It was warm and spicy and perfect for a wintry evening treat. We bought six bottles to take with us, some for ourselves and some to use as gifts.
So – atmosphere isn't everything. Delicious wine at a good price made us happy.
From there we spent the next hour window shopping along Main Street. In most cases we had no choice other than to window shop. Almost all of the stores were closed by 5:30 pm. We couldn't understand this – there were many, many tourists wandering Main Street that evening with dollars in their wallets and few places to spend them.
Second Tip – if you want to shop in Fredericksburg, plan to do it in the afternoon. The town rolls up its sidewalks before 6:00 pm.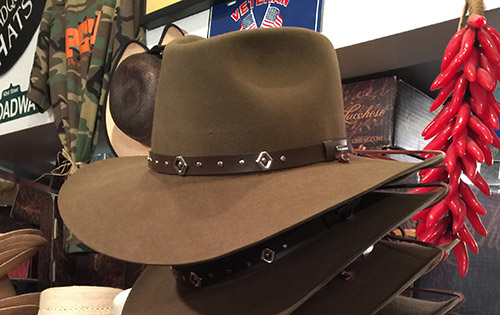 Not all the stores were closed. We did find Headquarters Hats, a store filled to the ceiling with name brand and custom designed cowboy boots, cowboy hats and other western items. I found a Stetson hat that I really liked at a decent price (decent for a Stetson, anyway). I decided to think about buying the hat overnight. Q tried on some Lucchese boots but couldn't find a pair that was comfortable for her.
By 8:00 we were beat. We returned to our cabin and Q was asleep by 8:30. I was the night owl of our party, lasting until 9:15 before I packed it in. We'd walked several miles, sampled wine and beer and stuffed ourselves silly on delicious food. It was a fantastic day.
Sunday
It was also an exhausting day because we didn't wake up until after 9 a.m. on Sunday. That's not as bad as it sounds – the clock jumped forward an hour overnight due to Daylight Savings Time. Still, 11 hours of sleep is a lot.
We got up and checked out of our cabin and headed into town for breakfast. This time we decided to go to City Café.
City Café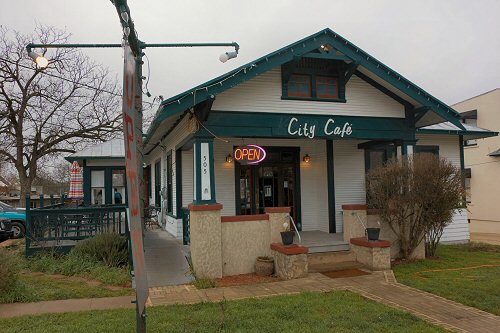 505 W. Main St
No website but City Café at least had electricity and running water so it wasn't entirely from another era.
Now, with a name like City Café, what would you expect? Trendy? Urban? Modern cuisine?
Not so much. City Café is a cross between Andy's and Altdorf. Very traditional, home-styled foods, set in an old building with austere décor. LOL
I can't tell you much about the café or the building because I haven't been able to find a website for it – c'mon, people, let's get into this century, OK?
Like I said, it's an old building with limited decorations. It looks like an old house where they took the doors off the interior doorways, brought in some tables and put out an "open" sign. The open waitress stand and soda machine in our dining area added absolutely NOTHING to the atmosphere.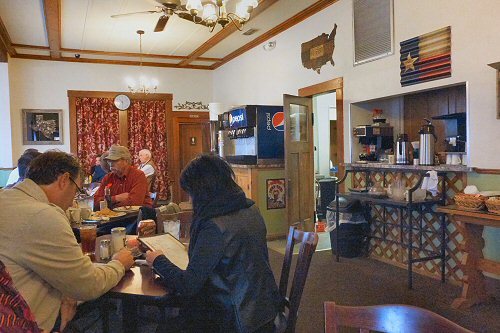 I ordered eggs, sausage and pancakes. I got two pancakes and couldn't finish them both – they were huge. The food was very good, but the syrup was a bottle purchased from a grocery store. It tasted fine but plopping a bottle of Log Cabin syrup on the table doesn't make me feel like I'm in a restaurant. Maybe put it in a bottle without a label, or a dispenser like they use at IHOP?
Q ordered Migas, which is eggs with pepper and onions mixed in, served with large tortillas and refried beans. She said her breakfast was excellent. She was happy that they had different types of artificial sweeteners as well. Butter and jellies came out in packets like you'd get at a truck stop.
Pricing on the food was very good – I can't go back and get specific prices because I can't find a website for them grrrrr. I think their prices were comparable to Andy's, which is extremely good for a tourist town restaurant.
Bottom Line – what I said about Andy's could be said about City Café (except for the stuffed animals). Very good (if not memorable) food, very good prices, no dining atmosphere. You'll like the food but City Café will add nothing to your vacation experience.
Having loaded up on southern country comfort food, we headed out to experience more of Fredericksburg. Unfortunately, it was raining. This kept us from going to Enchanted Rock or visiting the Old Fredericksburg Post Office. These are both symbols of the city and I was disappointed that we missed them.
Third Tip – take advantage of good weather when it is available for outdoor activities and don't put them off. Weather changes and you may lose your opportunity!
Instead we decided to walk around Main Street and shop some more. The sidewalks along Main Street are mostly covered so shopping was easy even with the rain. Most of the stores were open and we had a lot of fun wandering through stores.
One store described itself as selling "unnecessary necessities" and I thought that was a great description of most of the stores along Main Street. They sold an amazing selection of . . . stuff. Cool stuff, artistic stuff, creative stuff, unique stuff. It was fun to look at, and in most cases astounding to see the selling prices. We saw robot statues made up of bent hand tools and old furniture and glass art and sculptures and paintings. The artwork ranged from western realism to pure abstract.
We walked into one store whose merchandise I couldn't begin to categorize and ultimately purchased two Corinthean Bells wind chimes. If you'd have told me I would spend that much on wind chimes I would have challenged your sanity, but the timbre of their sound is exquisite, and they made Q's mother very happy when we got home.
Headquarters Hats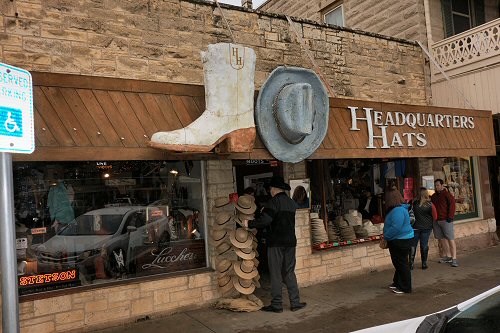 122 East Main Street
http://headquartershats.com/

Yes, I returned to the hat store on Sunday. I decide that life would not be complete without that Stetson. Apparently Q felt the same way – I turned around and she was trying on another Stetson, which she ultimately bought. I guess we have new hats for the next time we go two-stepping.
We stopped back at Fredericksburg Winery and bought several bottles of the Christmas Wine as well.
Having spent ourselves into tourist oblivion we ended our shopping spree and walked to the WWII Pacific Theater Museum. This is actually a group of three separate museums which require several hours to tour; we decided to wait until our next trip to Fredericksburg to visit these museums.
Wildseed Farms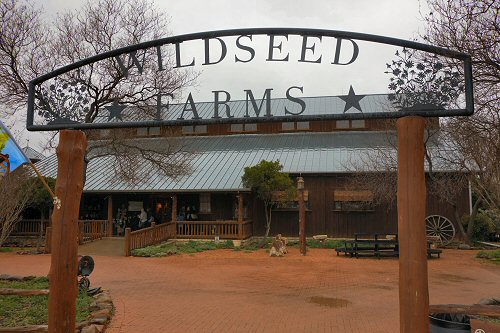 100 Legacy Drive, Fredericksburg, TX
www.wildseedfarms.com
By this point it was early afternoon and we needed to leave for home. We decided to make one more stop, at the Wildseed Farms - one of the largest year-round farms for wild flowers in the country. Q and her mother both love flowers and gardening so stopping here was a must.
Wildseed Farms' main building was essentially a large gift shop, chock full of gift ware that frankly didn't impress me much. The facility was very impressive, however, finished with a log-cabin design and a tall arched roof. It was beautiful.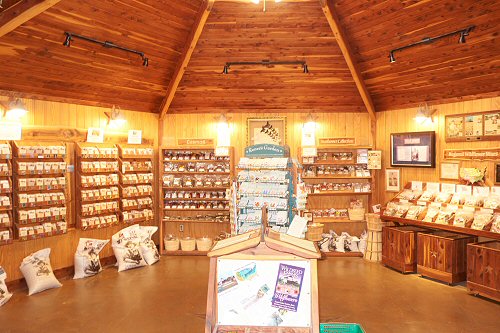 At one end of the building was an area dedicated to wild flower seeds. This section was really unusual. It felt like we were walking into a sanctuary for seeds. The seeds were organized well with lots of helpful information provided. They had grass seeds and blends of flowers that were targeted to different regions of the U.S. Seeds were available in varying quantities as well, so shopping there was extremely simple.
We ended up buying some bluebonnets, sun flowers and Cosmos seeds and I expect most of them will be planted very soon. (I guess the bluebonnets don't get planted until later in the year, but the rest of the seeds will hopefully be blossoming in a couple months.)
Wildseed Farms is on US 290, which took us back towards DFW. Again we dealt with lousy weather and lots of traffic, particularly after we connected with I-35 near Austin, and our drive took about an hour longer than it should have. That's OK - we rewarded ourselves for dealing with the awful drive by stopping in West for some kolaches.
Summing Up Fredericksburg
All in all it was a wonderful weekend in Fredericksburg. We will go back - I want to see the WWII museums and Enchanted Rock, and I'm sure Q won't quibble if we visit some wineries along the way.
If you're in Texas and you haven't been Fredericksburg – go. It's a relaxing, fun place to visit, particularly for couples of all ages. I didn't see a LOT of activities for kids other than the Pioneer Museum, and not surprisingly there weren't a lot of kids in town. That made it nice to visit as a couple as well.
The city of Fredericksburg offers a sincere "Willkommen" on all their town signs, and once you go there you'll be telling them "Auf Wiedersehen!" for their hospitality.
Photographic Comments
You can do almost any kind of photography you'd like in Fredericksburg. You can even do night photography at Enchanted Rock State Park and the park's website offers information on just this activity.
The only place I found that wouldn't allow photography is Headquarters Hats; they do a lot of custom hats and boots there so I guess I understand their concern. I imagine some of the art galleries might also restrict photography but I didn't try any of that there.
The equipment you'll need depends on the type of photographs you want to shoot, but a basic camera will meet most of your needs. Most of the pictures I shot this trip were with my little Sony RX-100 point and shoot, although I did break out the Nikon for some pictures as well.
The same holds true for videography. I ran my GoPro HERO 4 Black through its paces, along with a HERO 4 Silver that I borrowed from a friend. We used both the PilotFly FunnyGO Gimbal and the Feiyu Tech G4 Gimbal since we were doing a lot of mobile videography as we wandered the streets and locations. Fredericksburg is a perfect example of why you should use a gimbal. You might get by with a selfie stick, chest mount or head mount, but the gimbal makes your recordings incredibly smooth.
Texas Day Trip Travel Reports
ADDED APRIL 2016! Tyler Azalea and Spring Flowers Trails, Tyler, Texas - We spent the day in Tyler, Texas, driving the two azalea trails through this community. It was such a nice photo opportunity that I returned the following weekend so my brother could shoot pictures there as well. This trip report will give you the scoop on two restaurants and tell you how to get the most from your time in Tyler..
A Weekend in Fredericksburg, Texas - I confess. I've lived in Texas for more than 25 years and I'd never visited Fredericksburg - and I'm German too! We remedied that in March 2015 when we spent a weekend in Fredericksburg. We stayed at a B&B, visited the Pioneer Museum, sampled wine at Grape Creek Vineyards, had some beers at Pedernales Brewing Company and more. Read this review and trip report for restaurant reviews, shopping information and other helpful information.
Jurassic Quest Life-Sized Dinosaur Model Exhibition in Dallas, Texas - I've had a passion for dinosaurs going back a half-century. When I heard that Jurassic Quest, a nationally touring exhibition of life-sized dinosaur models, would be passing through Fair Park in Dallas, Texas, I knew I wanted to go. Is Jurassic Quest coming to your city? Read my trip report to see if it's worth seeing.
Christmas Light Displays in Dallas, Texas - I will add to this page every year with new places to visit during the holiday season. This year I went to five public exhibits in Dallas / Fort Worth: 12 Days of Christmas and 12 Nights of Christmas at the Dallas Arboretum; Deerfield Community in Plano, Texas; Vitruvian Lights at Vitruvian Park in Addison, Texas; Main Street in Grapevine, Texas; and Ice! at the Gaylord Texan in Grapevine, Texas. I also stopped by a home in Carrollton, Texas that has provided a wonderful Christmas display for many years that has become a tradition for many in north Texas.
Ripley's Believe It Or Not and Louis Tussaud's Palace of Wax in Grand Prairie, Texas - One of the more unique tourist attractions I've ever visited is Ripley's Believe It Or Not and Louis Tussaud's Palace of Wax in Grand Prairie, Texas. While a lot of this is badly outdated, it's still a fun day trip with more opportunities for photography than any other place I can remember.
Frisco RoughRiders minor league baseball in Frisco, Texas - Watching a minor league baseball is a terrific family ativity. The Frisco RoughRiders is a Double-A farm team for the Texas Rangers and I had the chance to take in a day game in May, 2014.
Ennis Bluebonnet Trails in Ennis, Texas - The bluebonnet is the state flower of Texas and one of its best known symbols. The town of Ennis, south of Dallas, has the honor of providing the state's only formally recognized bluebonnet trails every year and they do it right. Read this report to learn more about going to the Ennis Bluebonnet Trails.
Scarborough Renaissance Festival in Waxahachie, Texas - On May 23, 2010 my son Ryan and I went to Scarborough Renaissance Festival in Waxahachie, about 30 minutes south of Dallas, Texas. Scarborough Renaissance Festival is one of the largest events to happen around the Dallas / Fort Worth Metroplex every year. Started in 1981, it is now attended by 200,000 visitors annually.
Living Civil War History - Civil War Reenactment in Jefferson, Texas - In May, 2010 we traveled to Living Civil War History a civil war reenactment in Jefferson, Texas. This trip report describes the event and provides reviews of two restaurants you don't want to miss.
Texas Civil War Museum - Fort Worth Texas - I have driven past this facility literally hundreds of times. Every time I saw it, I thought, "I need to check that place out - is it open?" Well, I finally broke down and went for a visit on February 27, 2010. Yes, it is open. I was pleasantly surprised at how nice it was inside too!
Enjoy this website?
If you appreciate all the information and pictures found at Family Travel Photos.com, you can help me. It's easy -
send me an email with your opinions of this site
(I'm building a testimonials page). Then,
watch and "like" my Youtube videos
. Every time you watch one of my videos, click the "Like" button and subscribe to my channel, you improve my ranking at Youtube. You can also spread the word about Family Travel Photos on Facebook, Twitter, LinkedIn, Ello or any of the social media sites out there.
Please help me get more visitors to Family Travel Photos.com!