Christmas in Dallas, Texas
Christmas Lights - Dallas, Texas Style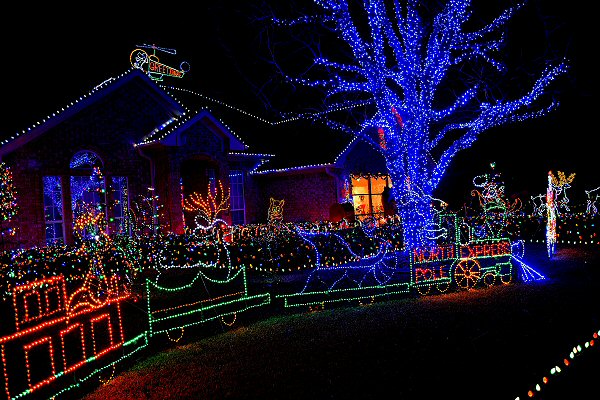 There are many traditions of the Christmas season that I love. One of those traditions is the lights and decorations that people put up to celebrate the holiday season.
Some communities and commercial businesses create their own spectacular exhibitions. These displays will sometimes go beyond the typical Christmas light displays to feature some amazing sights.
I've enjoyed these holiday exhibitions for years, and finally decided to create a page to showcase the many different ways you can enjoy Christmas displays in Dallas, Fort Worth and the north Texas area.
In December 2014 I attended five different Christmas displays, which are detailed below. Next year I'll attend different events and add to this page. Over the years this page will become a comprehensive resource for people who want to learn about the wide variety of Christmas activities around the Metroplex.
---
VITRUVIAN LIGHTS IN ADDISON, TEXAS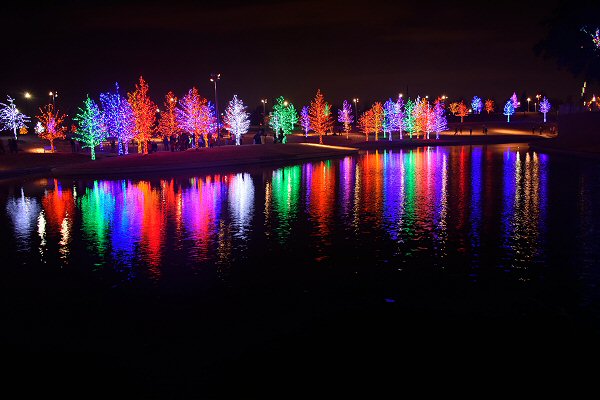 Vitruvian Park is an upscale residential and retail community in Addison, Texas. The community is set in a 19 acre park filled with a walking path, trees and a large stream. Every year the community decorates the trees for the holiday season in a display called Vitruvian Lights. Each tree is covered with a single color of lights; the cumulative effect created by these trees reflecting in the stream's water is surreal. A stroll along the walkway through the colored trees is nothing short of enchanting.
This was my second year to visit Vitruvian Park. This year we went to the park when the Dallas String Quartet was performing. The street was lined with food trucks and other vendors, and a family could sit in the performance area all evening and have a great time.
That said, the real joy is strolling through the lighted trees around the stream. I've never seen a light display quite like this one. There are no santas or nativity scenes, nothing but brilliant trees surrounding the water. It's a very mature Christmas display although I saw a lot of kids having fun there.
Best of all, it's free to wander through Vitruvian's magical lighted trees. The performances are free as well so concert nights are a great way to spend a holiday evening with the family. Parking is an issue. If you're going on a performance night, be there before the performance starts. We arrived at 5:45 pm when the concert started at 6:00. We got decent parking and good seats for the show. People who arrived later had to hike quite a ways. If you just want to see the lights, avoid performance nights to share the trees with far fewer visitors.
Here is a video of Vitruvian Lights from Vitruvian Park in Addison, Texas.
Here is a link to Vitruvian Park's 2014 page. If that page is not available you can check out the Vitruvian Park website after October to see their newest page.
Here is a map to Vitruvian Park.


Deerfield Community in Plano Texas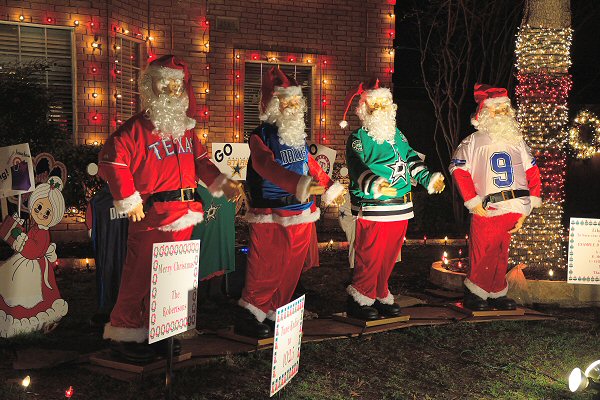 Deerfield is an upscale community in Plano, Texas. The Deerfield Homeowners Association (DHA) sponsors an annual Christmas light contest, where the residents decorate their homes to compete for votes from the thousands of visitors who drive through the community each year. DHA really does this event right; they maintain a webpage with information about the seasonal events, complete with a map of the community. Houses are clearly marked with numbers to make voting easy. They have even arranged for you to buy a carriage ride through the community.
For the most part, what you find at Deerfield is traditional holiday residential decorating, although a higher percentage of Deerfield residents take part than what you'll find in most communities. A few of the residents go all out with life-size dancing Santa robots and a team of reindeer flying over the road out of one yard. In most cases, however, what you'll find is house after house of the kinds of Christmas decorations you find in many neighborhoods - just a LOT more of them.
At first I decided not to visit Deerfield. Like Grand Prairie's Prairie Lights attraction, the plan for Deerfield is for visitors to queue up and drive through planned routes. My website is about photography, and you can't really focus on photography while crawling along the road in your car. However, Deerfield does make recommendations about people who want to view the lights by foot so pedestrians are allowed - and that's what you need to be to photograph the lights. Further, if you go to Deerfield after Christmas you'll find the volume of traffic is much lower and you can park on the route and get out to shoot photos. I visited Deerfield on December 28 and was able to park and hike into even the most congested areas. You can't do that before Christmas, I'm sure.
Touring Deerfield is free. You will be amazed at the number of homes that take part in the event, so it is a great place for photography with lots of "targets of opportunity." Bring your patience - a driving tour of the community will take a long time, given the number of houses and the volume of traffic. Even three days after Christmas I got caught in a line around Staten Island Ct. and Tweedsgate Drive that was painfully long and slow. There are actually two separate routes set up through the community and I didn't have time to complete even one of those routes - this is a large display!
Best bet - drive through the routes before Christmas to enjoy the lights and find the places you want to photograph. Then return the week after Christmas and hit your targeted spots, getting out of the car to get the best quality shots. I will do this next year - I didn't even see the red route at all, and didn't complete the blue route this year.
Here is a video from the Deerfield Community Christmas in Plano, Texas.
Here is the page for 2014's Deerfield Christmas Lights event. If that doesn't work just go to the DHA's website after October to find the latest information.
Main Street in Grapevine, Texas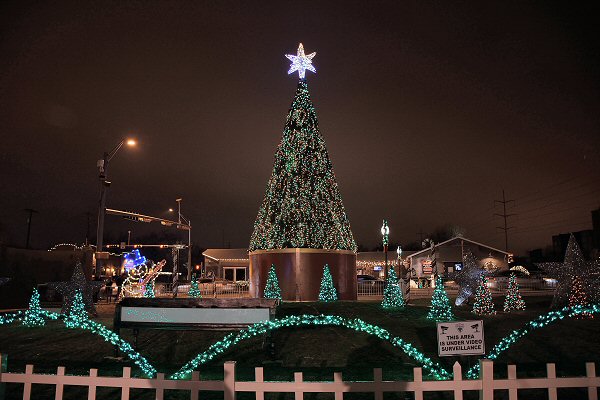 Grapevine has created a touristy Main Street that is tough to beat for day trippers and vacationers . . . gift shops, wineries and antique stores line the street, designed with an old time, rustic feel. A large gazebo is used for community performances. The Grapevine Vintage Railway runs delightful tours around the area on old-fashioned locomotives and passenger cars. Just up Highway 26, the Gaylord Texan and Great Wolf Lodge provide hundreds of luxurious hotel rooms, restaurants and conference facilities. Grapevine is just a great place to visit.
Grapevine really does it up at Christmas time. Billing itself as the Christmas Capital of Texas, Grapevine hosts more than 1,400 Christmas activities at its various venues. Next year I hope to visit more of Grapevine's holiday venues, perhaps including a ride on their North Pole Express train. For now, I'll provide some info about Main Street.
Many people in North Texas look forward to visiting Grapevine's Main Street for a wonderful stroll through the town's center. The shops on Main Street go all out to decorate their businesses and the street is adorned with wreaths and lights. A walk down Main Street is reminiscent of Bedford Falls in the movie "It's a Wonderful Life." One section of Main Street features a large Christmas light show set to Christmas music, which include a singing Christmas tree.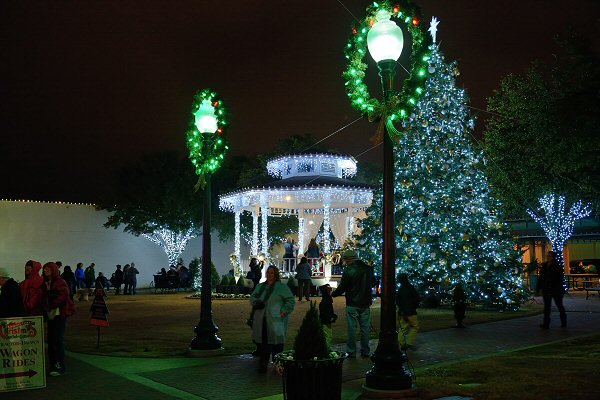 Wandering Grapevine's Main Street is free. There is a lot of parking on the various side streets off of Main Street but those fill up fast. A smart visitor will arrive as early as possible. I got there at 5:00 and took the last open space in a parking lot right on Main Street. I then had dinner (more on that in a minute), and by the time I was finished the sky was suitably dark to enjoy the lights in all their glory. Having the car close was very convenient, allowing me to stop by and swap out equipment as I wandered the street.
I've been to Main Street many times. They made some changes in 2014 . . . the light show was moved from the Gazebo area to another open space further from down town's center. While it made getting to the show less convenient, it opened the gazebo up to be a dramatic photo setting for families to shoot holiday portraits. In previous years they had some really cool displays, including a light tunnel you could walk through. Those displays were gone in 2014 - I hope they come back in 2015. All in all, though, the small town feel of wandering Main Street is something you can't find elsewhere.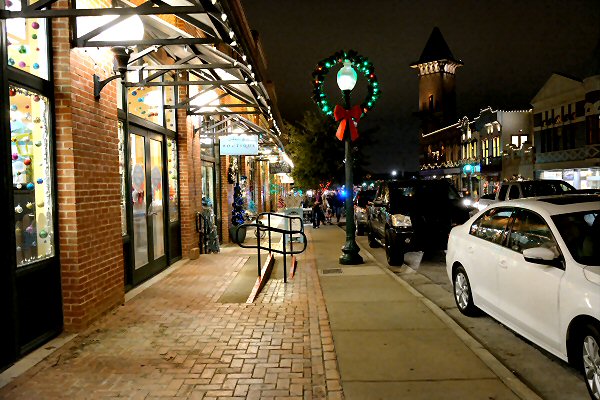 If you go to Grapevine for Christmas or any other time of the year, and you want to enjoy some really, really good chili, go to Tolbert's Restaurant on Main Street. Tolbert's is renowned for its chili. They also serve steaks, hamburgers, tacos and other Texas-styled dinners. Tolbert's has a stage for live music and a full bar - in truth this place feels more like a bar that sells food than a restaurant with a bar. The tables are packed in uncomfortably close and the loud patrons filling the bar keep Tolbert's noisy and not conducive to relaxed dining. However, the food is so good it's worth tolerating the honky-tonk atmosphere. I ordered a hamburger and chili . . . the hamburger was one of the best I ever had and the chili was fantastic. And for a restaurant in the middle of a tourist area, the prices were extremely reasonable for the quality of the food. So - next year when you go to Grapevine to enjoy Main Street, get there early and go to Tolbert's for a great meal to start your evening. There is even a parking lot right across the street from Tolbert's, making it even more convenient. Tolbert's Restaurant, 423 South Main Street, Grapevine, Texas 76051, 817.421.4888.
Here is a video from Main Street at Christmas in Grapevine, Texas.
For more information visit the Christmas in Grapevine website.
12 Days of Christmas at the Dallas Arboretum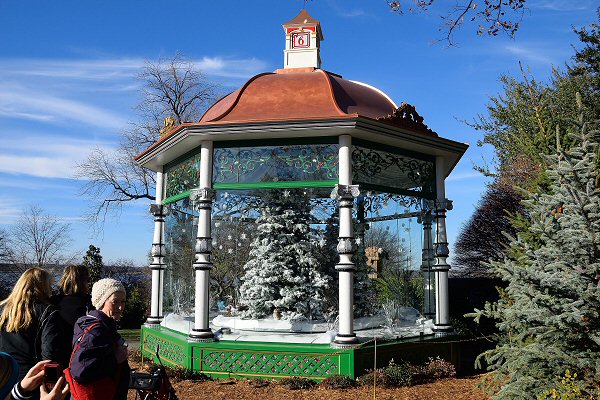 Have you noticed on this website that I do a lot of photography at the Dallas Arboretum? There's a reason for that - throughout the year they come up with spectacular displays that just BEG to be photographed. Spring blooms, Fall Fest, the Chihuly Glass exhibit, concerts . . . and the arboretum is such a beautiful venue for photography any time of the year.
I have to admit, I get frustrated with the Dallas Arboretum at times. I think they charge too much for tickets and parking. A regular ticket costs $15 per person per day, and for an arboretum that's more than I want to spend - the Ft. Worth Botannical Garden is free, and their Japanese garden is $8 or $10 I think. Worse, the Dallas Arboretum shuts down at 5:00 pm. During the summer the arboretum should be open until 8 or 9 o'clock so you can make use of sunsets in your photos while you're there. Then you have to pay for parking on top of all that.
I get grumpy with the Dallas Arboretum every time I go, but I keep going back because I really love the shots I get there.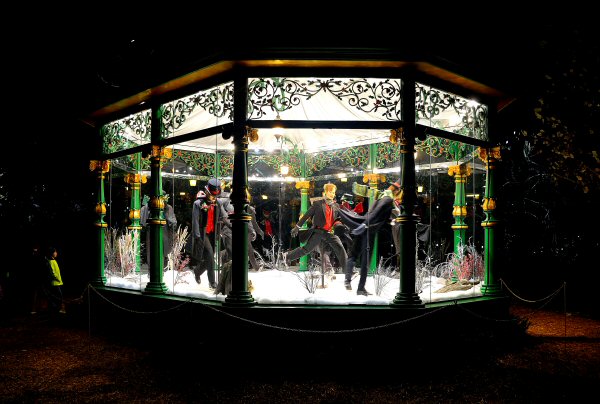 So, with my typical ambivalence I went to the Dallas Arboretum for their 12 Days of Christmas exhibition. The 12 Days of Christmas features a series of 12 large gazebos, each filled with the gifts described for one of the days of Christmas in the old traditional holiday song. The displays are spectacular, with life-size figures of maids a-milking, lords a-leaping, etc. The detail, colors and artistry in each gazebo is just remarkable. Durable flowers like pansies and violets add more color to the exhibition.
12 Days of Christmas at the Dallas Arboretum is a WOW.
I liked this exhibition for several reasons.
First, unlike most holiday activities this one is open during the day. You can go to this exhibition and make a day of it with your kids, which makes the ticket price seem not quite as bad.
Second, this exhibition is full of incredible colors, textures and characters. It is just great fun to photograph.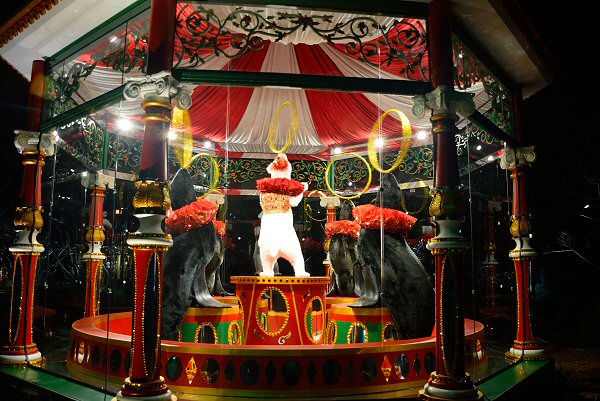 Third, the Dallas Arboretum makes the exhibition available in the evenings as the 12 Nights of Christmas. At night the carousels are illuminated from inside, giving them a completely different look. The shells of the carousels are not illuminated so all you can really see is the interiors. The effect of the illuminated interiors against the night sky is completely different than what you experience in the day.
The downside of this is that you get hit for ANOTHER entrance fee for the night exhibition, a steep $20 per person.
I have several tips for the 12 Days of Christmas / 12 Nights of Christmas exhibition at the Dallas Arboretum.
You can purchase your tickets online through the Dallas Arboretum website. Do this and avoid standing in line when you arrive. You can buy a discounted parking pass online for the current day only - so, the day you plan to go, get your parking pass and save a few bucks. If you plan to go repeatedly to the arboretum, look into a membership.
You will probably have to deal with bigger crowds as you get closer to Christmas day. Try to go during the week as soon as it opens. Otherwise, go after Christmas.
For the daytime exhibit, go early and plan to stay for awhile. The gazebos are enclosed in glass and based on the direction of the sunlight you will experience severe reflection on several gazebos at any one time. If you shoot pictures in the morning, you can return in early afternoon after the sun has moved and shoot the gazebos that had severe reflections in the morning.
If you arrive when the arboretum first opens, consider doing the route backwards. For the first several gazebos you shoot, you will have very few other visitors to block what you're doing.
The gazebos are basically the same on all four sides. Don't just stand on the sidewalk and take photos from that vantage. Walk around each gazebo and shoot with the sunlight to your back and when the other visitors aren't in your way. At night, shooting from the side or back virtually eliminates the other people who get in your way.
The effect of the gazebo in its entirety is so impressive that it's easy to ignore the close-up opportunities.
Plan to get photos of the entire gazebos and interiors during the day, and interiors at night. If you want to shoot the exterior of a particular gazebo at night, get to that gazebo as early as possible. You can shoot that gazebo before the night is completely dark and get more structural details that way.
You will find that as long as you have a tripod and a remote shutter release, photographing the gazebos at night is easier than during the day. Battling the reflections can be difficult.
Here is a video from the 12 Days of Christmas at the Dallas Arboretum in Dallas, Texas.
Here is a video from the 12 Nights of Christmas at the Dallas Arboretum in Dallas, Texas.
For more information visit the Dallas Arboretum website.
Ice! at the Gaylord Texan in Grapevine, Texas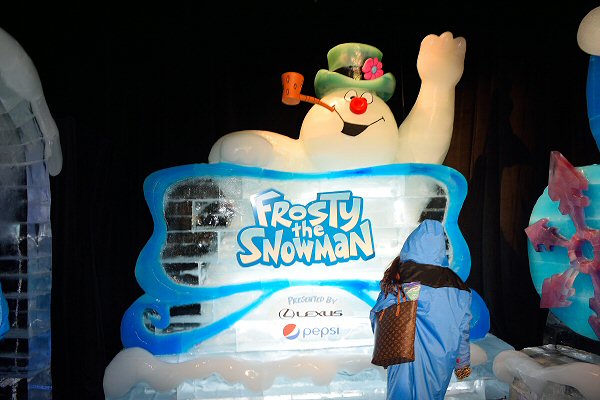 For many years the Gaylord Texan has hosted an event called Ice! which features 2 million pounds of ice carved into massive sculptures. Each year has a different theme, such as Charlie Brown, the Grinch and Shrek. In 2014 the theme was Frosty the Snowman.
Ice! has become a major holiday attraction in Dallas / Fort Worth. Later in the season the event tends to sell out. The event is very cool, with some remarkable ice sculptures. Most of the event features sculptures from the theme - for example, this year's event showed several scenes from the TV cartoon Frosty the Snowman. After that is a room with various sculptures - one of the ice artists is usually demonstrating the process of ice carving as well. The next room is a massive crystal ice display of the nativity scene.
The show is very cool but it does have its downsides. Ticket prices are very high - you'll pay $30/person for adults on the days close to Christmas. I went with a group of four and that cost me $135, which is a LOT. Parking is another $10 on top of that. Then there are all the various up sells, souvenirs, etc. The price keeps me from attending this show every year. It's just too much.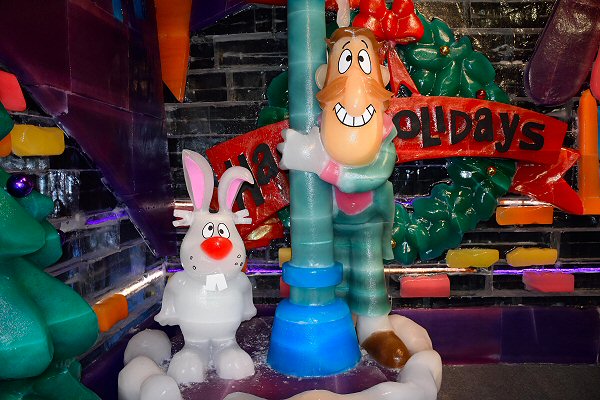 Many people disagree with me, however. The event does sell out frequently, which means it is full of people. That makes photography very difficult, especially when so many of the visitors are unruly children who run around and cut in front of you constantly. Parents, PLEASE start parenting your kids!
Photography is difficult at this event. The sculptures themselves are easy to shoot, big and bright and well lit. However, it's difficult to get far enough away from the sculptures to get them in the photo without people just flooding in front of you. Further, the volume of visitors tends to sweep you through, giving you little time to do your shots.
The other challenge is the room temperature. The room for the sculptures is maintained at 7 degrees Fahrenheit. It's a wet cold as well. You are issued a parka when you enter the event, but I wouldn't rely solely on it for my warmth. Wearing layers of shirts and coats, covered by the parka, is the best approach. The parka is also very slick, which is helpful if you slide down the ice slide in the middle of the tour. We saw several people without hats and gloves - this is absurd. Wear warm gloves and a stocking cap or you'll find yourself rushing through the event.
Here are some tips for attending Ice!
First, we spoke with an employee who said the volume of traffic is lowest during the first couple weeks of the show, during the day on weekdays when kids are in school. Once schools go on break, it's constantly busy. Tickets are also cheaper at this time so there is an added benefit.
That said, if you want to buy souvenirs or gifts the gift shop cuts their prices by 50% or more after Christmas. You may be able to get into this gift shop without entering the Ice! event, so you might be able to hit the shop for the reduced prices without dealing with the crowded show.
To shoot the event, put a wide angle lens on your camera. I had an 18mm lens and it wasn't wide enough. (If I were shooting a full frame DSLR it wouldn't be as bad, but my camera uses the more common DX sensor which essentially magifies the shots.) If I go back next year, I'll use my 10-22mm lens instead. I shot my GoPro in narrow view and this wasn't wide enough. I will also set the GoPro in wide mode if I return.
I'm also going to push back more against people who try to rush me . . . it's the only way to get the shots you want.
Plan extra time at the Gaylord to shoot pictures of their decor around the resort. There are spectacular displays you'll want to shoot.
All in all, Ice! is too expensive for me to recommend as an annual event. With the number of tickets they sell, they need to get that price down. I would encourage you to look to see what the theme is for the upcoming season. If you really like the theme, it may be worth spending all that money. Go to the event early in the season to get cheaper tickets and book them in advance through the website.
Here is a video from the 2014 Ice! Christmas Exhibition at the Gaylord Texan in Grapevine, Texas.
For more information visit the Christmas at the Gaylord Texan website.
A CHRISTMAS HOME IN CARROLLTON, TEXAS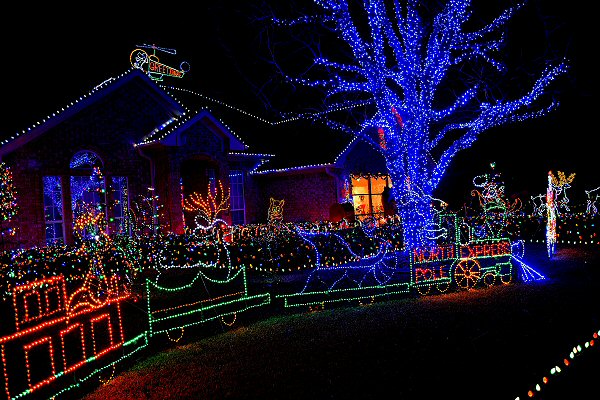 If you find yourself in Carrollton at Christmas time, you must drive past the house at 2201 Timberline Drive, at the corner of Timberline and High Sierra Drive in Carrollton. Every year this family decorates their property with a bewildering array of lights. You'll find Elves and a Christmas train sharing space with the Nativity Scene. Santa rides a motorcycle in front of the house and a helicopter sits on top of it. A large champagne glass with a Happy New Year sign sits by the driveway and the garage is filled with Santa's workshop, complete with elves, minions, teddy bears, trains and animated characters.
There is always a line of cars circling the block around this home. Sometimes you'll find Santa himself, standing in the drive to pass out candy canes to children.
The owners of this home sometimes have a donations box in front of the house, but you can be sure they are footing the vast majority of the costs for their display - the thousands of lights, the animated figures and the electricity to power it all. What a wonderful gift to the community they provide.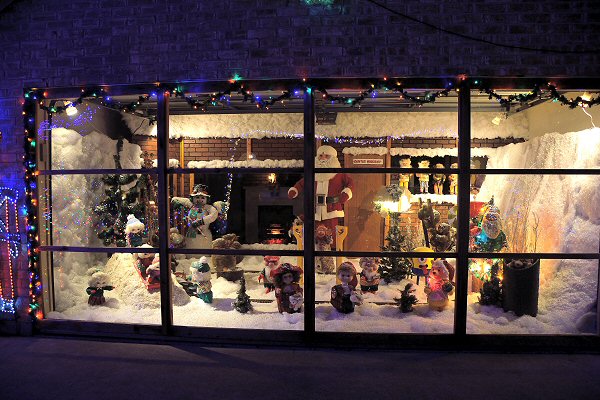 This year I stopped by the Christmas Home in Carrollton on Christmas night and shot photos and videos of their display. I listened to people talk about how some item or another had changed from previous years. Families brought their children to view the spectacle and the kids loved it. It was clear, for many who live in Carrollton a visit to the Christmas Home is an important part of their holiday season.
Christmas is the season of giving, which takes place in many forms, and these nice people have given to everyone who cares to stop by for more than a decade. I think it's great that these nice people go to such work and expense to create a wonderful Christmas display that has brought happiness to thousands of people over the years.
I wanted to share their display with you here. Enjoy the photos from the Christmas Home in Carrollton and watch the video below. Next year, I hope you'll add this home to your holiday tour of lights, share a donation if the box is available and let the residents know you appreciate all they do.
Here is a video from the Christmas Home in Carrollton, Texas (2014).
Texas Day Trip Travel Reports
ADDED APRIL 2016! Tyler Azalea and Spring Flowers Trails, Tyler, Texas - We spent the day in Tyler, Texas, driving the two azalea trails through this community. It was such a nice photo opportunity that I returned the following weekend so my brother could shoot pictures there as well. This trip report will give you the scoop on two restaurants and tell you how to get the most from your time in Tyler..
A Weekend in Fredericksburg, Texas - I confess. I've lived in Texas for more than 25 years and I'd never visited Fredericksburg - and I'm German too! We remedied that in March 2015 when we spent a weekend in Fredericksburg. We stayed at a B&B, visited the Pioneer Museum, sampled wine at Grape Creek Vineyards, had some beers at Pedernales Brewing Company and more. Read this review and trip report for restaurant reviews, shopping information and other helpful information.
Jurassic Quest Life-Sized Dinosaur Model Exhibition in Dallas, Texas - I've had a passion for dinosaurs going back a half-century. When I heard that Jurassic Quest, a nationally touring exhibition of life-sized dinosaur models, would be passing through Fair Park in Dallas, Texas, I knew I wanted to go. Is Jurassic Quest coming to your city? Read my trip report to see if it's worth seeing.
Christmas Light Displays in Dallas, Texas - I will add to this page every year with new places to visit during the holiday season. This year I went to five public exhibits in Dallas / Fort Worth: 12 Days of Christmas and 12 Nights of Christmas at the Dallas Arboretum; Deerfield Community in Plano, Texas; Vitruvian Lights at Vitruvian Park in Addison, Texas; Main Street in Grapevine, Texas; and Ice! at the Gaylord Texan in Grapevine, Texas. I also stopped by a home in Carrollton, Texas that has provided a wonderful Christmas display for many years that has become a tradition for many in north Texas.
Ripley's Believe It Or Not and Louis Tussaud's Palace of Wax in Grand Prairie, Texas - One of the more unique tourist attractions I've ever visited is Ripley's Believe It Or Not and Louis Tussaud's Palace of Wax in Grand Prairie, Texas. While a lot of this is badly outdated, it's still a fun day trip with more opportunities for photography than any other place I can remember.
Frisco RoughRiders minor league baseball in Frisco, Texas - Watching a minor league baseball is a terrific family ativity. The Frisco RoughRiders is a Double-A farm team for the Texas Rangers and I had the chance to take in a day game in May, 2014.
Ennis Bluebonnet Trails in Ennis, Texas - The bluebonnet is the state flower of Texas and one of its best known symbols. The town of Ennis, south of Dallas, has the honor of providing the state's only formally recognized bluebonnet trails every year and they do it right. Read this report to learn more about going to the Ennis Bluebonnet Trails.
Scarborough Renaissance Festival in Waxahachie, Texas - On May 23, 2010 my son Ryan and I went to Scarborough Renaissance Festival in Waxahachie, about 30 minutes south of Dallas, Texas. Scarborough Renaissance Festival is one of the largest events to happen around the Dallas / Fort Worth Metroplex every year. Started in 1981, it is now attended by 200,000 visitors annually.
Living Civil War History - Civil War Reenactment in Jefferson, Texas - In May, 2010 we traveled to Living Civil War History a civil war reenactment in Jefferson, Texas. This trip report describes the event and provides reviews of two restaurants you don't want to miss.
Texas Civil War Museum - Fort Worth Texas - I have driven past this facility literally hundreds of times. Every time I saw it, I thought, "I need to check that place out - is it open?" Well, I finally broke down and went for a visit on February 27, 2010. Yes, it is open. I was pleasantly surprised at how nice it was inside too!
Enjoy this website?
If you appreciate all the information and pictures found at Family Travel Photos.com, you can help me. It's easy -
send me an email with your opinions of this site
(I'm building a testimonials page). Then,
watch and "like" my Youtube videos
. Every time you watch one of my videos, click the "Like" button and subscribe to my channel, you improve my ranking at Youtube. You can also spread the word about Family Travel Photos on Facebook, Twitter, LinkedIn, Ello or any of the social media sites out there.
Please help me get more visitors to Family Travel Photos.com!