90 steps away from St. Marks Square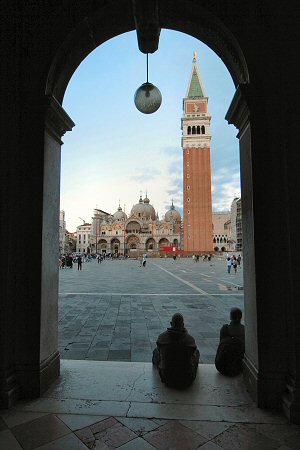 We loved the apartment in Venice. It was fairly small but not too small. The views from both balconies were wonderful. We had our own little secluded courtyard and canal off to the side. And we were only 90 steps away from St. Marks Square - I know, I counted. Here is some more information about our apartment.
---
Our Venice Italy Apartment:
View our apartment listing at vrbo.com
The apartment started with a nice, cozy living room area. A reasonably sized kitchen included fridge, stove, microwave and all the other stuff you'd expect. There was a small washer but no dryer in the apartment. A hallway led you past the bathroom and down to the two bedrooms. The main bedroom is a nice size, with double doors leading out to the balcony. The second bedroom is very small but for one person it's just fine. We loved the nice breeze we got through the apartment. We never had to use air conditioning at all. We loved the double doors on our bedroom. We left them open at night, which was smart because the room was wonderfully cool all night long. However, we failed to put on mosquito repellant and I ended up with over 100 bites after the first night - I know, I counted.
The décor was simple but very nice and comfortable. This apartment is on the 5th floor, and we appreciated the elevator for that reason. The elevator was very small - I felt like a horse going into a horse trailer every time I got on or off it. One time my brother and I got on it at the same time, and I swore I heard it say, "I think I can, I think I can . . . " But that was no problem. I was grateful to have the elevator. The apartment also had high speed internet access which we really loved. The other apartments we used didn't have this and we missed it a lot.
The apartment is managed by Brittany and Daniella. I didn't meet Brittany but communicated with her by emails, and she was very responsive and cordial. Daniella showed us into the apartment and he couldn't have been nicer. They have assembled a book of information for their tenants that was extremely helpful - their information book was better than what the other apartments had provided. This included a well-worn map that showed where to find good restaurants, a supermarket and other places of interest. They were just delightful people to work with and I'd recommend them wholeheartedly.
Of the three places we stayed, I think this may have been my favorite. It just had a nice feel to it, a terrific atmosphere that I enjoyed immensely. The Florence apartment may tie it, I'm not sure - but I do know I'd be thrilled to stay there again if I returned to Venice. A far, far better place to stay than any hotel, that's for sure.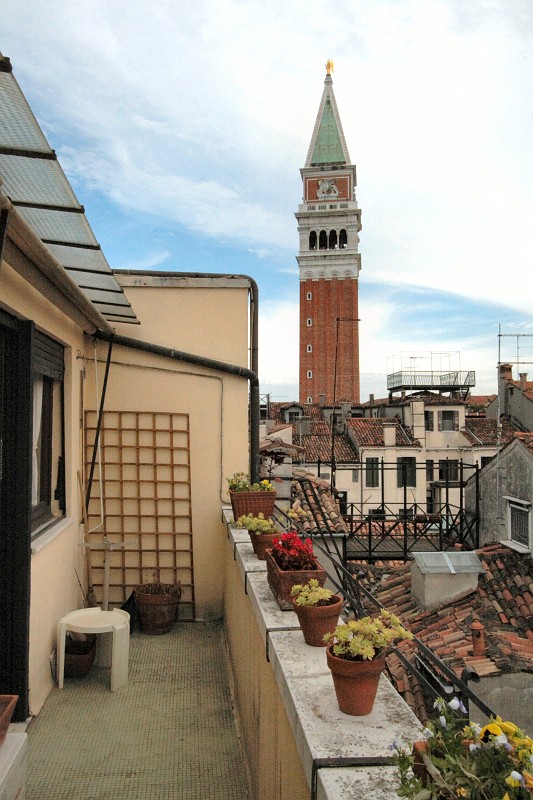 view from front balcony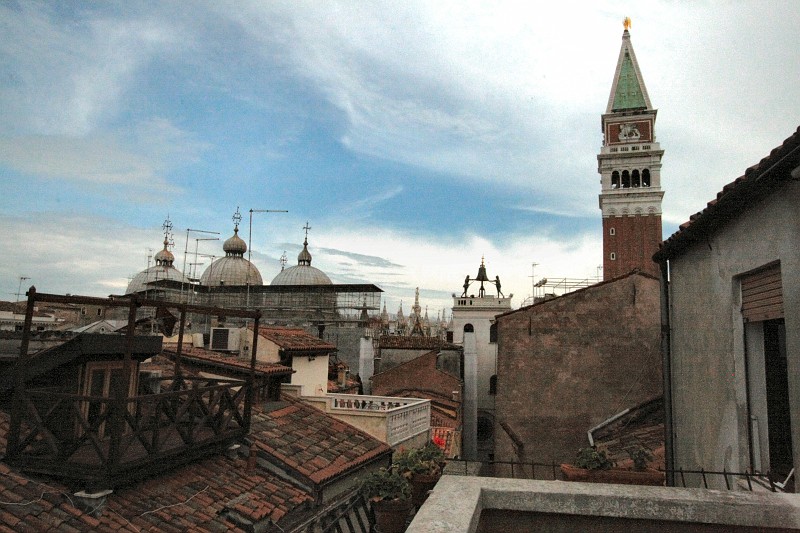 view from main bedroom balcony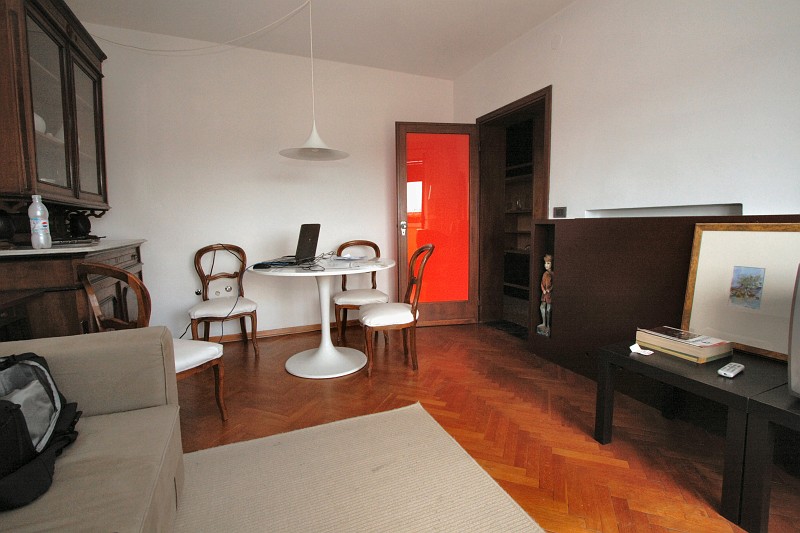 living room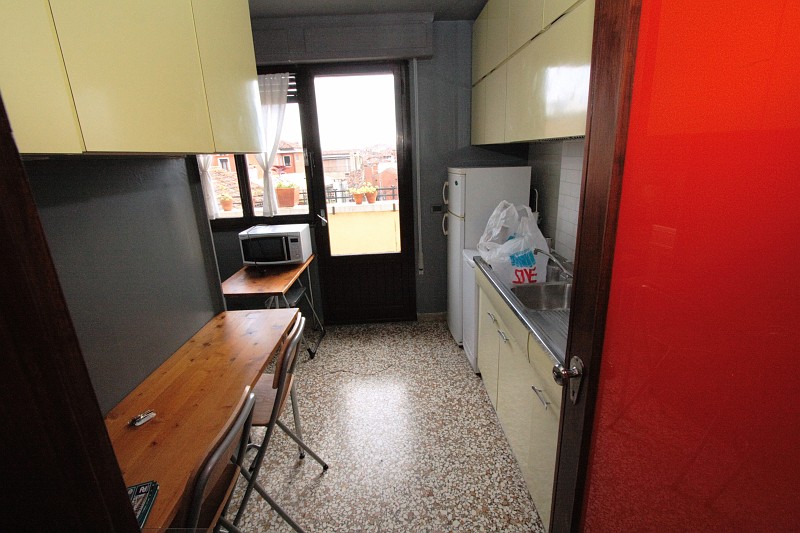 Kitchen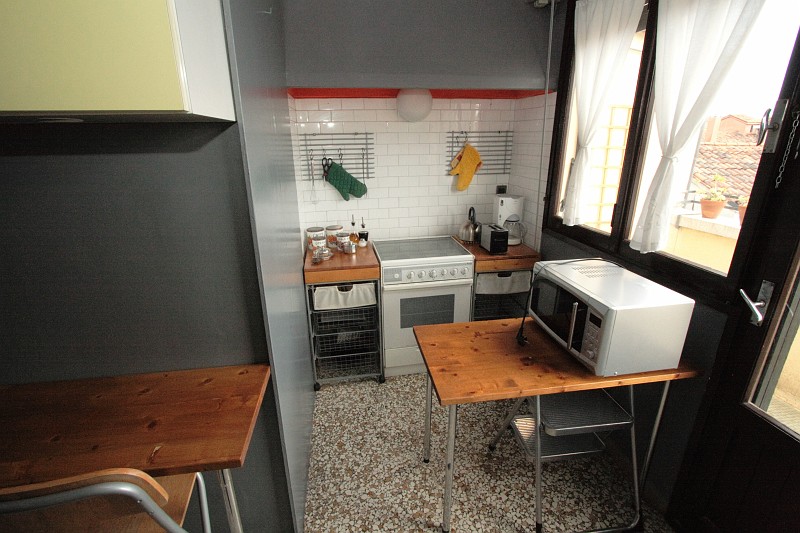 Kitchen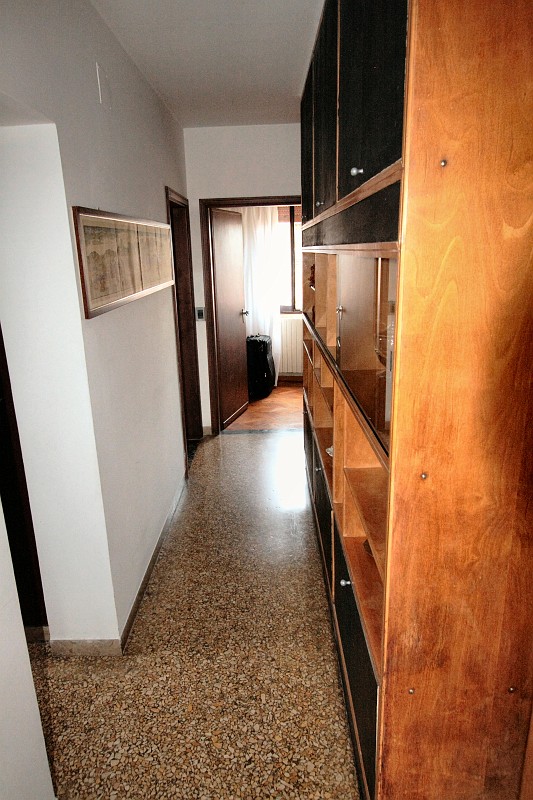 hallway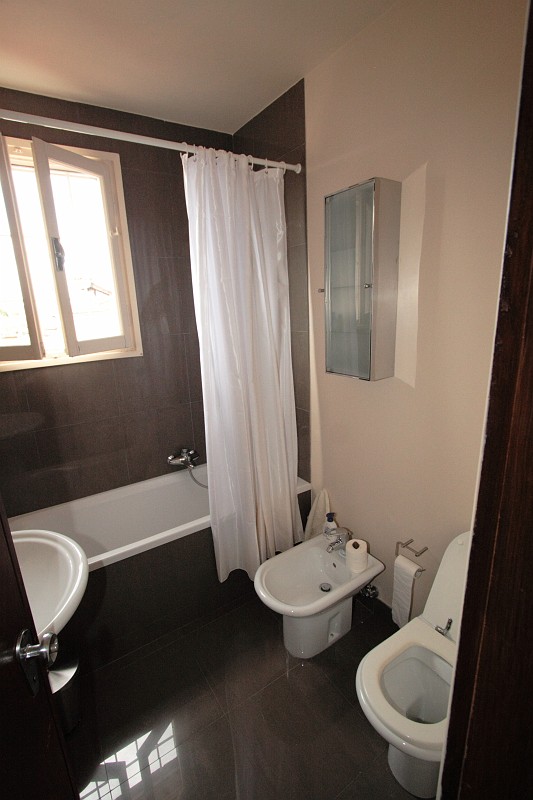 bathroom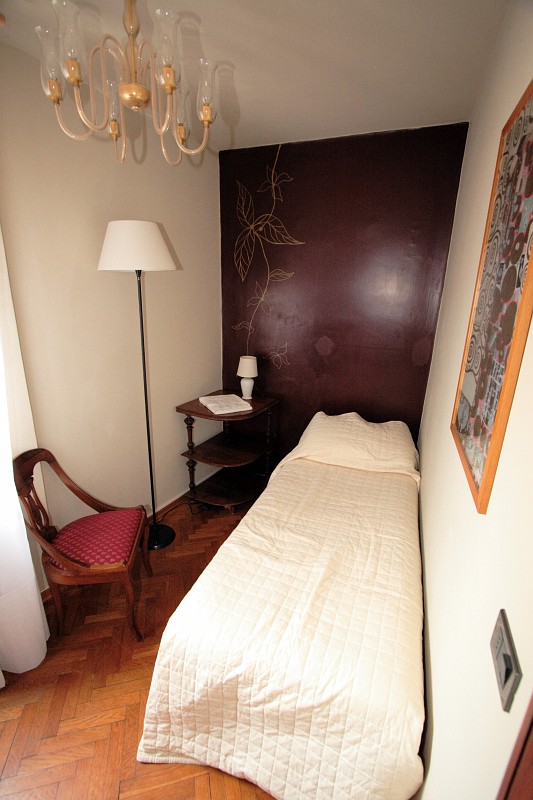 Second bedroom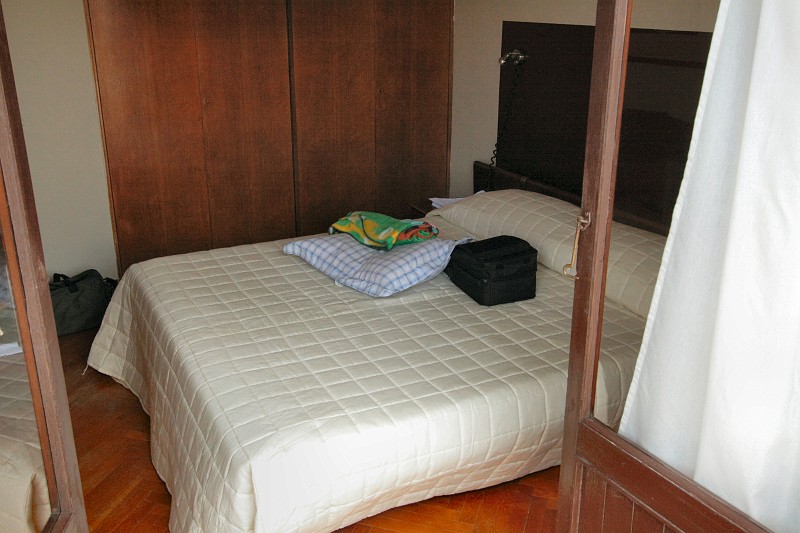 Main bedroom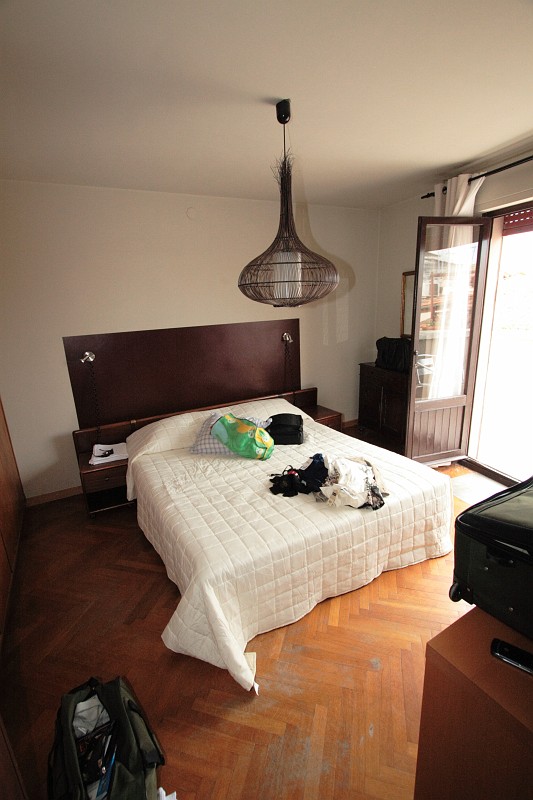 Main bedroom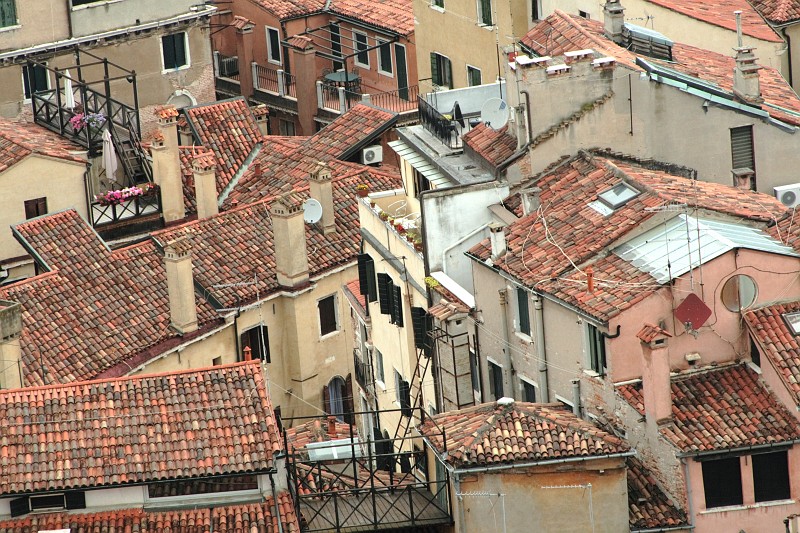 This is a view from the bell tower. The apartment is the balcony in the center of the picture with flower pots along the ledge.
Venice Italy Travel Photographs
We have linked to several photos from Venice Italy on this trip report page . . . but not ALL of the pictures we shot. After you've read the trip report, be sure to check out the Venice Italy Travel Photos to see all the great tourist sites and get excited about your trip! View Venice Italy travel pictures here

.
---
Italy Trip Reports
Italy trip report (general notes) - Many of our observations applied to more than one city, or to visiting Italy in general. This was particularly true with regards to planning and booking the trip and the items we brought with us on our vacation. Rather than duplicate those comments in the Venice, Florence and Rome trip reports, I've included a separate page for these general comments here.
Venice Italy trip report - We spent four days in Venice. One of those days was devoted to a day trip to the Dolomites Mountains. Another day was spent touring the Venice Lagoon. Read this trip report to learn about our apartment, the restaurants we dined at, where to buy awesome Venice masks, and more. Want to know the WORST time of day to take a gondola ride? Read the Venice trip report to find out.
Florence Italy trip report - We spent three days in Florence, not including travel days. We stayed in Florence all three days, wandering the city to enjoy all the tourist sites. In this trip report I break down the various tourist attractions in Florence, review our apartment and offer restaurant reviews. If you're going anywhere near Florence, you HAVE to read the review of Il Latini restaurant.
Rome Italy trip report - As with Florence, we stayed within the city limits all five days we were in Rome. (You think there's enough to do for five days in Rome? LOL) In this trip report I discuss the various tourist sites, provide extensive discussion on the tour of the Vatican, review the apartment and various restaurants. The difference between Angels Tours and Angels and Demons Tours is huge. Read the trip report to understand why. And wait until you hear about this awesome little mom and pop trattoria near the Vatican . . .
---
Italy Travel Photographs
After you've read the trip reports, be sure to check out the Italy Travel Photos to see all the great tourist sites and get excited about your trip!
View Venice Italy travel pictures here

.
View Florence Italy travel pictures here

.
View Rome Italy travel pictures here

.
Enjoy this website?
If you appreciate all the information and pictures found at Family Travel Photos.com, you can help me. It's easy -
send me an email with your opinions of this site
(I'm building a testimonials page). Then,
watch and "like" my Youtube videos
. Every time you watch one of my videos, click the "Like" button and subscribe to my channel, you improve my ranking at Youtube. You can also spread the word about Family Travel Photos on Facebook, Twitter, LinkedIn, Ello or any of the social media sites out there.
Please help me get more visitors to Family Travel Photos.com!