A City Like No Other . . . Venezia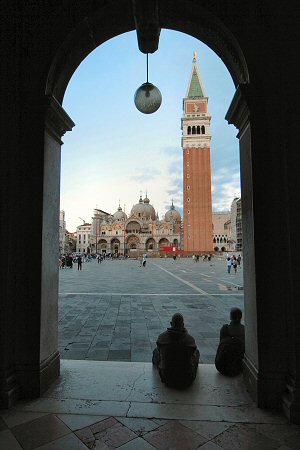 Venice is a city with a uniqueness and mystique like no other. It began as a refuge from barbarians, who survived in a swampy lagoon that the invading hoardes could not enter. The lagoon dwellers adapted, literally creating a city of buildings on poles that were driven into the muddy swamp. The city survived and thrived, becoming a powerful nation-state of merchants and ship builders and a major port for ships from the East. This empire ultimately fell to Napolean. It transferred from the French to Austrians, ultimately becoming part of Italy in the 1860s.
The Venice of today remains largely unchanged from its ways of a thousand years ago. There are no roads so there are no cars or trucks. It is a city that stretches across 117 small islands and has 150 channels, connected by 409 bridges. The Rialto Bridge remains the largest bridge in Venice, spanning the Grand Canal and connecting the districts of San Marco and San Polo as it has since 1591. Piazza San Marco, often known in English as St Mark's Square, was once called "the drawing room of Europe" by Napolean. It showcases the Doges Palace, St. Marks Basillica, the clock tower and the Campanile. The walkways of Venice are lined with shops filled with jewelry, foods, and most importantly, Venetian masks and the canals echo with the calls of "Oy!" from the ever-present gondoliers in their striped shirts and black gondolas.
Venice is a city like no other, crumbling into the lagoon with the decay and damage coming from centuries of exposure to the salty air and water, a place of romance and mystery, a must-visit place for everyone.
Below you will find a trip report on my visit to Venice, Italy. It was written in 2009 so be sure to verify the specifics about costs, operating hours, etc.
---
Our Venice Italy Apartment:
View our apartment listing at vrbo.com
We loved the apartment in Venice. It was fairly small but not too small. The views from both balconies were wonderful. We had our own little secluded courtyard and canal off to the side. And we were only 90 steps away from St. Marks Square - I know, I counted.
The apartment started with a nice, cozy living room area. A reasonably sized kitchen included fridge, stove, microwave and all the other stuff you'd expect. There was a small washer but no dryer in the apartment. A hallway led you past the bathroom and down to the two bedrooms. The main bedroom is a nice size, with double doors leading out to the balcony. The second bedroom is very small but for one person it's just fine. We loved the nice breeze we got through the apartment. We never had to use air conditioning at all. We loved the double doors on our bedroom. We left them open at night, which was smart because the room was wonderfully cool all night long. However, we failed to put on mosquito repellent and I ended up with over 100 bites after the first night - I know, I counted.
The décor was simple but very nice and comfortable. This apartment is on the 5th floor, and we appreciated the elevator for that reason. The elevator was very small - I felt like a horse going into a horse trailer every time I got on or off it. One time my brother and I got on it at the same time, and I swore I heard it say, "I think I can, I think I can . . . " But that was no problem. I was grateful to have the elevator. The apartment also had high speed Internet access which we really loved. The other apartments we used didn't have this and we missed it a lot.
The apartment is managed by Brittany and Daniella. I didn't meet Brittany but communicated with her by emails, and she was very responsive and cordial. Daniella showed us into the apartment and he couldn't have been nicer. They have assembled a book of information for their tenants that was extremely helpful - their information book was better than what the other apartments had provided. This included a well-worn map that showed where to find good restaurants, a supermarket and other places of interest. They were just delightful people to work with and I'd recommend them wholeheartedly.
Of the three places we stayed, I think this may have been my favorite. It just had a nice feel to it, a terrific atmosphere that I enjoyed immensely. The Florence apartment may tie it, I'm not sure - but I do know I'd be thrilled to stay there again if I returned to Venice. A far, far better place to stay than any hotel, that's for sure.
Click here for pictures of our Venice Apartment

.
The Tourist Sites in Venice Italy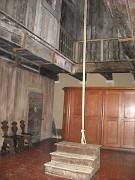 Secret Tour of Doge's Palace - Money WELL spent. There is no downside to this. You get to see places that others don't see. You're in a small group, not in the typical large swarm. You bypass the line to get into the palace. At the end of this tour, you're left in the palace to see the parts of the normal tour as well. This is a bargain. No photos allowed (but I took them anyway). This was sold out for a week when we got there - book early.
Doge's Palace - Have your walking shoes on. This is a long, long tour. Once you get started you're pretty much committed to finishing it because you follow a trail through the building. Interesting tour, lots of neat rooms to see, but much longer than I expected. No photos allowed.
St. Marks Square - Construction going on around the base of the bell tower mars the scenery a bit. More construction on the bell tower. Guys doing the "give a rose" scam were commonplace. Visit the square in the evening or in the early morning to get nice photos without as many people. Excellent spot for nighttime photography - just take your tripod and remote shutter release. My wife had a blast with her starlight filter; there are lots of points of light in St. Marks square that work well for starlights.
St. Marks Basilica - Reserve your time online and avoid the line, or use Rick Steve's tip about the bag check. I didn't think this was worth a long wait, frankly. The interior just didn't impress me - in fairness, however, I just walked through the Basilica and didn't go into the museums. Significant exterior construction going on. No interior photos allowed.
Grand Canal Tour - Do this twice, once during the day and then once at night. During the day you can see all the great buildings and activity on the grand canal. Then, at night you can enjoy all the lights on the canal. It's an entirely different feel and a great way to experience a relaxing close to a busy day.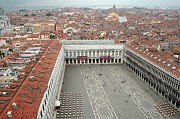 Top of Campanile - Costs E8 now rather than E6. Still worth it - great views and photo opportunities We were there right at 9 a.m. when it opened. No line, no waiting. No mob scene at the top. You have to check your shoulder bag but you can carry your camera up - so plan on hand carrying any extra lenses with you.
Dolomites Day Tour and DriverinItaly.com - I definitely recommend both the Dolomites and DriverinItaly.com to anyone going to Venice or north Italy. Here's how it went for us:
We booked the Dolomites day trip through DriverinItaly.com because they allowed us the flexibility of picking what day we'd do it on, and the driver would be just for the three of us. The other services tended to offer the tour on specific days, in small groups. The booking process was pretty simple although the rep tried to sell me on a costly water taxi to the Piazza Roma (where we were to meet the driver) when a vaparetto takes you straight there. Once we got that ironed out, they sent me instructions to meet the driver in the corner of Piazza Roma "in front of the offices of Transbagagli".
The day of the trip comes, pouring rain of course. We went to Piazza Roma and asked two different locals where this building was - they both directed us to a spot on the western side of the piazza. We went there, saw the name Transbagagli on the sign, and settled in to wait. When the driver wasn't there 30 minutes after the meeting time, we got worried. We started wandering around (in the rain) to look for him. My phone wasn't working so I couldn't call him. What the people with DriverinItaly.com apparently didn't know, and we certainly didn't know, was that there were two locations for Transbagagli on this piazza, one on each side. (In fairness to the driver, he was there on time and had tried to call us, but couldn't reach us because my phone was down.) Finally, my wife found him - on the east side of Piazza Roma, opposite where locals had told us to wait.
An inauspicious start to the day. But from that point on, everything was fantastic.
The car - a sweet Mercedes Benz. The driver, David, couldn't have been nicer. He made it clear that we could tailor the trip to whatever we wanted. He drove us around, took us to great places so we could get the shots we wanted. My wife asked him at one point, "how close will we get to Austria?" thinking that she could maybe get pictures of Austria in the distance. David said, "Only 3 kilometers - why don't we just drive there?" And we did - we drove across the border and into a small town, which was a real treat.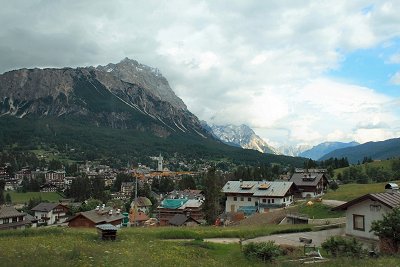 Every time we'd start shooting pictures out a window, he'd look for a place to pull over so we could get our shots. He gave us lots of information about the area, and helped translate when we stopped at a local restaurant for lunch. We ended up driving around for over 10 hours. I shot over 700 photos by myself that day. We joked that David will hear the 'tchuka-tchuka' sound of camera shutter releases in his sleep. LOL Seriously, David made the whole trip a fantastic experience for us. He was tremendous.
As far as the Dolomites . . . wow. They were spectacular. Even with mostly cloudy weather it was a fantastic day of photography. You can see one shot to your right - Check out my other pictures of the Dolomites here

.
DriverinItaly.com gets a big thumbs up from us. Just try to nail down a specific meeting place, make sure your phone is working and stick to your guns if someone tries to upsell transportation to you. Otherwise - thanks to David and DriverinItaly, this was one of our best days on the trip.
Lagoon Tour:
Check out Lagoon Tour pictures here

.
Murano - Didn't really impress me. When you get off the vaparetto, if you turn left you go to a few places with glass demonstrations and high price tags. If you go right you get to the canal where there are a lot of shops and more competitive prices. The glass demonstration was neat, but the town seemed like a newer mini version of Venice. We saw really good prices on glass, but you have to get down the canal a ways. Buy from the places with glass blowing demonstrations and prepare to spend a fortune. The glass museum has several displays of beautiful glass exhibits out around the community. Note: Rick Steves tells you to leave Murano from a different vaparetto stop than you arrived at, and this is a bit tricky to find. I suggest you find out where this second vaparetto stop is when you first arrive so you can go directly there when it's time to leave - you'll avoid significant backtracking this way.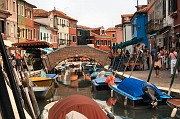 Burano - I really liked this island. Much nicer, more informal feel to this place. Beautiful buildings in pastel colors, great photo opportunities. This island is a living photo study. Less expensive than Murano or Venice, it seemed. You can find Murano glass on Burano, sometimes cheaper than on Murano - although your selection is certainly not nearly as large. The people we met there were friendlier as well. The church tower is surrounded by scaffolding, which was the only disappointment.
Torcello - Worth going to. Completely different than the other islands. Like Rick Steves says, it's a way to experience what Venice was like when it was first established. Not a lot of crowds and only 10 minutes from Burano. Well worth it. From an experience perspective it offered a dramatic contrast to anywhere else in Venice. This was my wife's favorite place in the Lagoon, and I think she liked it even more than Venice.
Plan for LONG vaparetto rides to Burano and then back to Venice, usually very crowded.
Rialto Bridge - I made a special trip to walk across this and I'm glad I did. The view of the canal from the bridge is beautiful, especially at night. Crossing the bridge is one of the few cool things you can do in Venice that doesn't cost E6 or more.
Random Observations About Venice Italy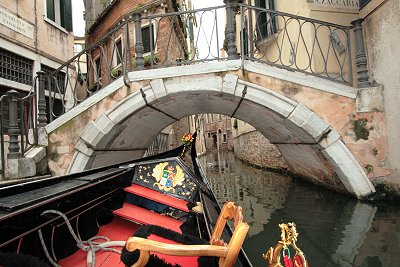 Gondola - Try not to do your gondola ride during high tide.
During high tide, the boat floating normally in the canal will not fit under some bridges, even at the bridges' highest point (in the middle). The gondolier must put his weight to one side of the boat, bringing that side close to water's surface and the other side higher so you're essentially floating down the canal at a significant sideways angle. This tilts the front decorative piece on the gondola to the side so it fits under the bridge.
The effect on you the passenger is . . . sheer terror. It feels like the boat is going to tip over as your edge is only a few inches above the canal. Our gondolier did this and handled it expertly. It's what he had to do. But it really messed up the relaxing, calm mood of the ride.
You can see what I'm describing in the photo to your right. You can see the right side of the boat is very close to the water. The feeling you get on that side is that the boat is about to capsize. But if you look ahead, you can see why the gondolier is doing this. There just isn't much space beneath the bridge, especially when you think of that decorative piece on the front of the boat.
You'll enjoy your ride more if you avoid high tide.
Finding Your Way - Navigating Venice is tough - no road names, poor maps. Be patient.
ATMs - We found it tough to find ATMs in Venice. YMMV. Also, public phones weren't that common although we did find some down by the St. Marks vaparetto stop.

Mosquitoes - There has been a lot of forum talk about mosquitoes and whether or not there are mosquitoes in Venice. Let me put this matter to rest.
In the first two nights I got dozens of bites on my hands, arms, back, legs, top of my head. My wife has them on her arms, neck and face. In the photo to your right I've circled the visible bites on one side of one arm - and i had them all over . . . yep, I got chewed up. I have no right to complain. We had mosquito spray with us and didn't use it.
Plan for dealing with very aggressive mosquitoes.
Vaparetti - If you want to pick the spot on the vaparetto where you can get the best photos, watch as it approaches so you can see what style of boat it is. There are several different body styles of vaparetti so I can't make a blanket statement where to sit. Some have open (uncovered) seating in the back, others in the front, still others are two-stories and the top deck is uncovered. It just depends on which boat you get. Also - when you're at the boat stop about to get on the vaparetto. Look at the map and see what the stop BEFORE the stop you want is. You don't get any warning (like an announcement) when the boat stops. All you see is the name of the stop on the dock as you pull up. Furthermore, they don't wait for long before taking off again - people get off, people get on and boom - they're gone. That means you need to be ready when it's time to exit. If you know the stop before the one you want, you have that much advance warning that your stop is coming up.
The Locals - In Venice I found the locals to be fairly rude and disdainful of tourists. They cut to the front of lines like first graders, walk through you on sidewalks, and bump you as they pass without a second glance. Many shopkeepers were friendly; some were abrupt and disinterested, regardless how hard I tried to be polite and friendly. Overall I'd have to say I was disappointed with the people there.
Sitting Down - Overall, there are not enough benches and places to sit for older people throughout Venice. Inside the Doge's Palace was a good example. We often found ourselves leaning against walls because we couldn't find a place to sit.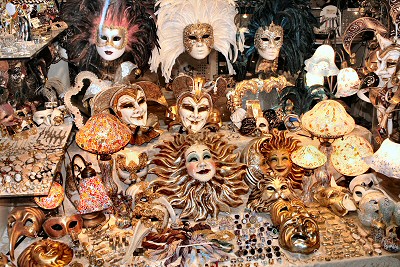 Mask Shops - There are probably more mask shops than gelato shops in Venice. Most have the standard masks that were probably made in China or something. We bought two masks in Venice. One at the place Rick Steves recommended: Ca' del Sol. Castello, 4964, 30122 Venezia. Tel 0415285549. wwwcadelsolmaschere.com This shop was great, lots of masks to look at that were hand made, not imported from Korea. Ca' del Sol is not easy to find - if you click my links for photos of masks, you'll find the map they provide to show where their shop is. We got one mask at Ca' del Sol, and a second mask at a nice gift shop near St. Marks. This one is really more of an art piece, with Swarovski crystals, signed by the artist. Really beautiful piece. Click here for photos of masks

.
Restaurants in Venice Italy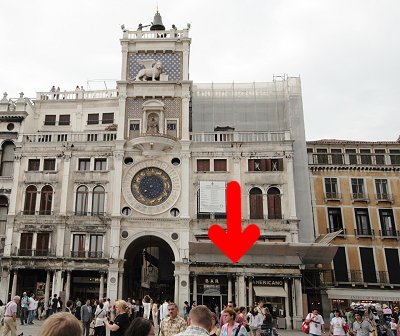 Bar Americano -

This coffee bar is right beneath the clock tower in St. Marks Square. As you stand in the square and face the clock tower, it is there at the right corner of the archway. I should have known this place was a loser, given that it was right there on the square.
Confusing store - you go to one counter to get something and they send you to another to get something else and a third to pay for it . . . and they're not very pleasant. I had a pastry here and it wasn't very good. Suffice it to say, I wasn't nearly as impressed with Bar Americano as their own employees were. Skip this place.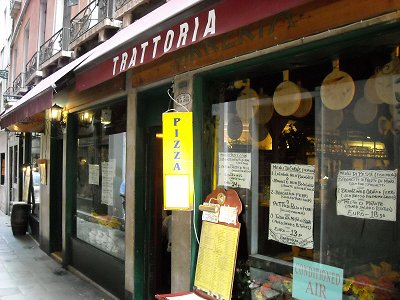 Castello Pizzeria - Risterante - Birreria.

5356/5357 30122 Venezia, 041 52.10.717. Simple little place but we really liked the food so we ate there frequently. We had what became our usual fare: Spaghetti with boglonese (or Ragu) sauce, mushroom and ham pizza (E8.60). They had a special here, the spaghetti with salad and your choice of pork or chicken breast for E13.90. The house wine was decent too.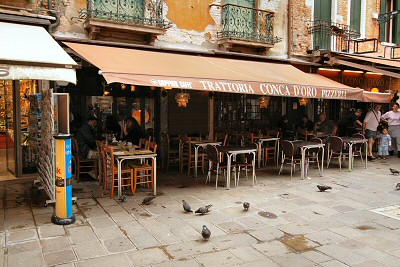 Trattoria Conca D'Oro Pizzeria -

Overpriced place north of St. Marks and Doge's palace - we stopped by here for a quick lunch and it was a mistake. 12% service charge and E1 cover charge per person and E5 sodas . . . we had the usual, pizza and spaghetti which was decent, but not as good as Castello Pizzeria. Service was very slow, but they were nice. Meal ended up costing a lot more than it should have, even by Venice standards.
Quinz Inn on the Lake -

Via Col St. Angelo.2, Misurina Dolomiti. www.quinz.net. 39.0435.39.22.20. We stopped here on our day trip in the Dolomites for a very nice meal. The menu includes German as well as Italian dishes, making it a nice change of pace from Venice restaurants. My brother had a venison dish which he said was very good. Our dinners were good as well. We finished it up with some nice apple strudel.
Our dinner consisted of:
Spaghetti Ragu
Filetto and Fritte
Cataletta e P.F.
Po . Cap. E Funghi
Strudel
The setting for the restaurant is beautiful (see below), on the shore of one of the Dolomites' emerald green lakes. Just beautiful. Price wise, our meal was roughly comparable to meals in Venice, somewhere in the E15 - E30 range per person.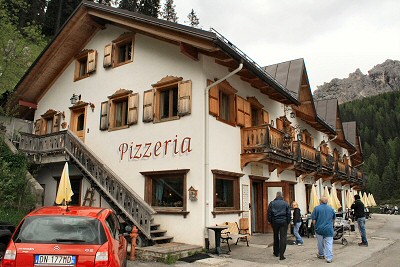 The outside of Quinz Inn on the Lake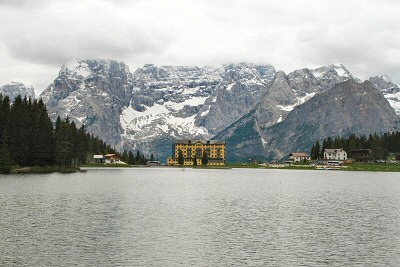 The view from the front of Quinz
Gelato -

my wife swears by the amaretto gelato at a small place near St. Marks Square . . . I don't know the name but can locate it on a map for you. She tried gelato 2-3 times per day (tough job, but she did it to help on the reviews) and this was her favorite in Venice. Basically, if you go from St. Marks under the clock tower, follow that walkway to a T intersection. Turn right at the T. Go a short distance and you walk right into a church. Turn right at the church and go down another walk way just a couple stores. You'll see this place on the left side, only two or three doors down. You don't even go inside, just buy from the person in the window. The amaretto gelato there was fantastic. The other gelatos there were great as well.
Venice Italy Travel Photographs
We have linked to several photos from Venice Italy on this trip report page . . . but not ALL of the pictures we shot. After you've read the trip report, be sure to check out the Venice Italy Travel Photos to see all the great tourist sites and get excited about your trip! View Venice Italy travel pictures here

.
---
Italy Trip Reports
Italy trip report (general notes) - Many of our observations applied to more than one city, or to visiting Italy in general. This was particularly true with regards to planning and booking the trip and the items we brought with us on our vacation. Rather than duplicate those comments in the Venice, Florence and Rome trip reports, I've included a separate page for these general comments here.
Venice Italy trip report - We spent four days in Venice. One of those days was devoted to a day trip to the Dolomites Mountains. Another day was spent touring the Venice Lagoon. Read this trip report to learn about our apartment, the restaurants we dined at, where to buy awesome Venice masks, and more. Want to know the WORST time of day to take a gondola ride? Read the Venice trip report to find out.
Florence Italy trip report - We spent three days in Florence, not including travel days. We stayed in Florence all three days, wandering the city to enjoy all the tourist sites. In this trip report I break down the various tourist attractions in Florence, review our apartment and offer restaurant reviews. If you're going anywhere near Florence, you HAVE to read the review of Il Latini restaurant.
Rome Italy trip report - As with Florence, we stayed within the city limits all five days we were in Rome. (You think there's enough to do for five days in Rome? LOL) In this trip report I discuss the various tourist sites, provide extensive discussion on the tour of the Vatican, review the apartment and various restaurants. The difference between Angels Tours and Angels and Demons Tours is huge. Read the trip report to understand why. And wait until you hear about this awesome little mom and pop trattoria near the Vatican . . .
---
Italy Travel Photographs
After you've read the trip reports, be sure to check out the Italy Travel Photos to see all the great tourist sites and get excited about your trip!
View Venice Italy travel pictures here

.
View Florence Italy travel pictures here

.
View Rome Italy travel pictures here

.
Enjoy this website?
If you appreciate all the information and pictures found at Family Travel Photos.com, you can help me. It's easy -
send me an email with your opinions of this site
(I'm building a testimonials page). Then,
watch and "like" my Youtube videos
. Every time you watch one of my videos, click the "Like" button and subscribe to my channel, you improve my ranking at Youtube. You can also spread the word about Family Travel Photos on Facebook, Twitter, LinkedIn, Ello or any of the social media sites out there.
Please help me get more visitors to Family Travel Photos.com!