The Mystique of Venetian Masks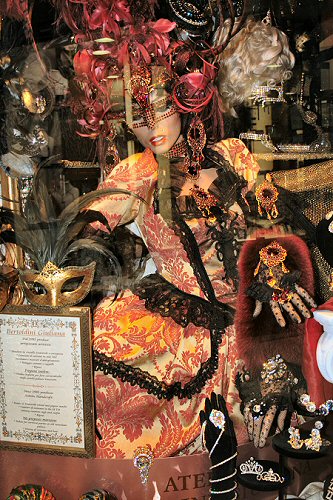 The history of the Venice mask goes back to the 13th century. The Venice Senate gave the city's mascherari, or mask makers, official artisan status by the Senate in 1436, making it clear that even 500 years ago the Venice mask was an important part of the city-state's culture. The masks were usually for celebration, but they also had more serious uses as well. For example, during the black plague that devastated Venice in the 1500s, doctors would wear a mask with a long beak, filled with fragrant herbs and flowers, which the doctors believed would protect them from the illness. By the 1700s it was popular for people to wear colorful masks for Carinvale, or Carnival, an annual celebration in Venice. Today, only the gondola is as recognizable a symbol for Venice as the Venetian Mask; it truly captures the mystery of this unique city.
---
Venice Masks:
Mask Shops - There are probably more mask shops than gelato shops in Venice. Most have the standard masks that were probably made in China or something. We bought two masks in Venice. One at the place Rick Steves recommended: Ca' del Sol. Castello, 4964, 30122 Venezia. Tel 0415285549. wwwcadelsolmaschere.com This shop was great, lots of masks to look at that were hand made, not imported from Korea. We got one mask here, and a second mask at a nice gift shop near St. Marks. This one is really more of an art piece, with Swarovski crystals, signed by the artist. Really beautiful piece.
We had fun in Ca' del Sol. The place was packed with cool masks and the woman working the shop was very nice as well. Another good Rick Steves recommendation! Ca' del Sol is tough to find. Below you will find a map and their business card, to help you find the place.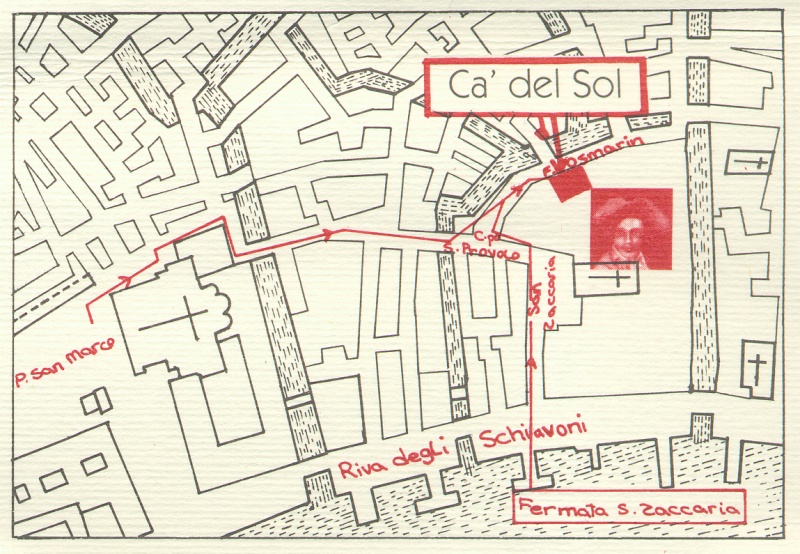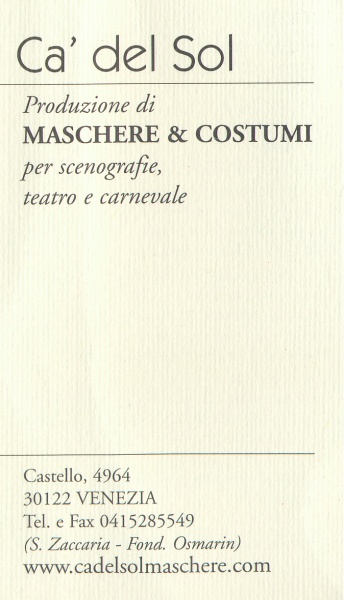 The other mask we bought came from a nice gift shop. This was more of an art piece than a real mask, with Swarovski crystals and all. The next two photos are quick snapshots of that mask - at some point I'll shoot nice pictures of it the next time I get my studio lights set up.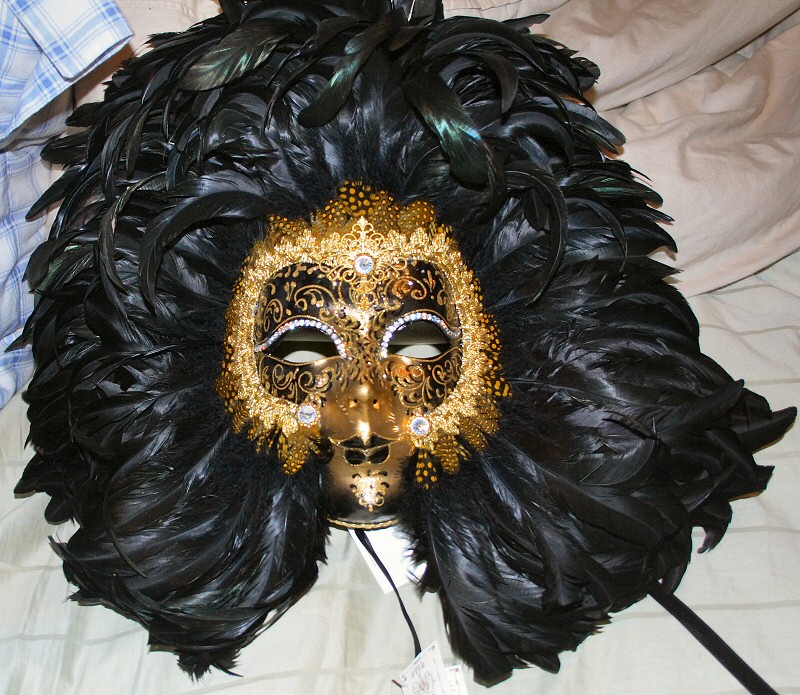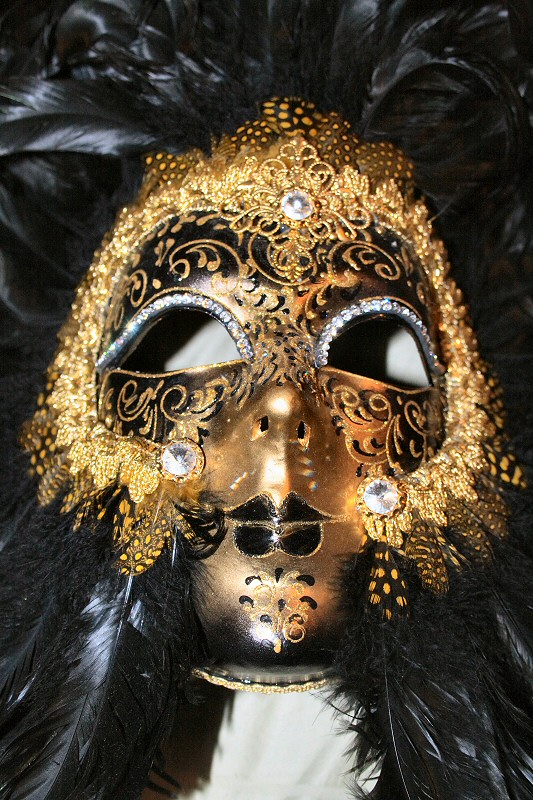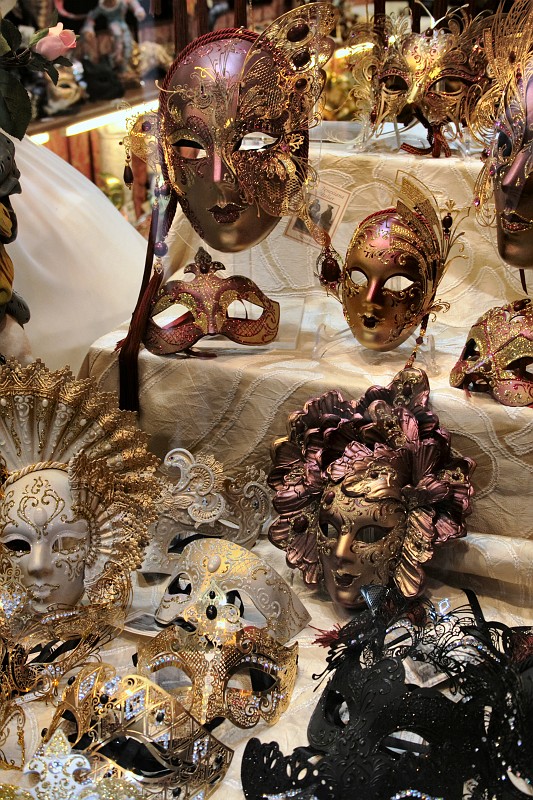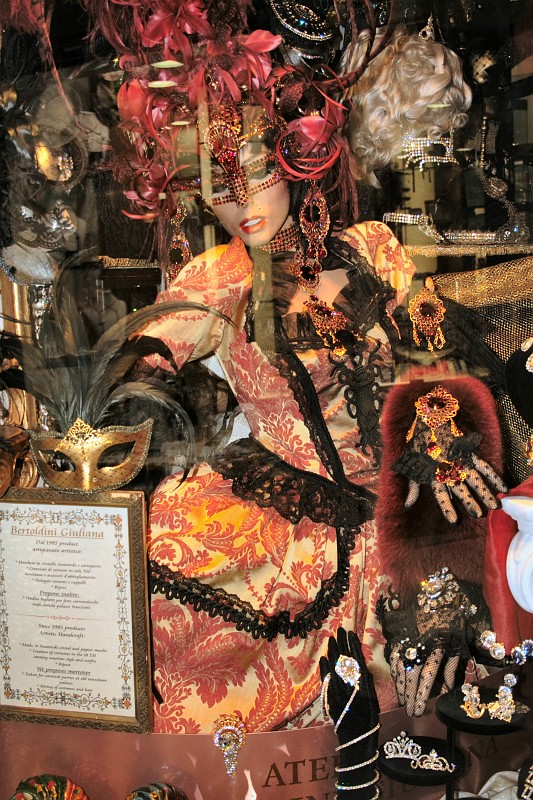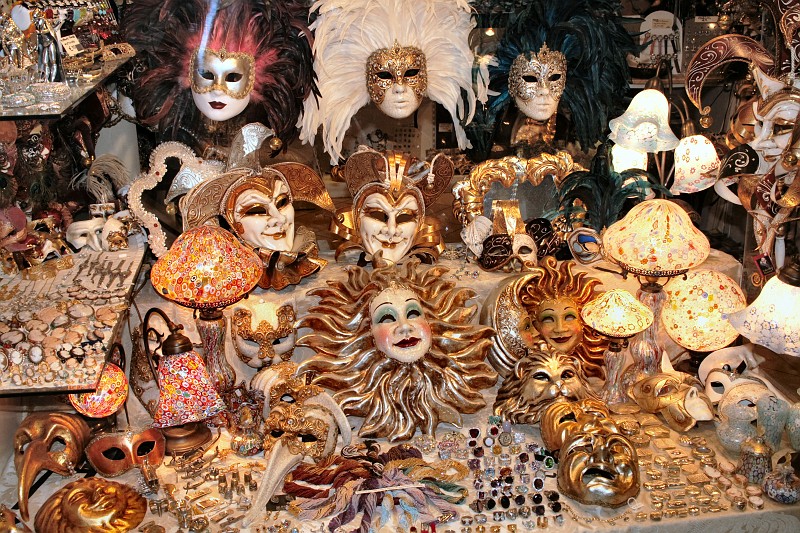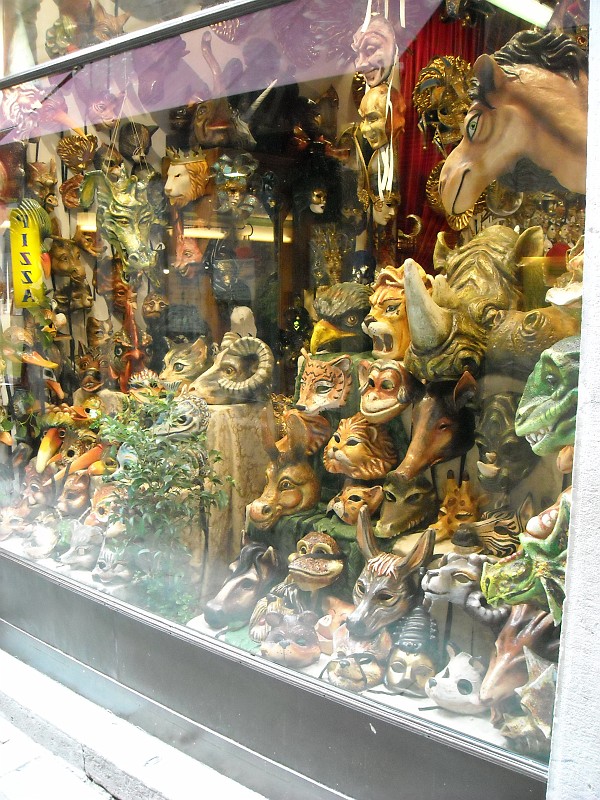 Venice Italy Travel Photographs
We have linked to several photos from Venice Italy on this trip report page . . . but not ALL of the pictures we shot. After you've read the trip report, be sure to check out the Venice Italy Travel Photos to see all the great tourist sites and get excited about your trip! View Venice Italy travel pictures here

.
---
Italy Trip Reports
Italy trip report (general notes) - Many of our observations applied to more than one city, or to visiting Italy in general. This was particularly true with regards to planning and booking the trip and the items we brought with us on our vacation. Rather than duplicate those comments in the Venice, Florence and Rome trip reports, I've included a separate page for these general comments here.
Venice Italy trip report - We spent four days in Venice. One of those days was devoted to a day trip to the Dolomites Mountains. Another day was spent touring the Venice Lagoon. Read this trip report to learn about our apartment, the restaurants we dined at, where to buy awesome Venice masks, and more. Want to know the WORST time of day to take a gondola ride? Read the Venice trip report to find out.
Florence Italy trip report - We spent three days in Florence, not including travel days. We stayed in Florence all three days, wandering the city to enjoy all the tourist sites. In this trip report I break down the various tourist attractions in Florence, review our apartment and offer restaurant reviews. If you're going anywhere near Florence, you HAVE to read the review of Il Latini restaurant.
Rome Italy trip report - As with Florence, we stayed within the city limits all five days we were in Rome. (You think there's enough to do for five days in Rome? LOL) In this trip report I discuss the various tourist sites, provide extensive discussion on the tour of the Vatican, review the apartment and various restaurants. The difference between Angels Tours and Angels and Demons Tours is huge. Read the trip report to understand why. And wait until you hear about this awesome little mom and pop trattoria near the Vatican . . .
---
Italy Travel Photographs
After you've read the trip reports, be sure to check out the Italy Travel Photos to see all the great tourist sites and get excited about your trip!
View Venice Italy travel pictures here

.
View Florence Italy travel pictures here

.
View Rome Italy travel pictures here

.
Enjoy this website?
If you appreciate all the information and pictures found at Family Travel Photos.com, you can help me. It's easy -
send me an email with your opinions of this site
(I'm building a testimonials page). Then,
watch and "like" my Youtube videos
. Every time you watch one of my videos, click the "Like" button and subscribe to my channel, you improve my ranking at Youtube. You can also spread the word about Family Travel Photos on Facebook, Twitter, LinkedIn, Ello or any of the social media sites out there.
Please help me get more visitors to Family Travel Photos.com!