Florence Italy Trip Report
Florence Italy Trip Reports
Birthplace of the Renaissance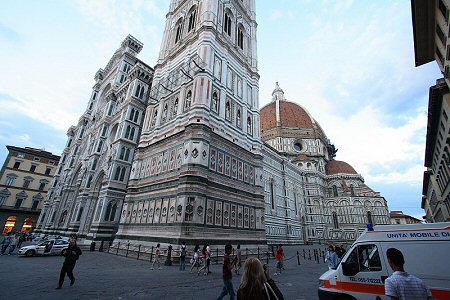 The period of the 14th century through the 17th century was the age of enlightenment, when man learned to express himself with new freedoms of thought in art, music, literature and science. This was the Renaissance, the awakening of mankind from the dark ages via the genius creations of Leonardo Da Vinci, Gallileo, Dante Alighieri, Lorenzo Ghiberti, Bernini, Brunelleschi, Sandro Botticelli, Donatello and many others. Ruling Florence was the Medici, a wealthy banking family, who funded the arts and the growth of Florence as the center of the Renaissance movement.
Today you can walk the streets of this incredible Tuscan city, the same streets trod by the greatest creative geniuses of the last thousand years. You can view the nightmarish scenes from hell that inspire Dante's Inferno on the ceiling of the Baptistery, marvel over the massive Duomo cathedral and visit the jewelry dealers on the famous Ponte Vecchio bridge. Anyone who has any sense of history would find Florence to be a magical, amazing place to visit.
Below you will find a trip report on my visit to Florence, Italy. It was written in 2009 so be sure to verify the specifics about costs, operating hours, etc.
---
Our Florence Italy Apartment:
View our apartment listing at vrbo.com
What a great apartment. The location was incredible - just one block south of the Duomo. It's so close that the Duomo pretty much fills the window of the front bedroom. From the living room window you can see the towers of the Bargello and Palazzo Vecchio.
The apartment itself is nice-sized and very comfortable. It had the best commons area of any place we stayed, with a spacious living room / dining table / kitchen space that we used a LOT. The fridge is pretty small but was big enough for our needs, primarily keeping big bottles of soda cold. The washing machine worked great although it's small by American standards; the dryer was a big rack you draped your clothes on and placed on the patio. No clothes dryers here. The front bedroom is narrow but workable. The back bedroom has more floor space but the ceiling slopes down low in most of the space, so tall people will not like this room. The bathroom in the front bedroom area is funny - it's so narrow that there is no way I could get to the stool, let alone use it. The shower in this room was easily accessible, however, and was our primary shower space. The second bathroom is opposite the front bedroom by the front door; much better room for using the facilities although the shower space was somewhat small. We enjoyed a nice breeze through the apartment with the windows open most of the time.
There is an elevator for this apartment (on the fifth floor you'll want that). It's larger than what we had in Venice, but it's still pretty small. I'm a big guy, and when I was hauling myself and my camera bag into the elevator I had to slide my way in and out. The important thing is, however, it had an elevator which worked. Note to disabled travelers: You will have to go up some stairs to get to the elevator on the ground floor.
We communicated with Marco on the apartment, an enthusiastic and friendly Florentine who was a pleasure to deal with. We got to meet Marco's mother Linda as well; we just loved her. She was a real sweetheart and fun to chat with. Marco was trustworthy with our deposits and happy to try and help us.
If we went back to Florence, I'd be happy to stay at this apartment again.
Strange culture moment - There is a music school near the apartment so you hear musicians practicing throughout the day and evening. One evening, we listened to a large (and very good) choir and organ practicing a 17th century chorale, which was punctuated by cheers of people in buildings all around us as they watched a soccer match on TV. What an odd combination of sounds that was.
Click here for pictures of our apartment

.
The Tourist Sites in Florence Italy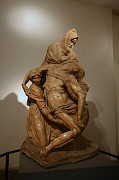 Duomo Museum - Great museum, manageable size. Photography allowed - we saw "no flash" signs only in one room. You can get face to face with Michelangelo's last Pieta, no glass or other protection around it, which allows you to get great shots like the one to your right. For me, this made a wonderful experience even more powerful. I was alone in a room with this amazing sculpture - I felt like it was an exclusive photo shoot. Same with Donatello's famous Mary Magdalene and many other pieces. The displays were also extremely well done, great colors and lighting. An elevator takes you all the way to the fourth floor and you can walk down or ride down from there. I loved this museum. Click here for pictures of the Duomo Museum

.
Duomo - We showed up at about 3:00 p.m. during high season and walked right in, no line. Photography with flash allowed. The dome interior is beautiful. Click here for pictures of the Duomo

.
Top of Duomo - Tough climb for my wife but she made it. Odd keystone-shaped steps made it even tougher for her. Not for the weak of heart. If you're healthy enough to do it, it's worth the effort. The views were beautiful. My wife did this at about 3:30 p.m. during high season and had only a short wait, so this seems like a good time to do it. We passed by there at other times and there was a longer line. Click here for pictures from the Top of the Duomo

.
Uffizi - The first thing you do after getting through the front doors is go up four flights of stairs. These stairs were KILLER for old codgers like us. We were allowed to carry our sling bags with us through the Uffizi but others had to check backpacks. They told us to wear our bags on the front. There was a huge line to get in, but our reservations got us through the door in five minutes. You've heard it a thousand times, but here it is one more: Don't go to the Uffizi without reservations.
When you go, stick a camera in your pocket. They don't allow photos in the Uffizi, but you can get good photos of the Ponte Vecchio out the window of the Uffizi and that is no problem with the rules. Also, nice outdoor shots from the cafeteria area. So much artwork here, it's almost a sensory overload. It's tough to take it all in. I think they overdo it by starting the tour with about 700 medieval paintings of Christ on the cross that look almost exactly the same to my untrained eyes. The hallways and ceilings are very, very cool. The museum is so big that it's a real task to walk through. To their credit, they had lots of benches for people to relax on in the hallways, and lots of great sculptures to look at while you're sitting. I liked the Uffizi but I've seen what I wanted to see there, and don't think I'd go back.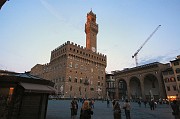 Palazzo Vecchio - There is a large crane behind the building which detracts from the skyline right now, as you can see in the picture to the right. Also there is lots of construction going on in the courtyard where the famous Florentines statues are located. We did not go inside so I don't know whether or not they allow photography.
Santa Maria Novella Church - They stated that this was a holy place and we should respect that by not taking pictures inside . . . but for some reason it wasn't offensive to them to take pictures themselves and SELL them to you. Hmmm. The church has a beautiful interior. They've torn up the piazza out front and are doing construction there so the surroundings are unpleasant.
Farmacia de Santa Maria Novella - via della Scala, 16. My wife loved shopping here and got their famous almond soap. We didn't see Hannibal Lector in there, fortunately. This place is beautiful on the inside, and has displays that show how some of their things were made in the past. It's a bit tough to find so be patient - get close and ask locals for help. Click here for pictures

.
Outdoor Market - in the San Lorenzo district. It's a big flea market of everything from shirts to leather products to everything else. One good tip though - if you're in this area and you're looking for cold drinks, we found sodas in the market area that were about half the price of what you'll pay at any cafe. It was about E1.85 for a soda rather than E3 - E5 elsewhere. They also had food stalls in there that were pretty cheap, although we didn't eat there so I can't vouch for the quality.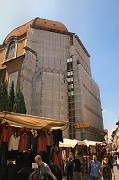 Medici Chapel - I went to the Medici Chapel 10 years ago and fell in love with it. What a gorgeous interior. I should have known there would be trouble this time when I saw all the scaffolding on the outside - you can see this foreboding exterior view in the photo to the right. We went inside and went up the stairs, ready to see this incredible chapel again, and . . . SCAFFOLDING! What a terrible disappointment! This incredible room, hidden behind poles and ladders and platforms. I was so bummed. The statues around the periphery were removed and the beautiful, unique colored marble and stone was mostly hidden, which broke my heart. A dour little man ran around the chapel, endlessly reminding people not to take pictures. Unless you're going to see the Michelangelo sculptures, pass on this site until they get the restorations done. No photography allowed.
San Lorenzo Church - No photography allowed. Another nice church, but I wouldn't make a trip to see just it. If you're in this area and have time, stop by. Otherwise, spend your time elsewhere. Click here for pictures of the San Lorenzo Church

.
Accademia - Don't even think of going here without reservations. The line to get in was hours long. Our reservations got us in very quickly. The place was packed. We followed the flow past some paintings, around the David and into another room where dozens of sculptures are stored. That led us back to the David and out the door. It just seemed to end very quickly. The David was incredible, very powerful to see in person. Otherwise, there wasn't a lot to see compared to other places and considering the cost and hoopla of getting in.
Santa Croce Church - People got in with shorts at knee level but were turned away for bare shoulders. You should know if you're going any time soon that there is a LOT of construction going on inside the church. Non-flash photography was allowed inside but it's very dark. Click here for pictures of the Santa Croce Church

.
Bargello Museum - Photography allowed in the courtyard only. We had reservations but it wasn't busy. Donatello's David is being refurbished right now so it's not on display, although you can watch the restoration going on. In spite of that, we really liked this museum - it wasn't crowded, and it was a reasonable size so it wasn't a big task to walk through. Click here for pictures of the Bargello Museum

.
Random Observations About Florence Italy
Good Time for Outdoor Photos - Plazas and streets are empty during the night and early morning - great opportunities for night photography. Bring a tripod and shutter release. Want to get photos of the Duomo or the Piazza Della Signora without people? Just show up at 6:30 a.m. and those places are all yours.
Graffiti - The amount of graffiti on these old buildings will break your heart. The streets are very clean, however. As I type this in Florence at 11:24 p.m., a street sweeper machine is rolling down the road beneath my window.
ATMs - ATM machines were easy to find here.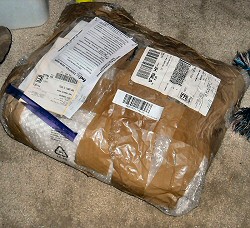 Shipping Back to the U.S. and Internet Train - I've got three problems with this place. First, they charged E5 per hour for Internet access; it only cost E1.5 per hour in Rome, so either Florence is three times as expensive or these guys are. Second, they had no air conditioning so their cafes were little sweat boxes.
Third, they advertise they ship stuff back for you. We took our masks there and repeatedly, clearly explained that these were valuable and needed to be protected well in shipment. We repeated that they were valuable, fragile Venice masks. We explained that we wanted the bags shipped with the mask, as well as all the cards inside the bags. Sure, sure, he understood. He took our E48 (for 2 KG of materials to be sent). We get home and a package was awaiting us - the dumbass didn't even put them in a BOX. He just wrapped them together in paper, taped it all up and sent it out, without the bags. The most valuable mask made it OK - the store we bought it from wrapped it up very well so even this nitwit couldn't damage it. The second mask was bent up some, although I think it will be fine when displayed on the wall. Look at the photo to your right - is this how you want your fragile items sent to a different continent??? Do not trust these idiots for shipping, and hopefully you can find a better place to surf the web as well.
Mail - Tough to find places to pack and mail your stuff and it's expensive!!!! We found to Mail Boxes Etc., one near the train station and one southeast of the Bargello. We should have used those instead of Internet Train, an Internet cafe chain that does shipping. Read my comments above about these morons. As an alternative, you may want to pack a smaller suitcase inside a larger suitcase when you go. When you come back, you can fill the larger suitcase with mementos and pay the price for a second suitcase. This is less expensive than shipping, although it's not as convenient.
il Centro Supermercati - Rick Steves recommendation is excellent. Close to Accademia - you can save a fortune on drinks and foods here. For example - a 330ml bottle of Coca Cola costs E3 - E5 on the streets, depending on location and proximity to major sites. At il Centro Supermercati, a 1.5 liter bottle costs E1.59.
The People - In Florence I found the locals to be more courteous and open to tourists than in Venice. They still walk through you on sidewalks and bump you as they pass without a second glance but they were very helpful as well when we asked for directions. We had one woman come up and ask if she could help as we stood on the sidewalk, struggling with a map. They were very patient with my ignorance of their currency and language and it was fun communicating with them - they seemed to enjoy playing along with it. I'm struck by the outfits people wear in Florence. Guys do not seem to have the stigma of wearing clothes in shades of pink, yellow and purple that we Americans have. The women tend to be more . . . provocative in their attire than in the US as well. There have been some really crazy outfits, that's for sure.
Restaurants in Florence Italy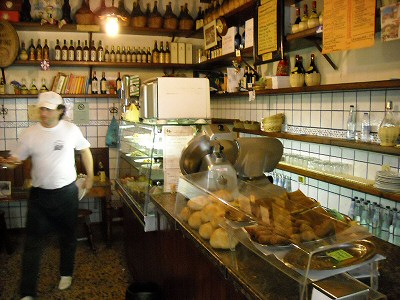 La Mescita Fiaschetteria

- via degli Alfani 70R. Probably our favorite Rick Steves recommendation. This is a tiny place just southeast of the Accademia. The very friendly owner / operator Mirco offers a variety of sandwiches and pastas at great prices. Our first time there we chatted with Mirco for awhile and he helped us through his menu. He teased us about eating and going so quickly; we wanted to go because it was past his closing time but he expected us to take our time and he would have been happy to wait. Oddly enough, he never met Rick Steves; that said, he's very happy to be listed in the guidebook as he sees a lot of business coming from that listing.
We had the prosciutto and mozzarella sandwiches, a lunch meat sampler platter and the pasta and beef that was Mirco's "mamma's recipe." Mamma done good - this may have been our favorite pasta of the trip. We topped it off with a surprisingly good house wine and were happy to have a good meal for 1/2 the price we'd been paying elsewhere. We ended up getting more sandwiches and pasta to go, and then coming back to Mirco's place three times for more of the same. The last time I walked in he saw me, grinned and said, "Prosciutto and mozzarella!" Incidentally, the term "to go" is confusing to the Italians; they refer to it as "take away."
As with many places in Italy the sandwiches here have very hard bread. We bought a loaf of bread from il Centro Supermercati, replaced the hard rolls with the slices of bread and had very inexpensive meals that we loved.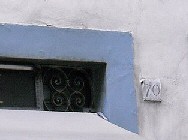 In the interior picture above, that's Mirco blurring by his pasta display case.
This place is very, very small so don't count on getting a seat during lunchtime hours. I think they have five tables inside and nothing outside. We managed to get a seat the first time because we got there 30 minutes before he closed. Otherwise, assume it's carryout. In the pictures above you can see that the place is unobtrusive from the street so you have to go by street numbers and keep your eyes open - as you can see in the cropped picture to the right, even the red #70 is faded and not very easy to see. Go ahead and look for it though - it's worth the effort.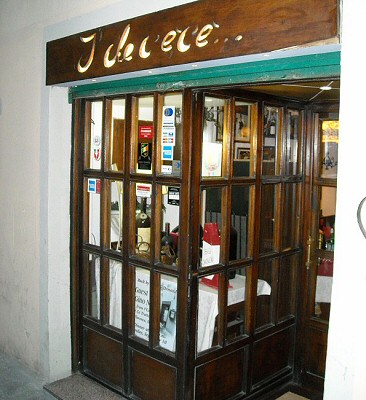 I'ché Cé Cé Restaurant

- via Magalotti, 11 R, Fireneze, 055 216589 - A Rick Steves recommended restaurant, it was also suggested by Linda, the mother of our apartment manager, Marco. The name is pronounced "Ekay-Chay-Chay" - I don't know why they chose that name. Maybe "Joe's Pizza" was already taken.
Their wine was E8, bread E2 ea, Bibite E2 ea (and I don't even know what Bibite was), with a fixed price meal of E12 ea. The fixed meal included pasta and a meat dish (pork chop, sausage or chicken). 10% service charge. The food and wine were very good and reasonably priced by Italy standards. The service was a bit impersonal but not bad. The restaurant is a bit out of the way, somewhat between the Bargello and Santa Croce church (kinda) so be patient as you look for it. The good news is that it's not far from bar Vivoli Gelateria, so you can have dinner there and wander close by for some of the best gelato in Italy. All in all this was a good place to go. Click here for pictures of the I'ché Cé Cé restaurant

.
Gusto Leo Restaurant

- Via del Proconsolo, 8-10/r - gustoleo.com - On the same street as the Bargello, just a couple doors north. We found good places to recommend, and we also found this place - a good restaurant to avoid.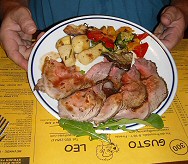 We got seated immediately but it took awhile to get our order taken. I chose prosciutto and funghi pizza E6.90, my wife had spaghetti and meat sauce E5.90 and my brother had a beef plate from the daily special menu. None were good. The pizza had almost no flavor, the sauce was tasteless. The spaghetti lacked enough sauce and she got no bread or anything else with her meal. My brother's steak actually looked very appetizing as you can see in the picture to the right, but it was cold when they served it. The potatoes and whatever else was on the plate was cold as well.
The waiter was obviously in a hurry, but did answer a couple questions for us. When the food came out he dropped our check on the table, which was good because we never saw him again, for more drinks or anything else. Then to add insult to injury, they added a service charge (although they say "no additional charge for cover - taxes, listed prices are final" in English and three other languages but included "impuestos includos" without translation). The food was at best less than mediocre and the service sucked. You can do a lot better than this place.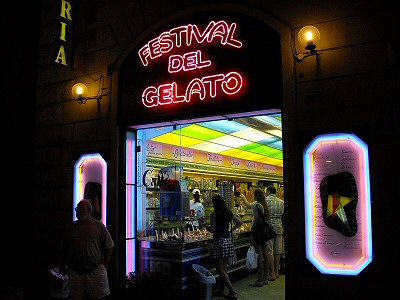 Festival del Gelato

- di Petrosino & C. S.a.s., via del Corso N. 75/R, Firenza, 055294386 - colorful gelato place. Good gelato, although not quite up to Grom or Vivoli.
Gilli pastecheria

- On Piazza della Repubblica plaza corner. This place has an awesome window display of various desserts. It's worth going there just to walk by and look at that. The desserts inside are incredible as well. Gilli has a more upscale atmosphere than other pastry places. The first time we went in there we felt that the staff was a bit haughty; probably our fault, because we were bumbling tourists who didn't understand their system.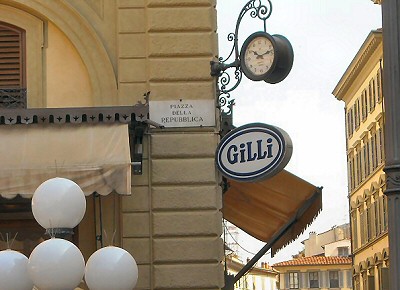 You go to one counter and tell the woman what you want, she writes it down on a slip of paper which you take to the cashier and pay, then you return to the first woman who gives you the pastries you wanted. We didn't know that up front. Anyway, we came back the second day and they were friendlier. The last morning in Florence we came back and the woman who handles the pastries must have recognized us from before. After we told her what we wanted and went over to pay for it, we came back to her and she had wrapped up what we ordered in Gilli paper and a nice ribbon. It was really thoughtful of her and made for a nice moment before we left. Click here for pictures .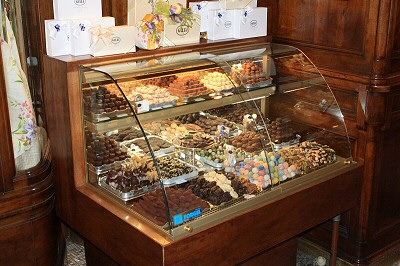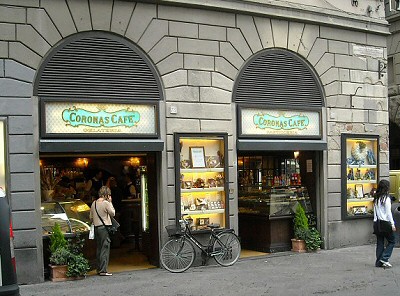 Corona's Cafe

- Located between the Duomo and the Piazza della Signora. A good alternative to Gilli's - it's a bit less pricey, a little more lowbrow. There are fewer pastries up for sale but what they had was good.
GUEST UPDATE August 2, 2011: Just received this updated review on Corona's Cafe from a visitor to our website, Katie Vento. Here is what Katie had to say . . .
My husband and I just came back from our honeymoon and we went to this place for Gelato. Mind you, we have had our fair share of Gelato, and probably the most expensive cone we had was around 4 euros for 2 scoops. We stopped in to get a cone and to our surprise, when we asked for 2 scoops, we got the "Mickey Mouse" Special. I thought this was interesting that in Italy, something was called the Mickey Mouse. To our surprise, Mickey Mouse was very expensive - 24 euros.
The Mickey Mouse Special was a very large ice cream cone (way too much for one person to eat). They then put three waffers onto the cone, two on top for ears and one in the center for a nose. The funny part was our last night in Rome, we went to an ice cream shop where a man was ordering ice cream to take home. The amount he had was about a gallon, maybe larger. This was about the amount of gelato they put into my husbands cone only this other man's gelato was actually cheaper. So yes, we did get a lot of ice cream, but to eat all at once was crazy. My husband asked for a waffle cone and only wanted two scoops. Instead, Mickey Mouse was given and about a gallon of Gelato later, we had out 24 euro bill
I have been to Italy before and never felt so taken. I was very upset and taken a back that I honestly just paid the man. Hindsight says I should have just given them their Mickey Mouse specials and walked away. I guess I just wanted to let you know so that other tourists are aware of this situation. They were very polite workers and we even gave them a tip, which was the worst part of it.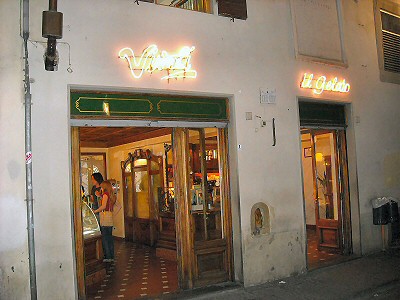 Vivoli

- One of the more famous gelato places in Florence, and with good reason. Their gelato is so smooth and creamy it's like eating a cloud. A bit tough to find, it's on a cross street between two main thoroughfares between the Bargello and Santa Croce Church.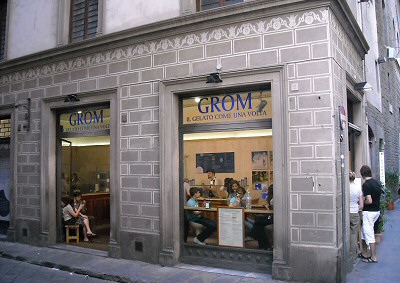 Grom

- Excellent gelato to rival Vivoli. I didn't like the hazelnut as much (although I could tell it was great quality gelato) but my wife loved their strawberry. Unlike other places, Grom keeps their gelato in covered containers so you don't get that visual affect of seeing the wavy heaps of ice cream when you walk in, but they're friendly and explain what each one is. A definite thumbs up, and convenient for when you're in the Duomo area. One block south of Duomo.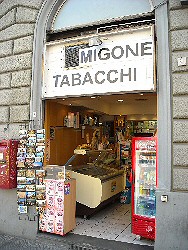 Migone Tabacchi (Gelato)

- Avoid gelato near Duomo square unless you want to spend a fortune. We got robbed by this place (E10 for a cup of mediocre gelato that would cost E6 elsewhere) - It is in the southwest corner of the Baptistery / Duomo Square. They had the prices posted . . . over by the cash register, which was beyond where you would go when you first come in to order. Ask for prices first before you order and you won't spend E20 for two cups of gelato.
IL Latini Restaurant

- I had three different locals say the same thing about Latini's restaurant - "best steak in Florence." I am a steak connoisseur - born and raised in Iowa (land of corn-fed beef) and I live in Fort Worth Texas (a.k.a. "Cowtown"). Clearly, I needed to check out this restaurant.
We went to Latini's one evening and there was a mob at the door, held at bay by the Florence version of Seinfeld's Soup Nazi - for this write-up, I'll refer to him as the Steak Fascist. The Steak Fascist was a complete wise ass who appeared to enjoy lording his position over the people waiting to be seated. He seemed to seat people based on whim more than by any logical order. The mob only got bigger as we waited - they even brought out glasses of wine and pieces of cheese to the people waiting, which suggested to me that it was going to be a long time before we ate. Finally I fought my way to the front and asked for a reservation. He gave me a look and shrug that said, "sure, dumb-ass, what have you been waiting for?" In spite of that, he must have liked me - he allowed me to make a reservation the next night, at 7:30 when they opened.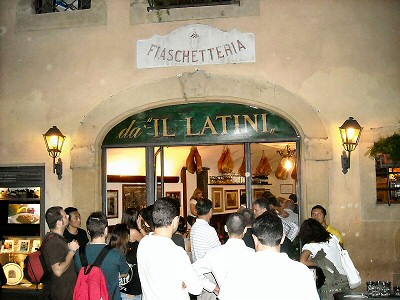 We showed up at 7:20 the next evening and there was an even bigger mob (notice the picture above - this is only a small part of the group of people waiting for a table, even after we finished our meal). Many had reservations. I heard one guy in the mob say the Steak Fascist wouldn't even give him a reservation for two weeks. The doors open, and the mob surges forward. Steak Fascist starts picking people pretty much at random to be seated - he says there are plenty of seats but doesn't pick people in any order. I figure by this point that if I don't act like everyone else, we won't get seated until 9:30 and Steak Fascist will be laughing at me, so I fight my way to the front, position myself in front of him, and glory of glories, we gain entrance into the magic kingdom of Latini's.
This very negative first impression of Latini's disappeared as soon as we passed the front door. The décor was nice and comfortable. A bottle of house wine awaited us at the table, and it was goooooood. We were seated and greeted by friendly staff. Then the food started rolling out.
The first course included Farro (a barley-based antipasta), Liver on bread, Tomatoes and mozzarella cheese, and Prosciutto and melon. I could have spent the evening just eating the cheese, prosciutto and melon - they were all great. The liver on bread looked a bit like cat food on toast to us, but we're not exactly liver fans so our opinion on this is probably not relevant.
The pasta course came next. We had pasta with ragu and that was also delicious.
Next came the secondi, the main attraction. We had our choice of several meats, including Lamb, Prime rib, Steak Florentine, Chicken and Rabbit. My wife had prime rib and my brother and I had steak Florentine. The prime rib was very good, not fantastic but very good; I think it would have been better with au jus but that wasn't included. But the steak Florentine . . . oh, was this good. They warned us that it was served rare. I typically don't like rare steak but this was just excellent. The serving portions were generous and the taste was tremendous. The meats were served with some potatoes that were also delicious. Steak, potatoes, bread, wine . . . what a great Tuscan meal.
After this, they brought out a Vin Santo wine for dessert. Vin santo is typically enjoyed as a glass of Vin Santo served with almond or hazelnut biscuits. These biscuits can be dipped in the Vin Santo to soften them and accentuate their flavor. Other desserts were available but we were stuffed!
The owner of the establishment walked around from table to table, greeting diners and asking how everything was going. He seemed like a nice guy, bearing a passing resemblance to a thinner version of actor Charles Durning.
We were a bit worried about what this meal was going to cost. Prior to entering the restaurant we noticed there was a menu posted on the window, but we were afraid to look at it lest we offend the Steak Fascist by letting him see us checking the prices to dine in his domain. We weren't shown menus when we sat down; they just started bringing on the food. So we didn't know how much this would cost us. We expected an outrageous bill based on the quality and quantity of the food, and we were pleasantly surprised when the check came out to E40 per person. I've eaten lesser meals for higher prices in the US, so I wasn't complaining about that price at all.
This was an awesome meal, the best we had all trip. If you have the patience to deal with the Steak Fascist and their incoherent seating system, make a reservation and go to Latini's. It was tremendous.
Click here for pictures of the IL Latini restaurant

.
Florence Italy Travel Photographs
We have linked to several photos from Florence Italy on this trip report page . . . but not ALL of the pictures we shot. After you've read the trip report, be sure to check out the Florence Italy Travel Photos to see all the great tourist sites and get excited about your trip! View Florence Italy travel pictures here

.
---
Italy Trip Reports
Italy trip report (general notes) - Many of our observations applied to more than one city, or to visiting Italy in general. This was particularly true with regards to planning and booking the trip and the items we brought with us on our vacation. Rather than duplicate those comments in the Venice, Florence and Rome trip reports, I've included a separate page for these general comments here.
Venice Italy trip report - We spent four days in Venice. One of those days was devoted to a day trip to the Dolomites Mountains. Another day was spent touring the Venice Lagoon. Read this trip report to learn about our apartment, the restaurants we dined at, where to buy awesome Venice masks, and more. Want to know the WORST time of day to take a gondola ride? Read the Venice trip report to find out.
Florence Italy trip report - We spent three days in Florence, not including travel days. We stayed in Florence all three days, wandering the city to enjoy all the tourist sites. In this trip report I break down the various tourist attractions in Florence, review our apartment and offer restaurant reviews. If you're going anywhere near Florence, you HAVE to read the review of Il Latini restaurant.
Rome Italy trip report - As with Florence, we stayed within the city limits all five days we were in Rome. (You think there's enough to do for five days in Rome? LOL) In this trip report I discuss the various tourist sites, provide extensive discussion on the tour of the Vatican, review the apartment and various restaurants. The difference between Angels Tours and Angels and Demons Tours is huge. Read the trip report to understand why. And wait until you hear about this awesome little mom and pop trattoria near the Vatican . . .
---
Italy Travel Photographs
After you've read the trip reports, be sure to check out the Italy Travel Photos to see all the great tourist sites and get excited about your trip!
View Venice Italy travel pictures here

.
View Florence Italy travel pictures here

.
View Rome Italy travel pictures here

.
Enjoy this website?
If you appreciate all the information and pictures found at Family Travel Photos.com, you can help me. It's easy -
send me an email with your opinions of this site
(I'm building a testimonials page). Then,
watch and "like" my Youtube videos
. Every time you watch one of my videos, click the "Like" button and subscribe to my channel, you improve my ranking at Youtube. You can also spread the word about Family Travel Photos on Facebook, Twitter, LinkedIn, Ello or any of the social media sites out there.
Please help me get more visitors to Family Travel Photos.com!