Il Latini Restaurant in Florence Italy
Il Latini in Florence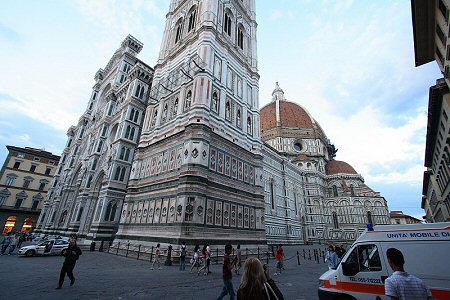 Il Latini may be the best place to get a steak in the world. View the pictures and descriptions below.
---
Il Latini - I had three different locals say the same thing about Latini's - "best steak in Florence." I am a steak connoisseur - born and raised in Iowa (land of corn-fed beef) and I live in Fort Worth Texas (a.k.a. "Cowtown"). Clearly, I needed to check out this restaurant.
We went to Latini's one evening and there was a mob at the door, held at bay by the Florence version of Seinfeld's Soup Nazi - for this write-up, I'll refer to him as the Steak Fascist. The Steak Fascist was a wise ass. He seemed to seat people based on whim more than by any logical order. The mob only got bigger as we waited so I fought my way to the front and asked for a reservation. He must have liked me - he allowed me to make a reservation the next night, at 7:30 when they opened.
We showed up at 7:20 the next evening and there was an even bigger mob. Many had reservations. I heard one guy in the mob say that the Steak Fascist wouldn't even give him a reservation for two weeks. The doors open, and the mob surges forward. Steak Fascist starts picking people pretty much at random to be seated - he says there are plenty of seats but doesn't pick people in any order. I figure by this point that if I don't act like everyone else, we won't get seated until 9:30 and Steak Fascist will be laughing at me, so I fight my way to the front, position myself in front of him, and glory of glories, we gain entrance into the magic kingdom of Latini's.
This very negative first impression of Latini's disappeared as soon as we passed the front door. The décor was nice and comfortable. We were seated and greeted by friendly staff. Then the food started rolling out.
The owner of the establishment walked around from table to table, greeting diners and asking how everything was going. He seemed like a nice guy, bearing a passing resemblance to a thinner version of actor Charles Durning.
We were a bit worried about what this meal was going to cost. Before we got in we noticed there had been a menu posted on the window, but we were afraid to look at it lest we offend the Steak Fascist by letting him see us checking the prices to dine in his domain. We weren't shown menus when we sat down; they just started bringing on the food. So we didn't know how much this would cost us. We expected an outrageous bill based on the quality and quantity of the food, and we were pleasantly surprised when the check came out to E40 per person. I've eaten lesser meals for higher prices in the U.S., so I wasn't complaining about that price at all.
This was an awesome meal, the best we had all trip. If you have the patience to deal with the Steak Fascist and their incoherent seating system, make a reservation and go to Il Latini. It was tremendous.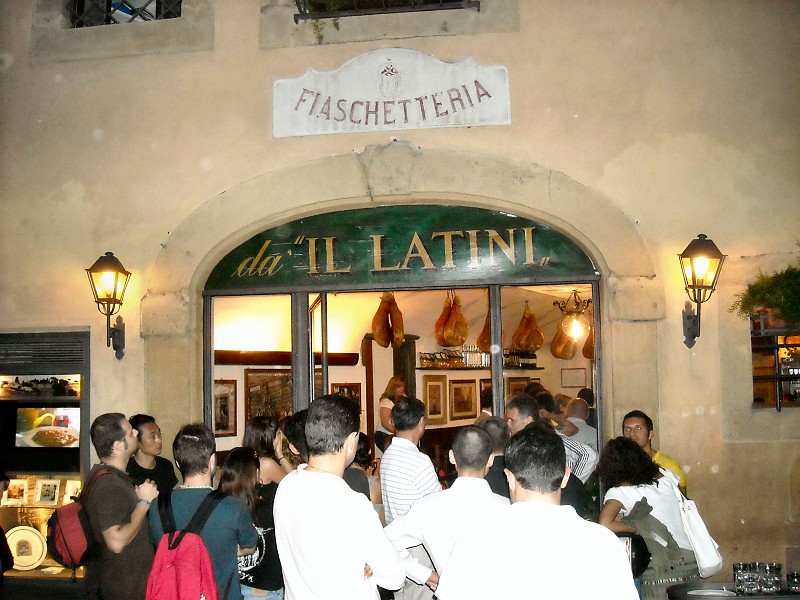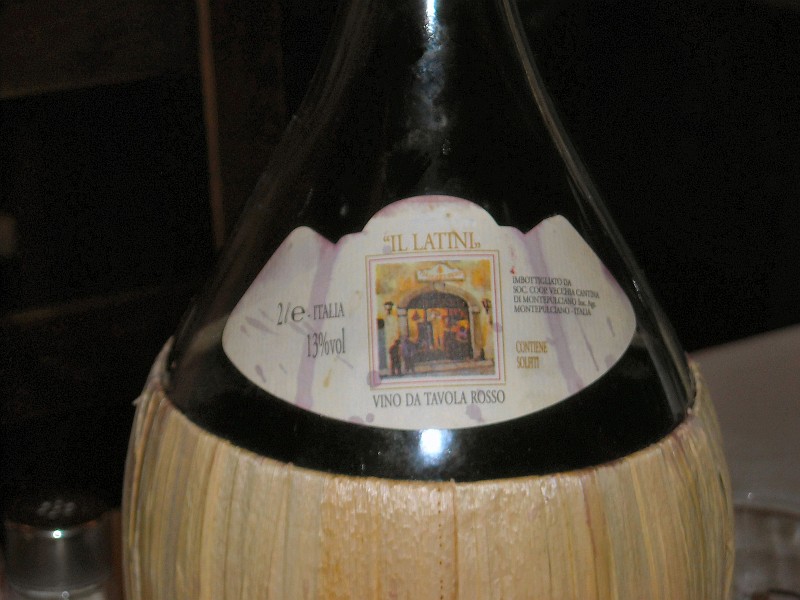 A bottle of house wine awaited us at the table, and it was goooooood.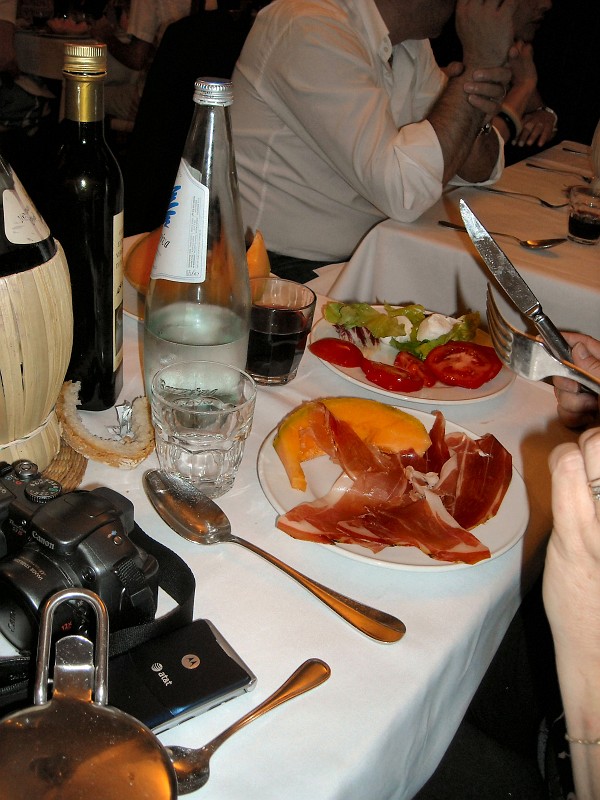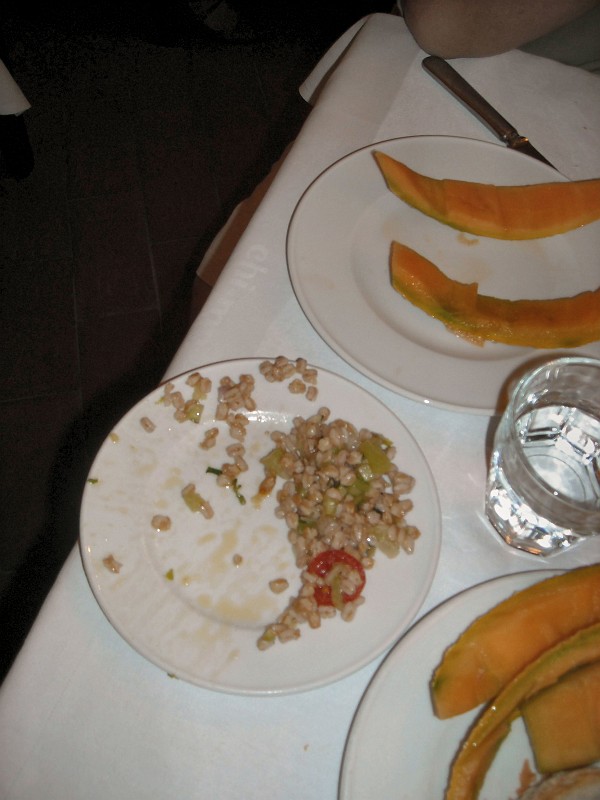 The first course included Farro (a barley-based antipasta), Liver on bread, Tomatoes and mozzarella cheese, and Prosciutto and melon. I could have spent the evening just eating the cheese, prosciutto and melon - they were all great. The liver on bread looked a bit like cat food on toast to us, but we're not exactly liver fans so our opinion on this is probably not relevant.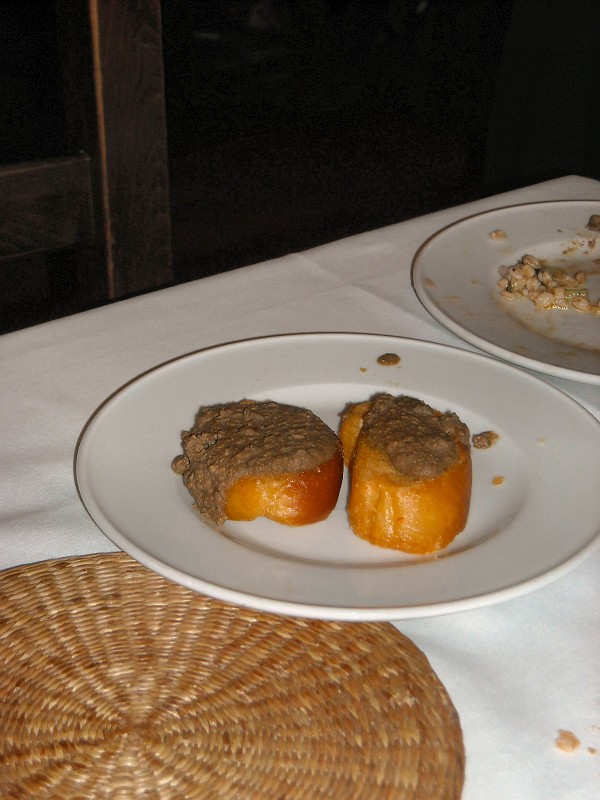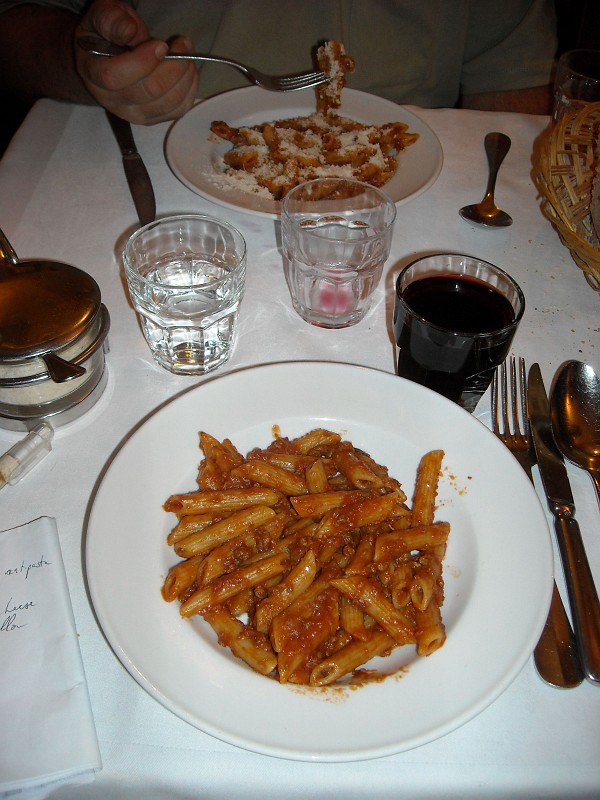 The pasta course came next. We had pasta with ragu and that was also delicious.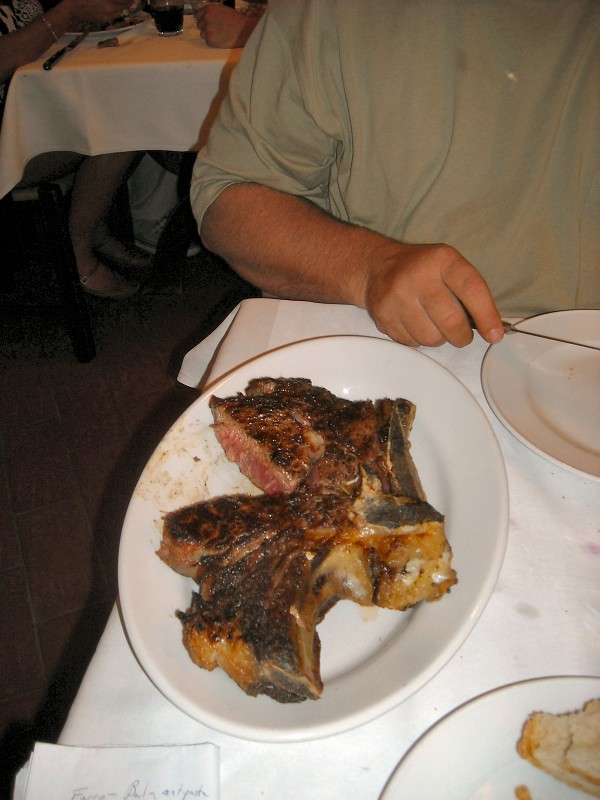 Next came the secondi, the main attraction. We had our choice of several meats, including Lamb, Prime rib, Steak Florentine, Chicken and Rabbit. My wife had prime rib and my brother and I had steak Florentine. The prime rib was very good, not fantastic but very good; I think it would have been better with au jus but that wasn't included. But the steak Florentine . . . oh, was this good. They warned us that it was served rare. I typically don't like rare steak but this was just excellent. If a steak tastes this good, it can moo for all I care. The serving portions were generous and the taste was tremendous.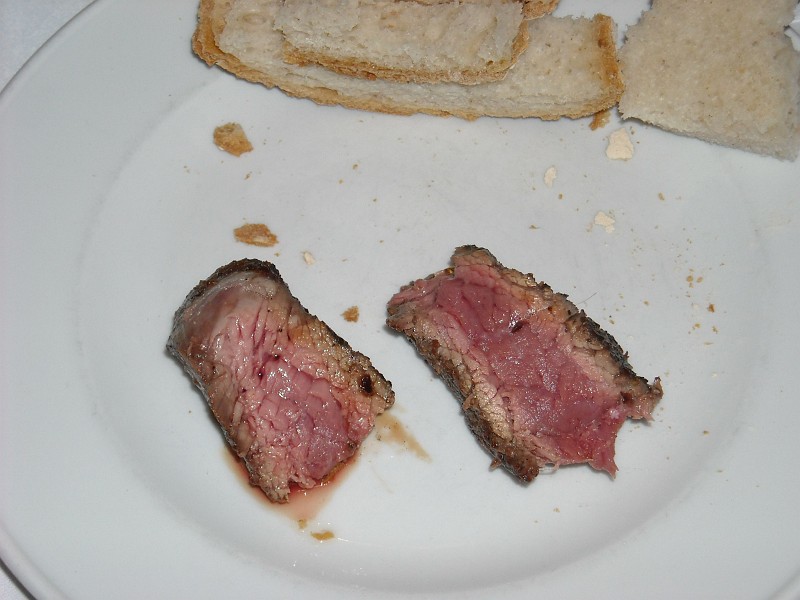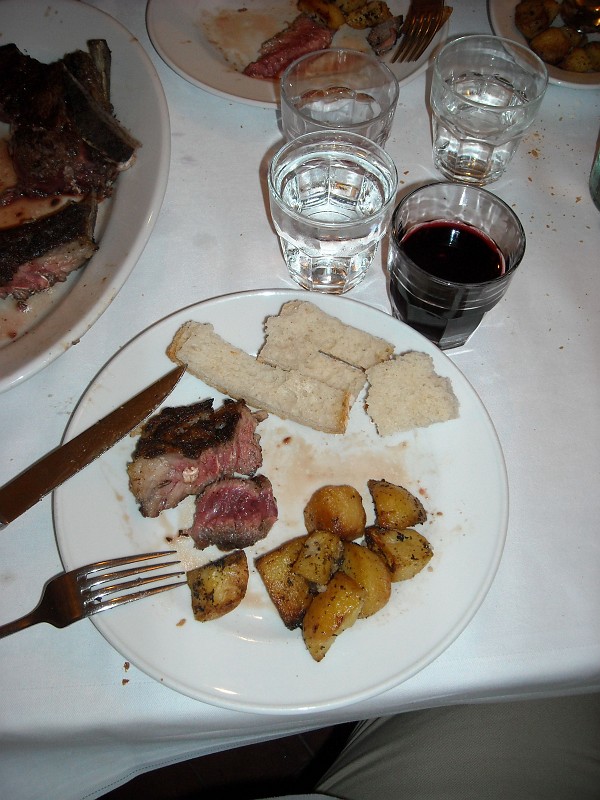 The meats were served with some potatoes that were just excellent. Steak, potatoes, wine . . . what a great Tuscan meal.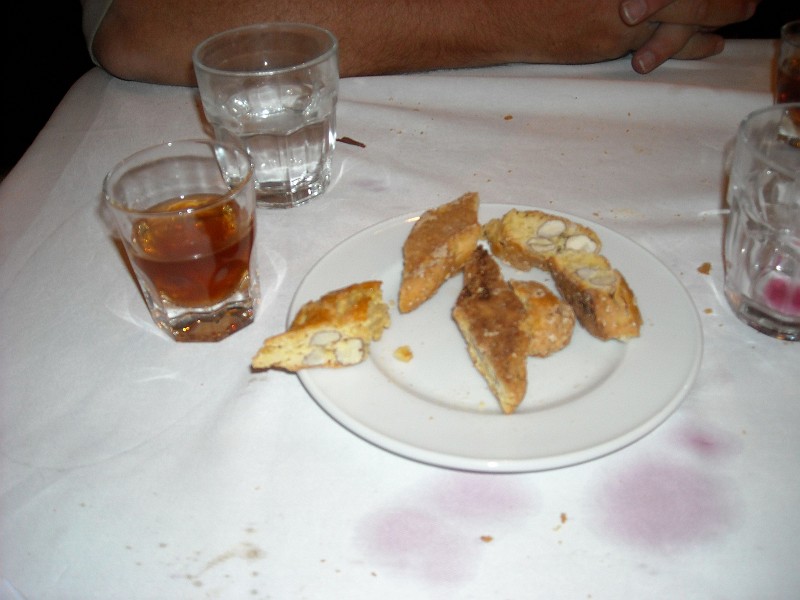 After this, they brought out a Vin Santo wine for dessert. Vin santo is typically enjoyed as a glass of Vin santo served with almond or hazelnut biscuits. These biscuits can be dipped in the Vin santo to soften them and accentuate their flavor. Other desserts were available but we were stuffed!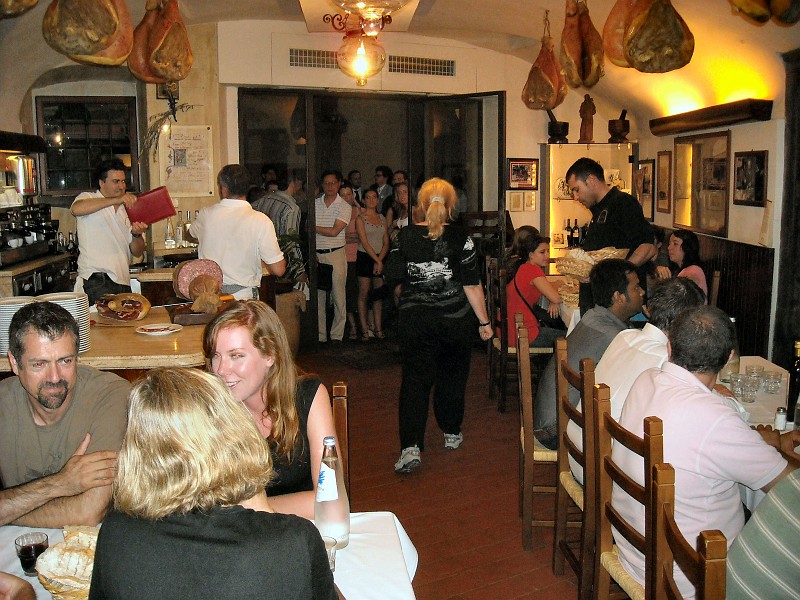 The décor was nice and comfortable. As we leave the restaurant, notice that there is still a mob at the door, waiting to get in.
---
Italy Trip Reports
Italy trip report (general notes) - Many of our observations applied to more than one city, or to visiting Italy in general. This was particularly true with regards to planning and booking the trip and the items we brought with us on our vacation. Rather than duplicate those comments in the Venice, Florence and Rome trip reports, I've included a separate page for these general comments here.
Venice Italy trip report - We spent four days in Venice. One of those days was devoted to a day trip to the Dolomites Mountains. Another day was spent touring the Venice Lagoon. Read this trip report to learn about our apartment, the restaurants we dined at, where to buy awesome Venice masks, and more. Want to know the WORST time of day to take a gondola ride? Read the Venice trip report to find out.
Florence Italy trip report - We spent three days in Florence, not including travel days. We stayed in Florence all three days, wandering the city to enjoy all the tourist sites. In this trip report I break down the various tourist attractions in Florence, review our apartment and offer restaurant reviews. If you're going anywhere near Florence, you HAVE to read the review of Il Latini restaurant.
Rome Italy trip report - As with Florence, we stayed within the city limits all five days we were in Rome. (You think there's enough to do for five days in Rome? LOL) In this trip report I discuss the various tourist sites, provide extensive discussion on the tour of the Vatican, review the apartment and various restaurants. The difference between Angels Tours and Angels and Demons Tours is huge. Read the trip report to understand why. And wait until you hear about this awesome little mom and pop trattoria near the Vatican . . .
---
Italy Travel Photographs
After you've read the trip reports, be sure to check out the Italy Travel Photos to see all the great tourist sites and get excited about your trip!
View Venice Italy travel pictures here

.
View Florence Italy travel pictures here

.
View Rome Italy travel pictures here

.
Enjoy this website?
If you appreciate all the information and pictures found at Family Travel Photos.com, you can help me. It's easy -
send me an email with your opinions of this site
(I'm building a testimonials page). Then,
watch and "like" my Youtube videos
. Every time you watch one of my videos, click the "Like" button and subscribe to my channel, you improve my ranking at Youtube. You can also spread the word about Family Travel Photos on Facebook, Twitter, LinkedIn, Ello or any of the social media sites out there.
Please help me get more visitors to Family Travel Photos.com!