From Romulus and Remus to an Empire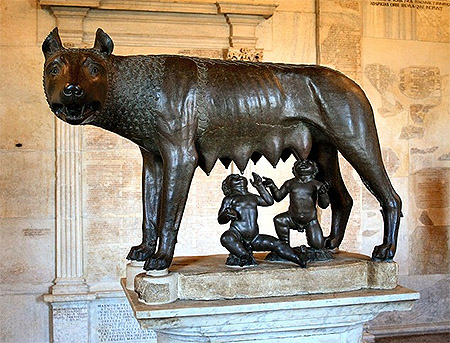 Legend has it that Rome was founded by Romulus and Remus, twin brothers who were thrown into the River Tiber as newborns, saved and nursed by a wolf until they were discovered by a shepherd. As adults, Romulus kills Remus over the location for a great new city they were building, a city he would later name "Rome". Perhaps the greatest city in history, Rome became the center of an empire that spanned the civilized world, played a role in the story of Christ, and ultimately changed hands several times over the centuries. Today you can walk the streets built and traveled by Caesar, Nero, Agustus, Trajen, Constantine and others some 2,000 years ago. It is home to the Vatican City (yes, I know that's a separate country), the center of the worldwide Catholic Church, and the repository for some of European history's greatest works of art. As a photographer, Rome was my favorite place to visit for its endless churches, museums and famous structures and the relative freedom I had to take pictures throughout. I threw a coin in the Trevi Fountain, and in keeping with the legend of that famous fountain, I dearly want to return as soon as possible.
Below you will find a trip report on my visit to Rome, Italy. It was written in 2009 so be sure to verify the specifics about costs, operating hours, etc.
---
Our Rome Italy Apartment:
See the web listing for this apartment at Romanreference.com.
Another good apartment for us. The location is pretty good, although not as dramatic as the other places we stayed. It was about a 10 minute walk to the Coliseum. Most everything else we wanted to see (other than St. Peter-in-Chains Church) was a farther hike. The neighborhood itself was very nice. There is a very convenient supermarket less than a block away, which we used quite a bit. We didn't find any good restaurants in the immediate area, however.
As for the apartment itself: The space is very large, so if you're traveling with more than four people it's an excellent choice. The bedrooms are probably the best part of this apartment. Three really nice big rooms. Two of them have air conditioners, and those worked very well. (Note that if you use the AC you have to empty a bucket that collects the condensation every day or two, a minor inconvenience.) Our bedroom was really an escape. We'd go in there, shut the door, close the windows and lose track of time. It's dark, quiet, cool - perfect after a tough day of walking around in the heat and crowds.
There is an entrance space when you come in the front door that leads to two bathrooms on the right, the kitchen/dining space ahead and bedrooms to the left. The main bathroom is huge. It had the best water pressure and temperature control in the shower of any place we stayed. The second bathroom is a narrow space that works but isn't all that comfortable to use. The washing machine is in there - it worked well for us. Again no clothes dryer - we used the hanging rack and put that in the large first bathroom to dry our clothes.
The dining room is a small table with four chairs and a china hutch. The kitchen was very large, with a big refrigerator. No microwave here which was a big disappointment. Otherwise the kitchen was excellent.
The décor was austere throughout. There is a collection of blue jeans ads in frames on one wall and an inexplicable framed photo of a zebra's butt on another. The furniture in the bedrooms is beautiful though - I'd love to have some of the pieces in those rooms!
This apartment also had an elevator, a very narrow lift like the other places. But it worked and we loved it.
Our communications with the apartment managers were all courteous and prompt. Enso met us at the apartment and showed us around - he was very nice to deal with as well. We had to put up a $400 credit card deposit on the apartment which was fine - we had no intention of breaking windows or smashing walls. LOL We had paid a deposit when we reserved it, and that was correctly applied to the balance when we arrived, so they were trustworthy and a pleasure to deal with.
I'd be happy to stay at this apartment again. If I went back I might try to find something closer to the Pantheon area, or perhaps something smaller with a larger commons area. But overall we were very happy with this apartment and the folks who manage it.
Click here to see photos of our apartment in Rome

.
The Tourist Sites in Rome Italy
National Museum of Rome - This museum is located roughly between Octagonal Hall and Termini Train Station. I really enjoyed this museum. This has an excellent assortment of ancient roman sculptures including the boxer (pictured to the right), the discus thrower and Aphrodite. All are unshielded by glass so you can really look at and photograph them well. The top floor has very cool wall art and mosaics to look at. The basement has roman coins and treasures. Everything was an extremely well displayed, and elevators are there to take you from floor to floor.
Even though we're in high season, the museum wasn't crowded at all. Non flash photography was allowed throughout. We had to check our bags and I went back later to get my camera, and the woman simply asked, "no flash." This is an awesome photo opportunity. Just keep your camera in your hand when you check in your camera bag. Click here to see photos of the National Museum of Rome

.
Octagonal Hall - closed, even though their sign said they'd be open. Booooo.
Pantheon - I was really impressed with the Pantheon. It was far more colorful and photogenic than I expected. The oculus and the beam of light coming through the ceiling make for some great shots as well. All types of photography were allowed here. Click here to see photos of the Pantheon

.
Mamertine Prison - Tough to find, this site is tucked away behind the Roman Forum. It was important to my wife that she go here, and she was very glad she did. It only takes a few minutes to visit this site. Flash photography was allowed. If you're a person of faith this is definitely worth the small amount of time and searching to visit. Click here to see photos of the Mamertine Prison

.
St. Peter in Chains Church - This church was very close to our apartment. It wasn't on our itinerary but my wife really wanted to go and so we did it. I'm glad we did. It's a lovely church on the inside. The chains from St. Peter are in a gold box at the front of the church; visiting this place had a great emotional impact on my wife. Even if that isn't important to you, Michelangelo's Moses sculpture is here and that was beautiful. Flash photography is permitted at this site. Click here to see photo of the St. Peter in Chains Church

.
Vatican - This was one of our biggest days on the trip and we had several observations.
If you want to send postcards from the Vatican post office, get to the Vatican early before you join your tour group or get in line. You can go to the post office beforehand and send them off, then wander around the plaza and take pictures. They have a table in the post office where you can sit down and put the stamps you just bought on postcards, so it's really a nice setup. The picture to the right is inside the post office.
There aren't a lot of places to sit while touring the Vatican museums, or to use a restroom or get water. Load up your water bottle with the fountains out in St. Peters Square. Make sure you hit a restroom before you start. You can refill your water bottle from a water fountain in the restroom area not too far from the Sistine Chapel. Rest when you can - it's a LOT of walking and standing.
A gate along the side of St. Peters as the post office was manned by two Swiss Guards. One stayed at attention but as you can see in the picture to the right, the other was very gracious about posing for pictures with tourists.
Now, about the tour itself . . . I was astounded by the hundreds and hundreds of people I saw lined up to get into the Vatican Museums. I have never seen a line that long for anything in my life. If I'd had to use that line to enter the museums, I probably would have blown it off. Fortunately, I was part of the Angel Tours group and didn't need to be in this line. We got into a line of maybe 100 people (other groups) and made it inside in about 20 minutes.
What an exhausting tour. There is so much here to see. Parts of this were very enjoyable. Seeing all the sculptures they had on display was great. The Map Room was very cool - a bit overwhelming to be surrounded by artwork like that. As we moved through the Map Room and the Tapestry room, the crowds got thicker and thicker. Our guide asked us if we wanted to go through Raphael's Rooms to see his frescos and we said yes. This was a mistake. It was like a flood of people. I didn't look at the frescos - I was too focused on being swept away by the wave of people while not getting trampled. I honestly don't recall one thing I saw in this area and that's sad because this is supposed to be the finest collection of frescos in the world.
We moved from there to a section with modern art (an oxymoron, IMHO) and then on towards the Sistine Chapel. This was the biggest disappointment of the trip. You go into the chapel and get steered around by security guards. There you see a massive swarm of people, with scads of little proctors running around yelling "SHHHHHH!!!!!! NO TALKING!!!!!!! CLAP!! CLAP!! CLAP!! NO PHOTOS!!!!!" (The noise police were FAR noisier than the people they were shushing, and they completely destroyed the atmosphere in the room.) The whole experience of visiting the Sistine Chapel was awful. Cramped, packed with people, bitchy and obnoxious employees . . . it should have been a great moment and it was miserable. I just wanted out by that time.
After that we went to the church. St. Peter's Basilica was beautiful. Interestingly, the cardinal in charge of St. Peters is unhappy with non-Vatican tour guides right now. The story goes that about a month ago (May 08), the cardinal heard that some tour guide questioned the virginity of the Virgin Mary, and issued an edict that no non-Vatican tours would be allowed in St. Peters. We basically had to smuggle in our guide - he carried a Rick Steves tour book with him so he looked like a tourist and walked us through.
The tour was extremely well done by Angel Tours. Just a few parts of it are deluged with tourists and mishandled by the heavy-handed photo police.
Photography was allowed everywhere but the Sistine Chapel. Flash photography was allowed everywhere but rooms where paintings or tapestries were on display. I was really happy that they had such a liberal policy regarding photography.
Click here to see photos of the Vatican area

.
Santa Maria della Vittoria - A beautiful little church with an extremely ornate (Baroque) decor. Bernini's Ecstasy of St. Theresa (pictured right) was worth the trip by itself. I came here because it's part of Dan Brown's Angels & Demons, and fell in love with the Bernini sculpture. There is no cost to enter the church and photography with flash is allowed. They sell a few small postcards and things in a room behind the sanctuary if you want to support the church. This place is a gem. Click here to see photos of Santa Maria della Vittoria church

.
Santa Maria Del Popolo - A lovely little church. I went there to see the Chigi Chapel (a place referenced in the book Angels and Demons) but the whole church is very nice, worth visiting if you're in this area. Flash photography was allowed. It's a bit out of the way from most other sites of interest though. Click here to see photos of the Santa Maria Del Popolo Church

.
Santa Maria Degli Angeli - This was a very nice church with a very strange exterior, looking more like a big rock than a structure. The interior was beautiful though. They have a more modern style sculpture near the entrance, a dome with a pretty stained glass skylight and a variety of noteworthy paintings and sculptures. This was free to enter and flash photography was allowed. Click here to see photos of the Santa Maria Degli Angeli Church

.
Santa Maria Sopra Minerva - All these Santa Marias get a little confusing . . . if you go to the Pantheon (and why wouldn't you?), it's worth a three minute walk to see Santa Maria Sopra Minerva. There is an obelisk out front with an elephant for a base that is kinda neat. The church itself is very nice and tourist-worthy on the inside, and how can you pass up an opportunity to see a Michaelangelo sculpture? Christ Bearing the Cross (pictured right) stands near the front alter of this church and like all of Michelangelo's sculptures, it's dramatic and a privilege to see in person. All types of photography were allowed here and it's free to enter. When you get done there is a taxi stand right outside the church as well. Click here to see photos of the Santa Maria Sopra Minerva

.
The Church of Santa Susanna - Very small church, across the street from Vittoria. Again, extremely ornate decor on the inside. If you're in the area, it's worth stopping by for its nice interior. No cost to enter and flash photography was allowed. Click here to see photos of the Church of Santa Susanna

.
Borghese Gallery - What an incredible gallery. This was the finest art display I saw anywhere. Bernini's David, Apollo and Daphne, the Rape of Proserpina, and so many more. All those incredible statues and paintings in the amazing setting of the Borghese villa. The ceilings alone were worth the tour price, let alone all the sculptures. I became a Bernini devotee at the Borghese. I was very frustrated that we couldn't take pictures; I got the sense that if you tried to take a photo their staff might actually pull out a gun and shoot you. They really, really didn't want you taking pictures in there. I thought the staff was pretty unpleasant overall - they seemed very cocky. And don't dare try to get in before your reserved time!!! You will be rigorously counseled for doing that as well. Putting up with the snobbish staff is well worth it, however. This place was unbelievable. I don't have shots of the interior, obviously, just a few pictures from the park and the front of the gallery. Click here to see photos of the Borghese Gallery

.
Borghese Park - What a nice place to get away from the city. This is a very quiet and relaxing park. You'll also find fountains for drinking water around the park, including two at the end of the path closest to the gallery. If you're going to the Borghese Gallery, you may want to get there a half-hour early and just sit in the park and relax. We enjoyed this quite a bit.
Coliseum - You wouldn't believe the sea of people around the outside of the Colosseum during the day. I was glad we went in as part of a tour; it was just a mob scene at the entrance to the x-ray machines. I was surprised at how chaotic it was. Once inside, things got better. We went up to the top level with the elevator and wandered around there with the tour. The tour disbanded at that point and we kept wandering around, upstairs and down, all around the place. It's nice because you can spend as much time as you'd like in there and see it from all angles. We went back to the Colosseum at night and there were far fewer people there. It was lit up dramatically and we got some nice night photos of it. Of course we couldn't go inside then, but it was nice to see the outside in a much less chaotic setting. Very early mornings and evenings is the best time to enjoy the Coliseum from the outside, and it's worth the effort to get there at the odd hours. What an amazing structure. Fill up your water bottles at the fountains near the Arch of Titus in the Roman Forum area, right before you go to the Colosseum. Obviously, all types of photography are allowed there. Click here to see photos of the Colosseum

.
Roman Forum - We took the Angels Tour of this and I'm glad we did. Katherine was an outstanding guide. We were there around 10:00 a.m. and there were very few people in the forum, surprisingly. That made for nice photo opportunities. Definitely this is a great place to visit while in Rome. Obviously, all types of photography are allowed there. Click here to see photos of the Roman Forum

.
Capital Hill Museums - Very much like the National Museum of Rome. Manageable size, easy to walk through and enjoy, Non-flash photography allowed. There is some really cool ancient sculptures in this museum complex, as well as the Romulus / Remus statue, Bernini's Medusa, etc. Even though we're in high season, the museum wasn't crowded at all. I really enjoyed going here. Strangely enough, we were required to have exact change when we purchased the tickets, which I found rather odd. Click here to see photos of the Capital Hill Museums

.
Rick Steves talks about the great view of the forum from this area and he's right. Standing in the Campidoglo, facing the Palazzo Senatorio . . . if you walk to the right side of the Palazzo Senatorio on a walkway that goes between the Palazzo Senatorio and the Palazzo dei Conservatori, about halfway down the hill is a photo spot that offers a beautiful panoramic view of the Forum ruins, and (unlike Palatine Hill) you can get to this spot for free. About halfway along this walkway between the top of the hill and the photo spot is a doorway (to your right as you go down the hill). If you go in here there is a very small snack shop where you can get water, sodas, etc. Also it appears on the map if you go on the opposite side of Palazzo Senatorio there is another walkway with a great view but I didn't visit this spot.
Piazza Navona - I really liked the atmosphere of this piazza. Artists and craftsmen selling their stuff, music groups playing, people wandering around. Go here in the early evening, it's a lot of fun. I went here because it was referenced in the book Angels & Demons. In that respect it was a disappointment because the fountain is undergoing restoration so it's not . . . well, fountaining. There is lots of scaffolding around the base as well, but the piazza is neat. Click here to see photos of the Piazza Navona

.
Monument of Vittorio Emanuele II - A quarter of this structure is undergoing renovations and is covered in scaffolding right now. Also, they're doing a lot of work in the Piazza Venezia. This was disappointing as we hoped to see the monument in all its glory. I don't care what the Italians say, it may look like a wedding cake but it's a COOL wedding cake.
Trevi Fountain - None of us were particularly impressed with the Trevi Fountain. We went there long enough to snap some pictures and rest our feet, and that was long enough for us. It probably is a good place to people-watch but there were some obnoxious soccer fans there when we stopped by, waving their flags around and acting like asses, and that made it somewhat unpleasant. Click here to see photos of the Trevi Fountain

.
Spanish Steps - We drove by and saw the Spanish Steps. It was a bunch of people sitting on steps, which didn't particularly excite us. Based on this it didn't rate high enough on our priorities to return and spend more time. In retrospect I wish we'd gone back in the evening to check it out more but it just didn't seem like that big of a deal.
Random Observations about Rome Italy
ATMs - ATM machines were easy to find here.
Roman Taxi Drivers - AHHHHHHHHHHHHHHHHHHHHHHHHHHH!!!!!!!!!
Taxi Stands - I read it elsewhere and found it to be true - Taxis typically won't pick you up if you're not at a taxi stand. If you need a taxi, go to a taxi stand, take some valium and flag down taxis as they drive by and you'll get to where you need to go.
Angel Tours - We took two tours with Angel Tours - the Vatican and the Roman Forum. I can't say enough good things about Angel Tours. Scheduling the tours was easy. The emails I received from them were completely courteous and friendly. Instructions on where to meet couldn't have been more clear. The tour guides were on time and easy to find. Katherine (Forum Tour) and Kenneth (Vatican) were enthusiastic, funny, informed and well spoken. Katherine was more thorough - she had more time, fewer crowds to contend with and the tour itself wasn't so long. Kenneth was smart enough to keep his comments brief and limited to the most important stopping points; the tour was very long already and the swarm of people there made this the right choice on his part. After the tour he steered us to a fantastic restaurant where we had a nice lunch, and he stayed with us and took part.
If I go back to Rome, I won't look anywhere else for a tour guide. Angel Tours was fantastic.
Angels and Demons Tours - Angels & Demons is one of my favorite books. I've read it a dozen times. One reason I wanted to go to Rome was to see the various sites used in the book. I considered using one of the Angels and Demons Tours when we were organizing the trip, but finally decided to save the money and do it myself. I am soooooooooo glad I did.
I saw the Angels and Demons tours twice as I visited the Santa Maria della Vittoria and Santa Maria del Popolo. These people skeeved me out. A creepy looking guide leads a creepy looking group into the church and reads to them in a dramatic voice from Angels & Demons. It just seemed . . . well, creepy. Like a little cult or something.
Don't confuse this with Angel Tours - two completely different things.
Roma Pass - This turned out to save us about E10 each, and it would have saved us even more if we'd used the buses or kept our museum hopping to within three days. Definitely worth getting. We bought ours at the TI inside the Termini Train Station, which wasn't very easy to find by the way.
Vending Machines - We were quite amused to see condom vending machines outside of pharmacies, right along the sidewalk. It just struck me as odd that of all the things you can sell in a vending machine along a busy sidewalk, they chose to sell rubbers.
Taxi Service / Airport Shuttle - We used the service at phone number 06.555.1 and they were good most times. Once they couldn't understand me on the phone and just hung up on me. Otherwise, they were prompt and did well for us.
Water Fountains - I really didn't think I'd use these things but by the end of the trip I found myself looking for them constantly. I took the little single-serving packets of water flavoring along and was silly enough not to use them; I'd encourage you to take these along and make use of them if you're not particularly a water drinker.
Restaurants in Rome Italy
We really didn't dine out as much in Rome. We were working very hard doing the tourist things, and our meals were often a cheap sandwich here or a slice of pizza there. We grabbed sandwich stuff at the grocery store and ate some meals in the apartment too. (Milano Salami and prosciutto with mozzarella sandwiches are to die for.) We did hit a couple of restaurants though:
Tre Scalini - Piazza Navona, 31-32-35, Roma. 06 6879148 -

We went to Piazza Navona to check it out, and knowing that we were going there, we made reservations for Tre Scalini.
As it turned out, we didn't need reservations but they were free so what the heck. Our dinner started with Ravioli as our first course (E11 each). I then had Tagliata di chianina con rucola & funghi porcini which is cuts of Chianina beef with porcini mushrooms, which cost E30. My wife had a salad (E10), and we shared bread (E3 each), water (E4.50 each) and wine (E25). The food was very good although the portions were a little small; clearly, this is a place where you expect to go through several courses for your dinner, but at these prices you can expect to shell out quite a bit to do it. Add in a 10-12% service charge and our bill was about E110 for two people.
If you want a fancy meal in a nice atmosphere, this is a good choice. The service was attentive and the food was good. We sat on the patio so we could enjoy the ambiance of Piazza Navona. As far as value is concerned, the prices are high for what you get, IMHO, which is why I gave this place a sideways thumb rather than a thumbs up. You can find a lot better bang for your buck elsewhere. It just depends on what you're looking for.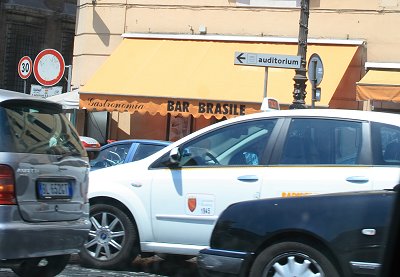 Bar Brasile -

if you stand in front of the Monument of Vittorio Emanuele II with your back to the monument, and look straight through the Piazza Venezia, down that road you will find the Brazil Café. Now that you know where it is, you know where not to go.
It's not that this place is bad. The food was adequate and the service was OK. The prices were just extremely high and we were crammed into a little space because they have too many tables in front of their restaurant. The only good thing here was a huge mug of Heinekin, which unfortunately cost E15. Yep, that's about $25 for a beer - but gee, it was a really big mug. You can see a picture of this super-beer to your right. It wasn't THAT big.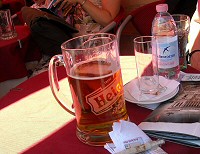 We picked this place only because we needed a place to sit down and we definitely paid for that privilege. What you get for your money is a scenic view of the construction at Piazza Venezia and food that costs half the price elsewhere.
Forno a Legna Restaurant (trattoria) -

- One evening we went to the Coliseum to shoot pictures. In spite of conventional wisdom we chose to find a place to eat near the Coliseum. After some searching we found Forno a Legna trattoria, about two blocks away. We got there about 8:30, I'd guess, and were immediately seated inside at a wood booth. I ordered something I thought was pizza but it turned out not to be LOL. (That was my fault, not theirs.) It was pretty good though. The spaghetti was good though. The service was interment, although the waitresses did seem busy and constantly moving. The manager was very crabby as he worked with the staff and rang up tickets. We paid our check and left - probably 9:30 or 10 by this time - and watched as they took the sign down from over the front door and closed the restaurant for the evening. This surprised me a bit as I thought Italian restaurants tended to stay open later.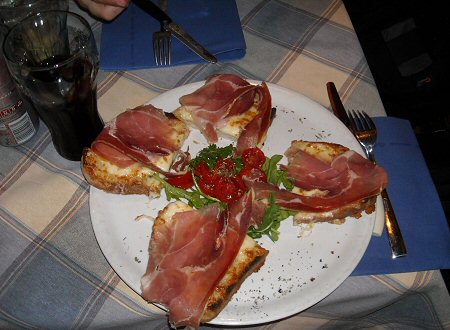 I never did figure out their affinity for pictures of Albert Einstein with his tongue sticking out, although this appetizing image was repeated around the restaurant, on their menus and on their sign.
So here's my thoughts on Forno a Legna restaurant- if it were located elsewhere I'd give it a thumbs down. Pricey food and a cranky manager, not what I look for in a positive dining experience. But given that it is near the Coliseum, this may be the best you can do in that area, and perhaps the manager was just having a bad day. What I saw from other places around there seemed even more expensive. So I'll give it a neutral thumb rating (sideways) and leave it to your judgment. If you must eat in this area based on your schedule, this place may be the best you can do.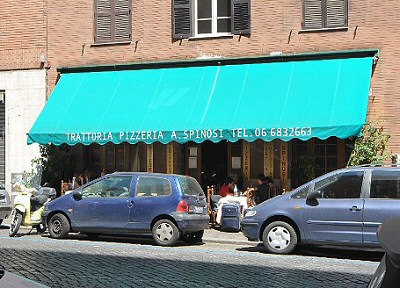 Restaurant Near the Vatican -

It's tough to tell the name of this restaurant - here's what I got off their menu: Antica Trattoria Dal 1923, Graziella e Alberto, da Spinosi a S. Pietro, Tirica Cucina Romana, via del Mascherino, 60-62-64, 06.6832.663. If nothing else, with the phone number you can call and get directions, hours, etc.
At the end of the Vatican tour, our guide Kenneth suggested we go to a restaurant very close by for good food at a good price. This turned out to be one of the best suggestions we had all trip. This is a small restaurant just outside of Vatican City. Clearly a mom-and-pop trattoria - mom runs the place with an iron hand, barking orders to pop who walks around with a shrugging "what can I do about it?" look on his face. We came in as a group and they just brought out food for us, and it was really good food. They started with a fresh salad chock full of mozzarella balls. I don't like salads but I couldn't keep away from the mozzarella - and everyone else raved about the salad. Then came plates of spinach ravioli. If I'd known it was spinach I wouldn't have gotten near it; I didn't know, so I ate it and I hate to admit that it was fantastic. LOL We'd also ordered pizzas and those were great as well. We had a couple carafes full of house wine - I wish I could find this wine here in the states. It was delicious. Sadly, it's just a house wine that probably isn't available more than 50 miles away from this restaurant.
We loved this place - for the rest of our trip we kept saying that we wanted to find a place like this one close by. This is everything you hope an Italian restaurant would be.
Rome Italy Travel Photographs
We have linked to several photos from Rome Italy on this trip report page . . . but not ALL of the pictures we shot. After you've read the trip report, be sure to check out the Rome Italy Travel Photos to see all the great tourist sites and get excited about your trip! View Rome Italy travel pictures here

.
Italy Trip Reports
Italy trip report (general notes) - Many of our observations applied to more than one city, or to visiting Italy in general. This was particularly true with regards to planning and booking the trip and the items we brought with us on our vacation. Rather than duplicate those comments in the Venice, Florence and Rome trip reports, I've included a separate page for these general comments here.
Venice Italy trip report - We spent four days in Venice. One of those days was devoted to a day trip to the Dolomites Mountains. Another day was spent touring the Venice Lagoon. Read this trip report to learn about our apartment, the restaurants we dined at, where to buy awesome Venice masks, and more. Want to know the WORST time of day to take a gondola ride? Read the Venice trip report to find out.
Florence Italy trip report - We spent three days in Florence, not including travel days. We stayed in Florence all three days, wandering the city to enjoy all the tourist sites. In this trip report I break down the various tourist attractions in Florence, review our apartment and offer restaurant reviews. If you're going anywhere near Florence, you HAVE to read the review of Il Latini restaurant.
Rome Italy trip report - As with Florence, we stayed within the city limits all five days we were in Rome. (You think there's enough to do for five days in Rome? LOL) In this trip report I discuss the various tourist sites, provide extensive discussion on the tour of the Vatican, review the apartment and various restaurants. The difference between Angels Tours and Angels and Demons Tours is huge. Read the trip report to understand why. And wait until you hear about this awesome little mom and pop trattoria near the Vatican . . .
---
Italy Travel Photographs
After you've read the trip reports, be sure to check out the Italy Travel Photos to see all the great tourist sites and get excited about your trip!
View Venice Italy travel pictures here

.
View Florence Italy travel pictures here

.
View Rome Italy travel pictures here

.
Enjoy this website?
If you appreciate all the information and pictures found at Family Travel Photos.com, you can help me. It's easy -
send me an email with your opinions of this site
(I'm building a testimonials page). Then,
watch and "like" my Youtube videos
. Every time you watch one of my videos, click the "Like" button and subscribe to my channel, you improve my ranking at Youtube. You can also spread the word about Family Travel Photos on Facebook, Twitter, LinkedIn, Ello or any of the social media sites out there.
Please help me get more visitors to Family Travel Photos.com!