Living Like a Roman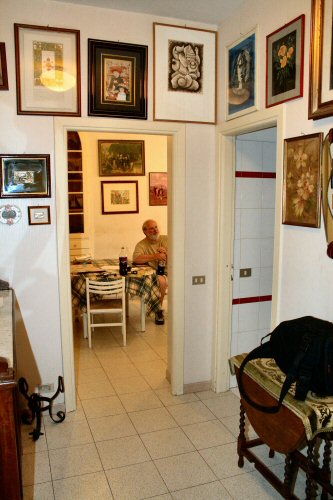 We stayed in apartments in every city we visited while in Italy, and every one was a positive experience in its own way. Our apartment in Rome was the best place we stayed at in terms of placing us in a genuine Italian neighborhood. We shopped at a local market walked Roman streets that were distant from any landmarks or tourist attractions - it felt like we truly were experiencing life in Rome.
Below you will find a trip report on my visit to Rome, Italy. It was written in 2009 so be sure to verify the specifics about costs, operating hours, etc.
---
Our Rome Italy Apartment:
See the web listing for this apartment at Romanreference.com.
Another good apartment for us. The location is pretty good, although not as dramatic as the other places we stayed. It was about a 10 minute walk to the Coliseum. Most everything else we wanted to see (other than St. Peter-in-Chains Church) was a farther hike. The neighborhood itself was very nice. There is a very convenient supermarket less than a block away, which we used quite a bit. We didn't find any good restaurants in the immediate area, however.
As for the apartment itself: The space is very large, so if you're traveling with more than four people it's an excellent choice. The bedrooms are probably the best part of this apartment. Three really nice big rooms. Two of them have air conditioners, and those worked very well. (note that if you use the AC you have to empty a bucket that collects the condensation every day or two, a minor inconvenience.) Our bedroom was really an escape. We'd go in there, shut the door, close the windows and lose track of time. It's dark, quiet, cool - perfect after a tough day of walking around in the heat and crowds.
There is an entrance space when you come in the front door that leads to two bathrooms on the right, the kitchen/dining space ahead and bedrooms to the left. The main bathroom is huge. It had the best water pressure and temperature control in the shower of any place we stayed. The second bathroom is a narrow space that works but isn't all that comfortable to use. The washing machine is in there - it worked well for us. Again no clothes dryer - we used the hanging rack and put that in the large first bathroom to dry our clothes.
The dining room is a small table with four chairs and a china hutch. The kitchen was very large, with a big refrigerator. No microwave here which was a big disappointment. Otherwise the kitchen was excellent.
The décor was austere throughout. There is a collection of blue jeans ads in frames on one wall and an inexplicable framed photo of a zebra's butt on another. The furniture in the bedrooms is beautiful though - I'd love to have some of the pieces in those rooms!
This apartment also had an elevator, a very narrow lift like the other places. But it worked and we loved it.
Our communications with the apartment managers were all courteous and prompt. Enso met us at the apartment and showed us around - he was very nice to deal with as well. We had to put up a $400 credit card deposit on the apartment which was fine - we had no intention of breaking windows or smashing walls. LOL We had paid a deposit when we reserved it, and that was correctly applied to the balance when we arrived, so they were trustworthy and a pleasure to deal with.
I'd be happy to stay at this apartment again. If I went back I might try to find something closer to the Pantheon area, or perhaps something smaller with a larger commons area. But overall we were very happy with this apartment and the folks who manage it.
Rome Italy Travel Photographs
We have linked to several photos from Rome Italy on this trip report page . . . but not ALL of the pictures we shot. After you've read the trip report, be sure to check out the Rome Italy Travel Photos to see all the great tourist sites and get excited about your trip! View Rome Italy travel pictures here

.
Italy Trip Reports
Italy trip report (general notes) - Many of our observations applied to more than one city, or to visiting Italy in general. This was particularly true with regards to planning and booking the trip and the items we brought with us on our vacation. Rather than duplicate those comments in the Venice, Florence and Rome trip reports, I've included a separate page for these general comments here.
Venice Italy trip report - We spent four days in Venice. One of those days was devoted to a day trip to the Dolomites Mountains. Another day was spent touring the Venice Lagoon. Read this trip report to learn about our apartment, the restaurants we dined at, where to buy awesome Venice masks, and more. Want to know the WORST time of day to take a gondola ride? Read the Venice trip report to find out.
Florence Italy trip report - We spent three days in Florence, not including travel days. We stayed in Florence all three days, wandering the city to enjoy all the tourist sites. In this trip report I break down the various tourist attractions in Florence, review our apartment and offer restaurant reviews. If you're going anywhere near Florence, you HAVE to read the review of Il Latini restaurant.
Rome Italy trip report - As with Florence, we stayed within the city limits all five days we were in Rome. (You think there's enough to do for five days in Rome? LOL) In this trip report I discuss the various tourist sites, provide extensive discussion on the tour of the Vatican, review the apartment and various restaurants. The difference between Angels Tours and Angels and Demons Tours is huge. Read the trip report to understand why. And wait until you hear about this awesome little mom and pop trattoria near the Vatican . . .
---
Italy Travel Photographs
After you've read the trip reports, be sure to check out the Italy Travel Photos to see all the great tourist sites and get excited about your trip!
View Venice Italy travel pictures here

.
View Florence Italy travel pictures here

.
View Rome Italy travel pictures here

.
Enjoy this website?
If you appreciate all the information and pictures found at Family Travel Photos.com, you can help me. It's easy -
send me an email with your opinions of this site
(I'm building a testimonials page). Then,
watch and "like" my Youtube videos
. Every time you watch one of my videos, click the "Like" button and subscribe to my channel, you improve my ranking at Youtube. You can also spread the word about Family Travel Photos on Facebook, Twitter, LinkedIn, Ello or any of the social media sites out there.
Please help me get more visitors to Family Travel Photos.com!