Apartment in Florence Italy
Our Apartment in Florence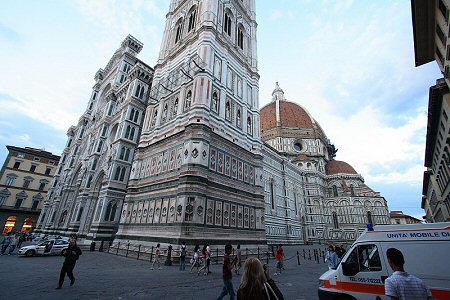 We found a terrific apartment for our stay in Florence. View the pictures and descriptions below.
---
Our Florence Italy Apartment:
View our apartment listing at vrbo.com
What a great apartment. The location was incredible - just one block south of the Duomo. It's so close that the Duomo pretty much fills the window of the front bedroom. From the living room window you can see the towers of the Bargello and Palazzo Vecchio.
The apartment itself is nice-sized and very comfortable. It had the best commons area of any place we stayed, with a spacious living room / dining table / kitchen space that we used a LOT. The fridge is pretty small but was big enough for our needs, primarily keeping big bottles of soda cold. The washing machine worked great although it's small by American standards; the dryer was a big rack you draped your clothes on and placed on the patio. No clothes dryers here. The front bedroom is narrow but workable. The back bedroom has more floor space but the ceiling slopes down low in most of the space, so tall people will not like this room. The bathroom in the front bedroom area is funny - it's so narrow that there is no way I could get to the stool, let alone use it. The shower in this room was easily accessible, however, and was our primary shower space. The second bathroom is opposite the front bedroom by the front door; much better room for using the facilities although the shower space was somewhat small. We enjoyed a nice breeze through the apartment with the windows open most of the time.
There is an elevator for this apartment (on the fifth floor you'll want that). It's larger than what we had in Venice, but it's still pretty small. I'm a big guy, and when I was hauling myself and my camera bag into the elevator I had to slide my way in and out. The important thing is, however, it had an elevator which worked. Note to disabled travelers: You will have to go up some stairs to get to the elevator on the ground floor.
We communicated with Marco on the apartment, an enthusiastic and friendly Florentine who was a pleasure to deal with. We got to meet Marco's mother Linda as well; we just loved her. She was a real sweetheart and fun to chat with. Marco was trustworthy with our deposits and happy to try and help us.
If we went back to Florence, I'd be happy to stay at this apartment again.
Strange culture moment - There is a music school near the apartment so you hear musicians practicing throughout the day and evening. One evening, we listened to a large (and very good) choir and organ practicing a 17th century chorale, which was punctuated by cheers of people in buildings all around us as they watched a soccer match on TV. What an odd combination of sounds that was.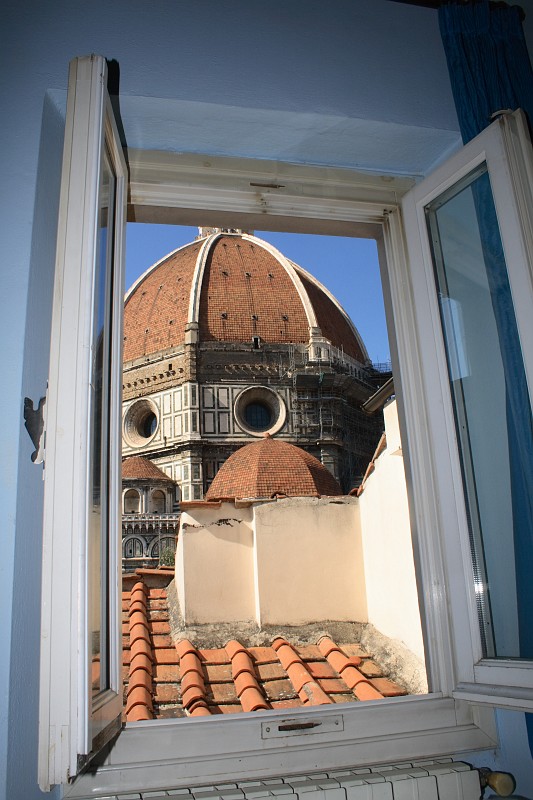 Your view from the front bedroom window. Need I say more?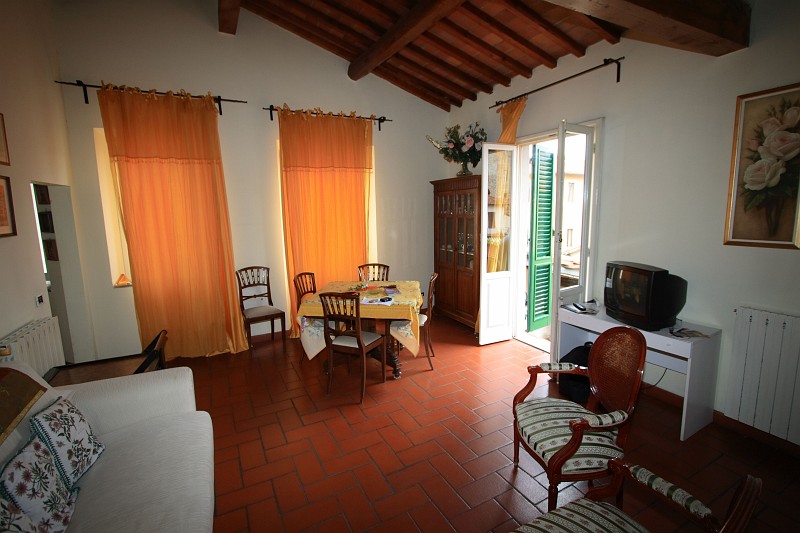 Living room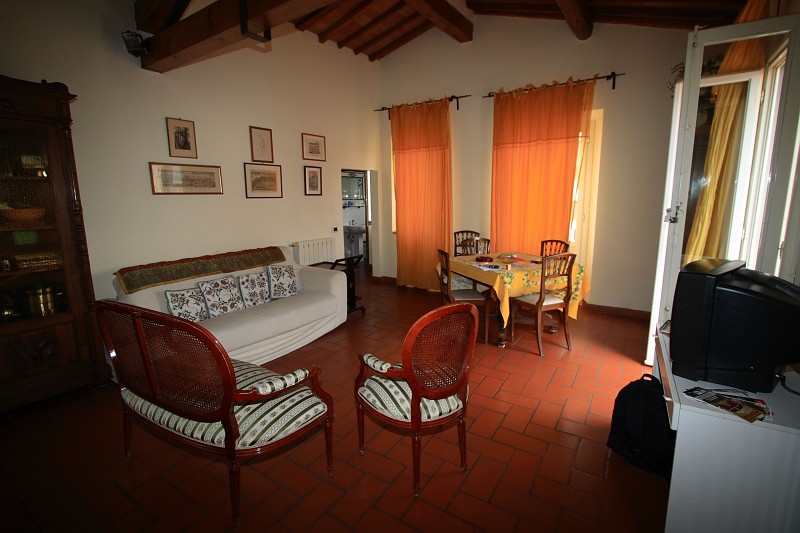 Living room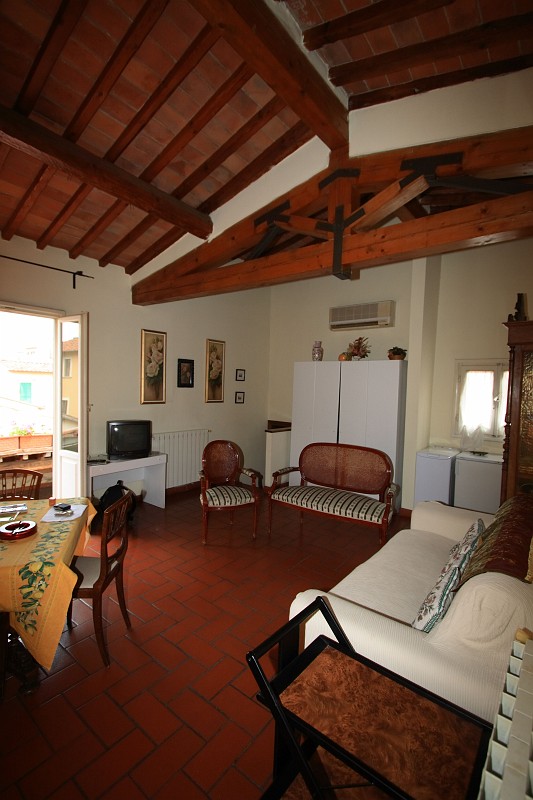 Kitchen area behind living room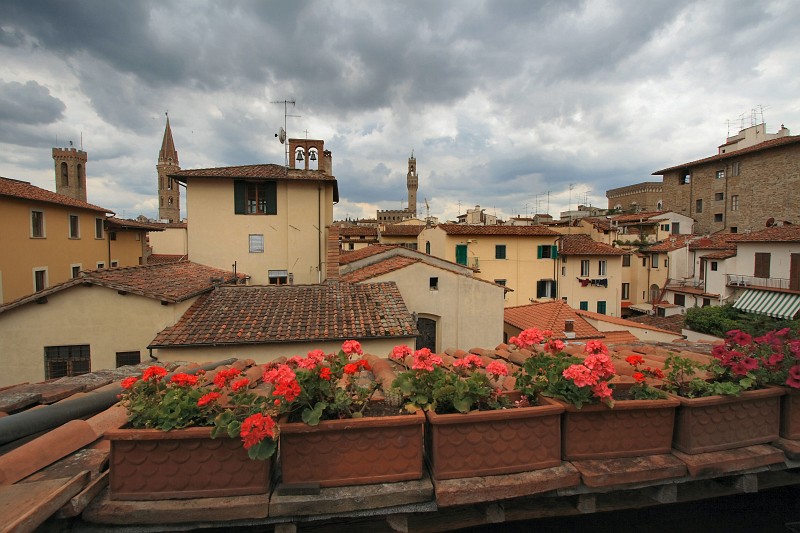 View from back patio - the Bargello and Palazzo Vecchio towers are clear from this view.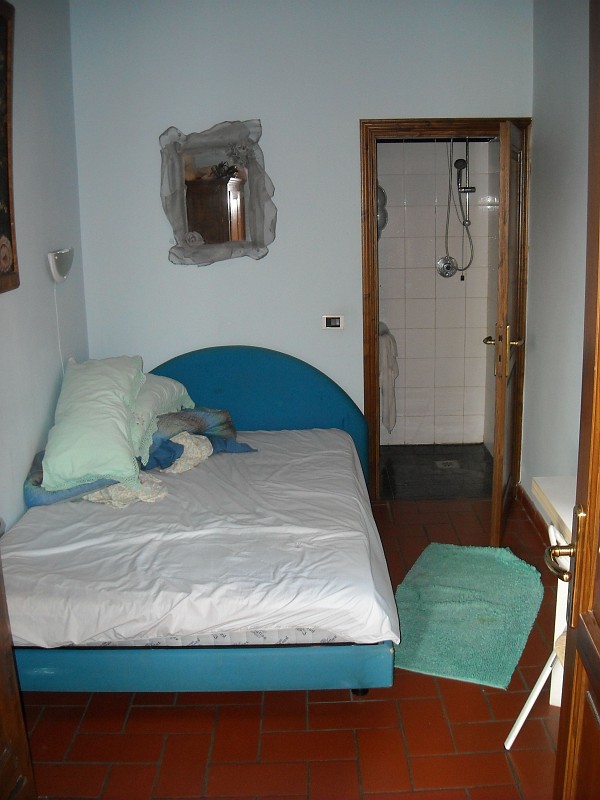 Front bedroom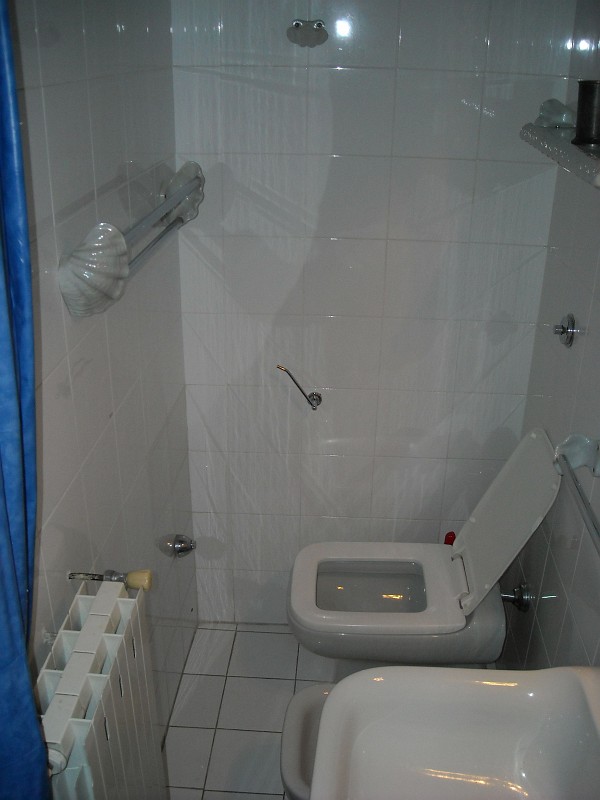 Front bedroom bathroom - very difficult to use this room for anything other than showers. The other bathroom was better.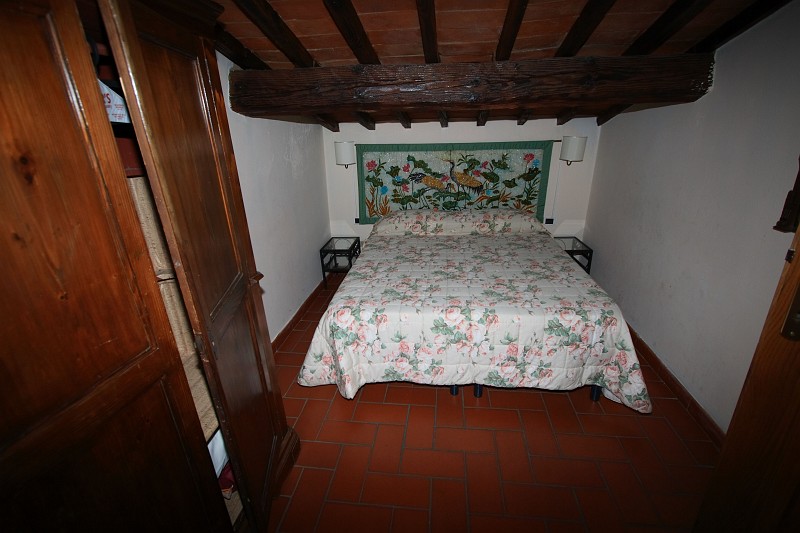 Second bedroom - more space, lower ceiling.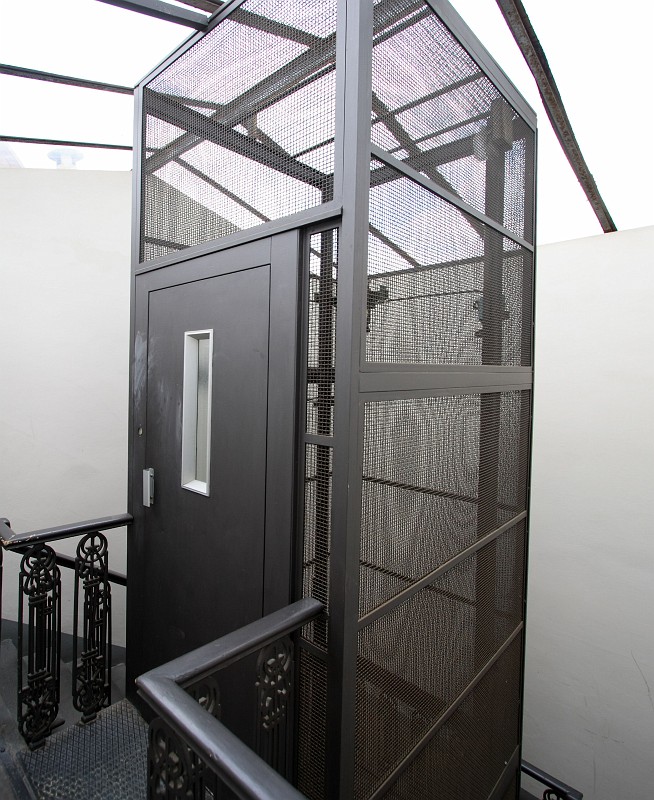 Despite the ground floor steps, the elevator is a godsend.
Florence Italy Travel Photographs
We have linked to several photos from Florence Italy on this trip report page . . . but not ALL of the pictures we shot. After you've read the trip report, be sure to check out the Florence Italy Travel Photos to see all the great tourist sites and get excited about your trip! View Florence Italy travel pictures here

.
---
Italy Trip Reports
Italy trip report (general notes) - Many of our observations applied to more than one city, or to visiting Italy in general. This was particularly true with regards to planning and booking the trip and the items we brought with us on our vacation. Rather than duplicate those comments in the Venice, Florence and Rome trip reports, I've included a separate page for these general comments here.
Venice Italy trip report - We spent four days in Venice. One of those days was devoted to a day trip to the Dolomites Mountains. Another day was spent touring the Venice Lagoon. Read this trip report to learn about our apartment, the restaurants we dined at, where to buy awesome Venice masks, and more. Want to know the WORST time of day to take a gondola ride? Read the Venice trip report to find out.
Florence Italy trip report - We spent three days in Florence, not including travel days. We stayed in Florence all three days, wandering the city to enjoy all the tourist sites. In this trip report I break down the various tourist attractions in Florence, review our apartment and offer restaurant reviews. If you're going anywhere near Florence, you HAVE to read the review of Il Latini restaurant.
Rome Italy trip report - As with Florence, we stayed within the city limits all five days we were in Rome. (You think there's enough to do for five days in Rome? LOL) In this trip report I discuss the various tourist sites, provide extensive discussion on the tour of the Vatican, review the apartment and various restaurants. The difference between Angels Tours and Angels and Demons Tours is huge. Read the trip report to understand why. And wait until you hear about this awesome little mom and pop trattoria near the Vatican . . .
---
Italy Travel Photographs
After you've read the trip reports, be sure to check out the Italy Travel Photos to see all the great tourist sites and get excited about your trip!
View Venice Italy travel pictures here

.
View Florence Italy travel pictures here

.
View Rome Italy travel pictures here

.
Enjoy this website?
If you appreciate all the information and pictures found at Family Travel Photos.com, you can help me. It's easy -
send me an email with your opinions of this site
(I'm building a testimonials page). Then,
watch and "like" my Youtube videos
. Every time you watch one of my videos, click the "Like" button and subscribe to my channel, you improve my ranking at Youtube. You can also spread the word about Family Travel Photos on Facebook, Twitter, LinkedIn, Ello or any of the social media sites out there.
Please help me get more visitors to Family Travel Photos.com!